Recently, Young M.A. fans expressed health concerns after a video surfaced of her in an electric wheelchair. The video was recorded by a fan, at a grocery store and quickly went viral on social media, sparking a discussion about the rapper's well-being.

109 Views
Comments Off on Young M.A. Responds After Recent Video Sparks Health Concerns: "We Blessed"
Adding to the concerns, another video surfaced, posted by Young M.A.'s barber, Fats DaBarber, which revealed the rapper looking very thin. Some fans criticized Fats DaBarber for uploading the video, arguing that he should have been more respectful of the "BIG" rapper's privacy.
However, the barber defended himself, saying that he wouldn't have recorded the video if Young M.A. was uncomfortable with it. He also urged fans to send their prayers and well wishes to the rapper.
In response to the video and the subsequent discussion, the New York rapper took to social media to explain that it had been a long time since she had gotten a haircut. She also emphasized that she and her barber were "blessed" and to not let the criticism get to him.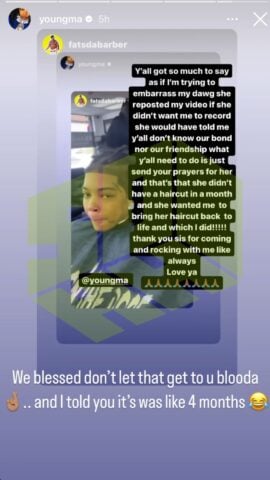 Young M.A. has yet to clear up any rumors of her alleged health issues.
Is Young M.A. Pregnant? Fans Are Buzzing
In November 2022, another rumor surfaced about Young M.A. Fans speculated that the rapper may be pregnant as she's been on a hiatus from music for a while.