One of the police officers involved in the excessive-force traffic stop of a U.S. Army officer has been fired. Joe Gutierrez lost his job with the Windsor (Va.) Police Department after an investigation into the incident in which he and another officer drew their guns on Lieutenant Caron Nazario and pepper-sprayed him.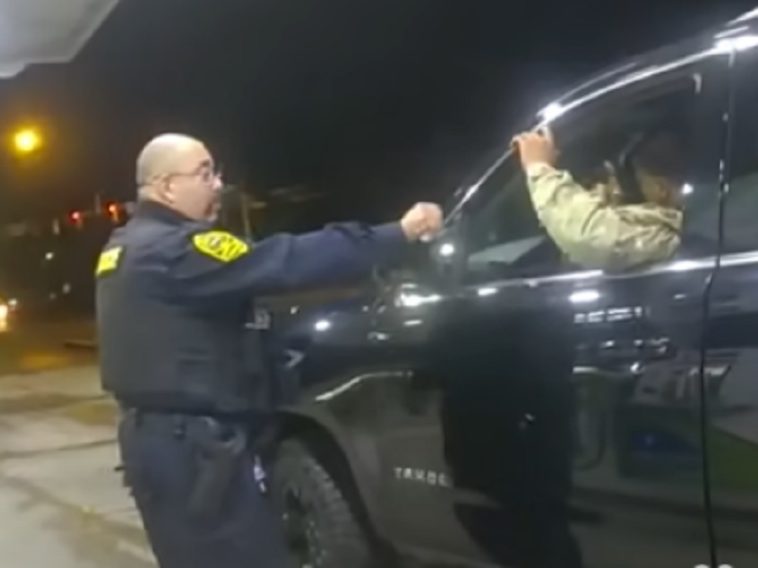 @sohh @sohhdotcom

99 Views
Comments Off on Virginia Cop That Held Army Lieutenant At Gunpoint Is Fired
Lawsuit Filed Against Virginia Cops By Army Officer
On Dec. 5, 2020, Army lieutenant Caron Nazario, who is Black and Latino, was pulled over for allegedly not having a license plate. (He did.) The traffic stop quickly went south, as Windsor police officers Joe Gutierrez and Daniel Crocker held Nazario at gunpoint, threatened him and pepper-sprayed him. Gutierrez has been fired, and Nazario has filed a lawsuit for having his civil rights violated.
"At the conclusion of this investigation, it was determined that Windsor Police Department policy was not followed. This resulted in disciplinary action, and department-wide requirements for additional training were implemented beginning in January and continue up to the present. Since that time, Officer Gutierrez was also terminated from his employment." (Statement by the City Of Windsor)
Jeezy Reacts To Army Officer's Disturbing Traffic Stop
Atlanta rapper Jeezy knows what police brutality and racism looks like and he's not afraid to call it out. The Georgia native expressed his disbelief and disgust in reaction to a video circulating online of a Black and Latino military man being held at gunpoint by Virginia police.
"What part of this is protecting and serving! After you went and fought for the country. It's like they wanted to take his masculinity to feed egos!! Let's see what the government do about this. I see no threat, only a man that was confused and understood protocol. He asked the right questions. They didn't have any answers. Shits break my heart to see a grown man handled like animal. Only in America."
'Power' Star Michael Rainey Jr. Exposes Police Officer In Video Clip
"Power" actor Michael Rainey Jr. is letting the world know police brutality and unfair targeting are both still real things. The 20-year-old entertainer has come forward with footage from a dicey run-in with law enforcement which may have nearly taken his life.
PressPlay: #MichaelRaineyJr. aka Tariq from the hit show "Power" shared a video of an encounter with a police officer.
Joseph Sikora Can't Wait For Tommy Series
In early December 2020, "Power" actor Joseph Sikora – who plays Tommy Egan – went to his social media pages to admit he can't wait to start filming his spin-off "Power" show.
"Wait'n on film'n the Tommy show like… Many reasons I'm hyped for 2021. This is at the top of the list. #powerneverends 🔥 🔥🔥"