Houston rapper Travis Scott and Kylie Jenner really want to ride or die together even if there's more people involved. The on-again, off-again couple have reportedly decided to give love a chance with some pretty big open boundaries.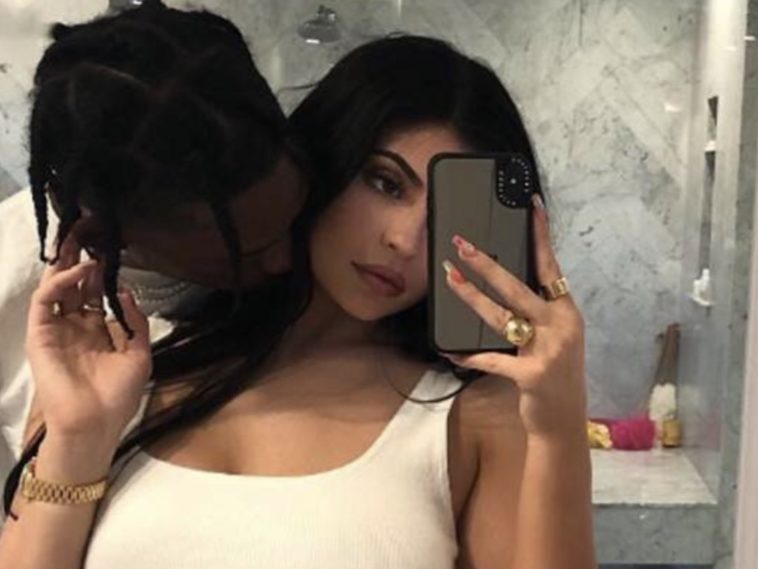 179 Views
Comments Off on Travis Scott's Back W/ Kylie Jenner But There's A Huge Twist
Travis Scott's Back W/ Kylie Jenner
According to reports, there's a massive twist to Scott and Jenner hooking back up. The duo are fine with each other but are far from exclusive with each other.
Sources with direct knowledge and connection to both Kylie and Travis tell TMZ … they have rekindled the old flame and are dating again, but they're also free to date other people. To be blunt … they are in an open relationship. We're told ever since the 2 broke up in late 2019, Travis has been enjoying the bachelor lifestyle and all that comes with it … but he also wanted to get back with Kylie and be a strong family unit. So, we're told they've agreed to get back together but with a non-exclusive couple arrangement … and both are cool with that. (TMZ)
Travis Scott Shows Love To Kylie Jenner
Recently, Travis shared some heartwarming and rare new photos of Stormi Webster and Kylie together. Along with the rare pics, Cactus Jack included a message expressing how special he thought a mother's love was for their child.
"Of all the special things in life. The big ones and small. A mama's love and rage and tenderness. Is the most special of them all."
Travis Scott's Helping Fans Unable To Attend Astroworld Fest
Outside of romance, Cactus Jack recently went to his Instagram page for a different reason. Scott reacted to his two-day concert selling out and promised he would go all out to make sure those unable to attend the epic event will have a chance to experience him.
"AAHHHH FCGHJG F*CKK CRAZYNESSS !!! BUT F*CK THAT IM PUTTING A PLAN TOGETHER NOW TO GET SOME MORE OF THE WILD ONES IN. EVEN IF I GOTTA SNEAK THEM IN. ON ME!!! SEEN SOME PEOPLE WHO WANNA MAKE IT BUT HAVING A HARD TIME OR MIGHT NOT HAVE THE MEANS DONT WORRY IM ON IT"
Travis Scott's Astroworld Fest Sells Out
According to Live Nation, the must-attend concert easily sold out in just under an hour. Despite being able to handle over 100,000 attendees, the tickets went fast-fast once available today.
Texas-born, GRAMMY Award-nominated, and multi-platinum hip-hop artist Travis Scott is excited to announce that his Astroworld Festival has fully sold out in under an hour with over 100,000 total guests scheduled to attend the weekend event this fall. The music festival is slated to return for a third year to NRG Park in Houston, Texas with an expanded two-day format on Friday, November 5 and Saturday, November 6. Tickets for the music festival went on sale earlier today at 10:00 am CT but in less than 60 minutes, the entire weekend event was sold out without a music performance lineup attached. Every year since its inception, Scott's festival has sold out in advance of the lineup reveal, with 2021 setting the record for the fastest sell-out yet.