Rap crooner Tory Lanez isn't just having a ball with DaBaby and Kodak Black. The hip-hop star has announced plans to show big love to true supporters by treating five lucky fans to a private dinner with access to some unreleased music.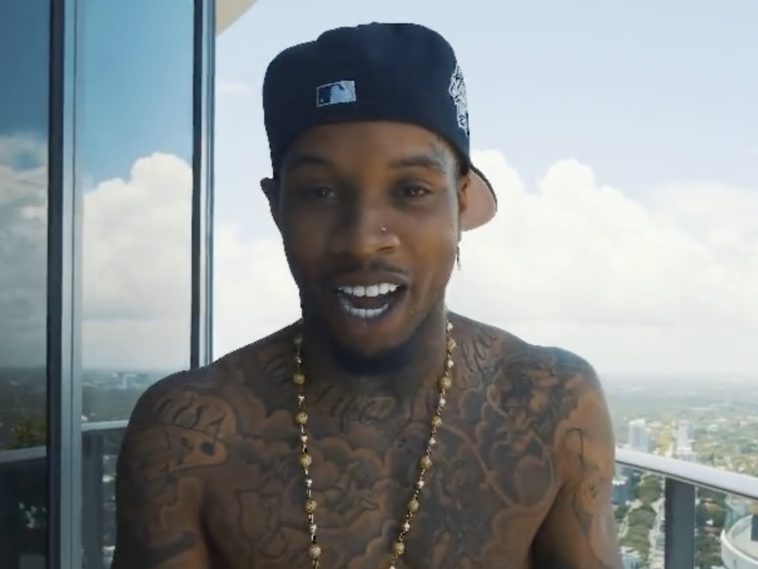 119 Views
Comments Off on Tory Lanez Is Putting Together A Fan's Dream Dinner Date
Tory Lanez Is Putting Together A Fan's Dream Wish
TL went to his Instagram page to share footage of himself promoting his newly released "Grah Tah Tah" msuic video. Instead of just encouraging people to watch it, Lanez detailed how five people could win a chance to meet him in-person and have an unforgettable night together.
"GrahTahTah GIVE BACK ……… 5 LUCKY WINNERS . WILL WIN 1000 DOLLARS💵 , A FLIGHT🛫 . A DINNER WITH ME🍝 , AND A TRIP TO THE STUDIO TO LISTEN TO UNRELEASED MUSIC 🎶🔥🍾🔥 Comment your Instagram name on the #GrahTahTah video on YouTube TO BE SELECTED 😈 DO IT NOW #OneUmbrella2021"
Tory Lanez Keeps His Word + Drops New Song
This past Monday, Lanez went to his Instagram page to let the world know they could finally hear his new single. Lanez also vowed to drop the song's accompanying music video hours later.
"TORY x KODAK BLACK = GRAH TAH TAH ……… SONG TONIGHT @12 AM …… VIDEO TOMORROW @9AM …… LETS F*CKING GOOOOOOO🎊🍾🎯🎯😈🔥🤯🎯🔥🍾 📽: @christhedirector"
Tory Lanez + Kodak Black Collab is OTW
Not to be outdone by rap star Kanye West's epic Donda album listening event last week, Tory Lanez hyped up music of his own. Lanez posted a video of himself and Kodak jamming out in the studio with a caption relaying details of their upcoming drop.
Not only has Yak and Tory delivered a new song together Monday, Tory will also be releasing a 5-song capsule in honor of us all being "outside" this summer. To end his announcement Tory also took the time to acknowledge his partner's trending on Youtube, saying "my dog Kodak…is #1 trending on youtube right now".
While Kodak's part is not heard in the clip posted to Instagram, it can be expected it will match the high energy of the record.
"YAK x TORY … #GrahTahTah …… SONG + VISUAL ….. MONDAY !!!! …… 5 SONG CAPSULE …. TUESDAY !!!! #WeOutsideCapsule 🤬🤯🤬🤯 … LETS F*CKING GOOOOOO 🎹 @foreverolling_music …. PS : MY DOG KODAK NEW SH*T IS #1 TRENDING ON YOUTUBE RIGHT NOW 🖼🔥🔥🤌🏽🎯🌎🌎🌎 📸: @cotto0verdidit"
Tory Lanez Strict Women-Only Policy
Lanez wasn't playing around with his birthday weekend festivities. The hip-hop singer stepped up to dish out how he planned on turning 29 and admitted men wouldn't be allowed to get on the guest list.
TL went to his Instagram page and didn't hold back on how he saw his Miami takeover going down. Lanez shared some snapshots of where the fun would take place and revealed men couldn't RSVP for access to his house party.
"THIS IS WHERE MY OFFICIAL BIRTHDAY / ROLLING LOUD SATURDAY HOUSE PARTY WILL BE HELD !!!!! ONLY WOMEN CAN RSVP …… TO GET THE INFO AND GET ON THE GUEST LIST , goto "[email protected]""