New York rapper Tekashi 6ix9ine and rap rival Blueface's manager Wack 100 have a lot to get off their chests. The hip-hop pair have faced off with one another following a publicized spat between the Big Apple troll and Wack's client.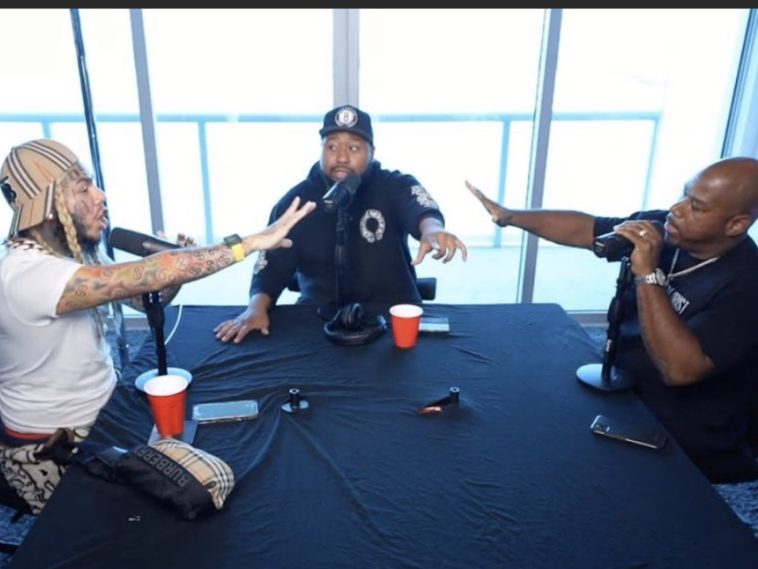 199 Views
Comments Off on Tekashi 6ix9ine + Blueface's Manager Wack 100 Meet Face-To-Face
Tekashi 6ix9ine + Blueface's Manager Wack 100 Meet
Rap personality Akademiks went online to break the major news to the world. Ak shared a snapshot of himself in-between 6ix9ine and 100 talking face-to-face and in-person. While there's no confirmed drop date, Ak announced this is from the premiere of his upcoming podcast series.
"The first episode of my new Podcast is filmed. Now being edited. Y'all better welcome me nicely to this podcast space. I came here for straight chaos and to be #1. 🦂🦂🦂🦂🦂🦂🦂🦂🦂🦂🦂🦂🦂🦂🦂🦂🦂🦂🦂🦂🦂🦂🦂🦂🦂🦂🦂🦂🦂🦂🦂🦂"
6ix9ine's manager Murda Murphy went into the comments section to co-sign the face-off.
"Wow Is all I can Say After Waching It Ak U Got That Nunber 1 Spot On Target!!"
Tekashi 6ix9ine + Blueface Are Still Feuding
6ix9ine and West Coast rapper Blueface have not backed down from each other. Earlier this month, the hip-hop pair continued to take their overnight feud with one another up a few notches with more trolling.
Blue initially struck by alerting his fans about Tek's likely having something to do with his temporary Instagram page getting deleted. Face insinuated 6ix9ine tattled on him over their recent clashing.
"Pay close attention he reported all my post for bullying 🐀 an deleted his skit 😂 playing victim like he did in court 🤦🏽‍♂️my IG be back up shortly"
Instead of ignoring the accusation, 6ix9ine used the opportunity to defend his image and even get at hip-hop personality Akademiks for fueling their problems.
"He should tattoo Instagram on his head they might give it back to him. They just told me … Ak stop posting me with this 🤡 I know you're cool with the fight people who setting his fight up and HOPE I will ever give this man a career. I have 23 million followers he has 0. I have a net worth of 10 million his is 0. I have over 2 dozen platinum hits he has 1 song. You can't compete where u don't compare."
Tekashi 6ix9ine Has A New BFF
In related 6ix9ine news, Tek has a new bestie. An unexpected friend recently went online with a wild shot alongside the controversial rapper and could be some foreshadowing into a career in mixed martial arts.
MMA fighter Sugar Sean O'Malley posted a wild Instagram photo with Tekashi. O'Malley has his hands ready to throw down while 6ix9ine is going peace mode.
SHOOGA.
6ix9ine Cancels Shows Due To Family Matters
6ix9ine is going through it right now. The troll everyone loves to hate went to social media last week to let followers know multiple shows would be delayed due to some problems he is going through with his family.
6ix9ine didn't get specific with what was going on. The controversial hitmaker did tell fans he was going through some court matters alongside family issues.
His North Carolina and Virginia shows were postponed.
"I MUST POSTPONE MY NORTH CAROLINA SHOW & VIRGINIA SHOW DUE TO PERSONAL FAMILY AND COURT MATTERS UPDATE SOON"