New York rapper Tekashi 6ix9ine is feeling extra good about his music these days. The hip-hop star has celebrated his recently released "ZAZA" single landing on the Billboard Hot 100 chart by trolling his rap rival Meek Mill.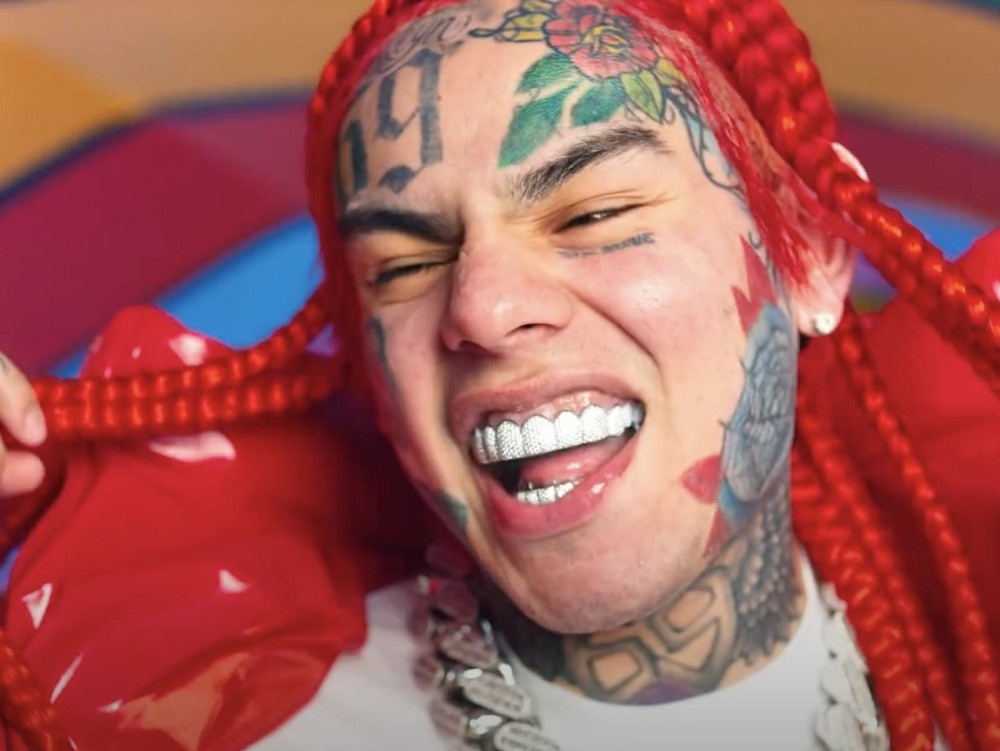 @sohh @sohhdotcom

179 Views
Comments Off on Tekashi 6ix9ine Clowns Meek Mill After Billboard Chart Debut
Tekashi 6ix9ine Clowns Meek Mill
Over the past few hours, 6ix9ine has remained relentless on attacking Meek – digitally. Tekashi even joked about Mill also feeling like he should celebrate hitting No. 90 on the music chart courtesy of his forced cameo in the "ZAZA" music video.
"IM BACK ON THE BILLBOARD EVEN THO BEING BLACKBALLED ‼️ NO INDUSTRY SUPPORT ‼️ NO RADIO NO PLAYLISTING AND @meekmill got my video taken down for "bullying" THANK YOU TO ALL MY FANS I LOVE YOUUUUUUU ‼️‼️‼️"
"@meekmill YOU MADE IT TO THE BILLBOARD ❤️❤️❤️❤️❤️❤️"
Tekashi 6ix9ine Exposes Meek Mill Letter
The Brooklyn native recently went to his Instagram page with a slideshow of cringe shots. One of them showed legal paperwork suggesting Meek's attorney blamed Tek for bullying his client by exposing footage of him in the "ZAZA" music video.
"HOW YOU START SOMETHING YOU CANT FINISH????? HE WANT TO BE TAKEN OUT THE VIDEO BECAUSE PEOPLE ARE LAUGHING AT HIM … Meek Mill wrote a letter to my lawyers. He said we are bullying him. Lol he's a b*tch."
Tekashi also shared footage of himself explaining how his rap rivals could get him to stop trolling.
"YALL START IT IM GOING TO ALWAYS FINISH IT ‼️ DONT BE MAD WHEN I DEFEND MYSELF LMAOOOO LIKE WTF ‼️ F*CK YOUR DEAD MANS D*CK HEAD YOU GET IT ‼️‼️‼️ F*CK HIM HE IS NO LONGER HERE WITH US ‼️ TOMORROW WHEN U WAKE UP HE IS NOT GONNA BE HERE ‼️‼️"
Tekashi 6ix9ine's King Von Trolling Isn't Ending
6ix9ine has no respect for the deceased. The hip-hop troll recently came forward to completely go off on his enemies and – most notably – fans and supporters of slain Chicago rapper King Von. Fresh from releasing his "ZAZA" music video and single along with clashing with a handful of Chi-Town rappers, 6ix9ine continued to mock the late Von's peers. Tek went to his Instagram page with a troll-worthy and hurtful post.
"Somebody tell King Von join my live right now. I bet he won't. How much you wanna bet?"
Huge Clash With 600 Breezy
In February 2021, everyone from Chicago's 600 Breezy to Meek Mill have clashed toward Tekashi over his non-stop trolling. However, everyone's favorite rapper to hate has shown no signs of slowing down the drama.
"THIS IS WHAT YA N*GGAS DO WHEN I LEAVE YA WANT TO RECORD!!! IM PUTTING EVERYBODY IN THEY PLACE !!!! WHERE THE ENGERY YA GOT ON THE INTERNET ‼️‼️‼️‼️‼️‼️"
"IMA SET AN EXAMPLE 😂😂😂😂😂😂😂😂 WHY EVERYBODY QUIET NOW?!!?!!??!!!!!! 😂😂😂😂 ITS THE WHY HE PICK ME ????? FOR MEEEEEEE"
"YALL SO MAD 😂 he said "ima make him an example" then folded now ya like he don't want to go to jail 😂😂😂😂😂 when did a "gangsta" ever care about going to jail" -Tekashi 6ix9ine in the Hollywood Unlocked comments