Charlotte native DaBaby isn't moving back on his comments. After drawing controversy for remarks he made on the Rolling Loud Miami stage, he's hopped online to defend every word.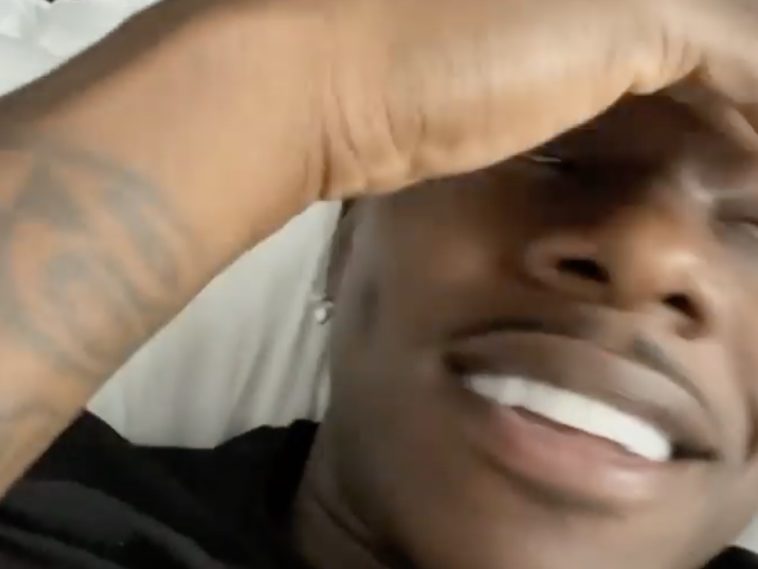 189 Views
Comments Off on DaBaby Doubles Down On Controversial Rolling Loud Comments
DaBaby Speaks On Rolling Loud Comments
Baby went on Instagram Live to clear up the air and let the world know he doesn't care one bit. He made sure it was clear that everybody enjoyed his show and nobody was hurt or offended.
"'Cause regardless of what you muthafu*kas talking about, how the internet done twisted up my muthafu*kin' words, me and all my fans at the show, the gay ones and the straight ones, we turned the fu*k up I'm talking 'bout my boy that was at the front of the stage, left, over there by where I jumped at. Ask 'em. He got clips all on his sh*t. The whole night, he was recording. We was turnt the whole night. My boy had the crop top on, front row. He out there in that jungle, in that water. Yeah, he out there. He standing on the rail, godda*n cuttin' up. Word…I saw him. I'm rapping the bit*hes with him. Yeah, the hell y'all talking 'bout. Shut the fu*k up. You nig*as that wasn't at the show, the show was for nig*as that paid money and took the time out they life to come enjoy the show. Not you muthafuc*as watching it on the internet, at the crib. No nig*as, get your tickets and come fu*k with the live show killer."
DaBaby's Original Controversial Comments
DaBaby originally spoke on homosexuals and sexually transmitted diseases on stage. He was asking people in the crowd to turn up when he spit out some dicey things.
"I said if you don't got AIDs, put a cell phone light up. I said if you ain't suckin' di*k in the parking lot, put your cell phone lights up. So I can drop my next song. I wasn't going on no rant. That's called a call to action. That's what that's called 'cause I'm a live performer, I'm the best live performer. I'm the live show killer. You interact with your fans, you get what I'm saying? Look, all the lights went up, gay, straight. You wanna know why? 'Cause even my gay fans don't got fuc*in' AIDs, stupid a*s nig*as. They don't got AIDs. My gay fans, they take care of they self. They ain't going for that. They ain't no nasty gay nig*as, you know what I'm saying? They ain't no junkies, you know what I'm saying? On the street. The hell you talking 'bout, nig*a? Then I said, if ain't suck d*ck in the Rolling Loud parking lot, put your cell phone light up. You know what my gay fans did? Put that muthafu*kin' light up, nig*a. 'Cause my gay fans, they ain't going for that. They got class, nig*a. They ain't suckin' no di*k in no parking lot. Nig*a, you gotta get a room, ni*ga. A good one. Five star hotel for them nights or godda*n… Yeah, you gotta wait 'til nig*as go to the crib."
DaBaby Brings Tory Lanez On-Stage at Rolling Loud
The North Carolina rapper's Rolling Loud performance has made headlines for a myriad of reasons, another one of them being his surprise guest Tory Lanez and people having mixed reactions.
DaBaby shocked the Rolling Loud audience when he undressed a man in costume to reveal that man was in fact Tory Lanez. Tory arrived in a bobble head suit and stood next to Baby on stage, DaBaby then bet the crowd $1 Million if they could guess who it was in the suit.
This guest appearance has led to much uproar online as a result of Lanez, DaBaby, and Megan Thee Stallion's past history. DaBaby has been a long time collaborator and friend to Megan but that all fell apart when DaBaby put out a song and video with Tory Lanez, who allegedly shot Thee Stallion in the foot back in July 2020. Thee Stallion and DaBaby then had a heated conversation on Twitter shortly after "SKAT" dropped, which ended with Megan and DaBaby unfollowing each other.
Tory Lanez then further fueled flames with his recent Hot 97 freestyle in which he points the blame at being framed by Meg for him and his peers not getting the rewards he feels they deserved.
Whatever side you stand on, DaBaby bringing out Tory Lanez during his set was still a huge statement, and one of the most talked about moments from Rolling Loud Miami sending the internet in a tail spin.
DaBaby + 50 Cent Show Love
It seems DaBaby has a pretty dope mentor and one of the most successful Black men in the entertainment biz. The rap heavyweight has let the world into his low-key close-knit relationship with none other than hip-hop heavyweight 50 Cent, who has vowed to keep him on the right path.
The "BOP" hit-maker posted a photo alongside Fif, and showed major love in the caption. Baby says he's going to use the advice he received and was mad thankful.
Curtis Jackson kept it a buck and noted losing rising rapper Pop Smoke, who was murdered in 2020, before he could really understand how to move out here.
"Somebody I been studying for a MINUTE lent me a few hours of his time today. N*ggas so scared to let me in the room they f*cked around & let me end up in the room w/ @50cent 🤦🏾‍♂️ BIG MISTAKE! Beyond grateful for the game📚 Couldn't have come from a better source.💯 Now watch me put this shit to use👀 #BackToWork"
50 Cent went into the comments section and said DaBaby already understood a lot and promised to teach him all the mistakes he made so they weren't repeated by the 29-year-old.
"I lost pop before he could get it, This one already got it and he listen. I'm a teach him all the mistakes i made, so he can be better than me. THIS IS HIP HOP!"