Big-time producer Swizz Beatz doesn't hold back when it comes to rap battles. The hip-hop star spoke up when a Justin Timberlake track played during his recent VERZUZ rematch battle with fellow producer Timbaland.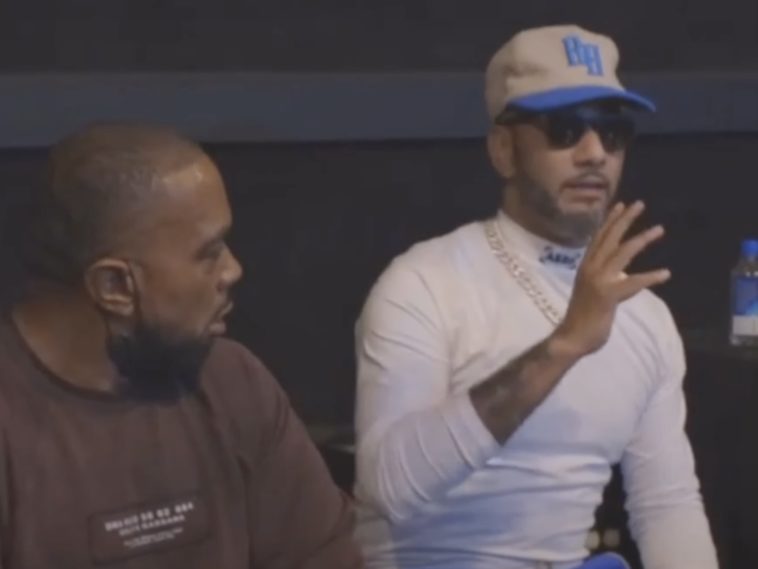 149 Views
Comments Off on Swizz Beatz Checked Timbaland For VERZUZ Sneak Tactic
Swizz Beatz Calls Justin Timberlake Out
When Timbo chose to play JAY-Z's "Holy Grail" which featured Timberlake during their battle, Swizz shut down the song choice. SB joked and stated he didn't want to hear anything from the pop superstar during a VERZUZ unless he showed up for a battle himself.
"Until you can get Justin Timberlake on VERZUZ, I don't really wanna hear those vocals," he said with a laugh after his competitor played Jay-Z's 2013 Grammy-winning song "Holy Grail," which Timberlake is featured on."
Swizz Beatz Dedicates VERZUZ To DMX
The battle brought in over 165,000 virtual viewers on its Instagram Live. Things turned extra special and emotional by Beatz honoring the rematch in late Ruff Ryders member DMX's memory.
"I dedicate this show to my brother DMX, and Timbaland's sister Aaliyah," Swizz stated. After two hours of heating up the nightclub's center stage, Timbo and Swizz came together to celebrate the platform they built together from the ground up in just a year. Swizz gifted his Verzuz co-founder with a custom airbrushed jacket featuring portraits of his frequent collaborators Aaliyah and Missy Elliott, before riding off to DMX playing in the background. (Billboard)
VERZUZ + Peloton Join Forces To Make Your Workout Lit
In April 2021, Swizz Beatz delivered some massive news for his VERZUZ franchise. Beatz revealed the music series would land on workout company Peloton's machines.
"VERZUZ + PELOTON = MAGIC 🙌🏽 Ayo @timbaland we told them we're just getting started 🥵 @verzuztv @onepeloton @triller 🙌🏽 The game will never be the same again 🎉 Get ya workout on 🙌🏽"
Timbaland + Swizz Beatz Put High Value On Health
The partnership shouldn't be a surprise, as the two super-producers are openly committed to health and fitness goals. Grammy winner Timbo has become dedicated to the gym in recent years, while Grammy winner Swizz has embraced a vegan lifestyle.
Timbaland's fitness journey is one that is truly motivational. The famed music producer decided to officially stop taking his health for granted and start having a great relationship with his body. He also praises people, like Lizzo, that are comfortable in their own skin. Watch as Timbaland details his passion for fitness and why he chose this new journey. #Timbaland​ #BodyOfWork​