Fans of the late New York rapper Pop Smoke have another reason to smile. Close friend and manager Steven Victor went online with a post that'll keep Woo fans entertained for a minute.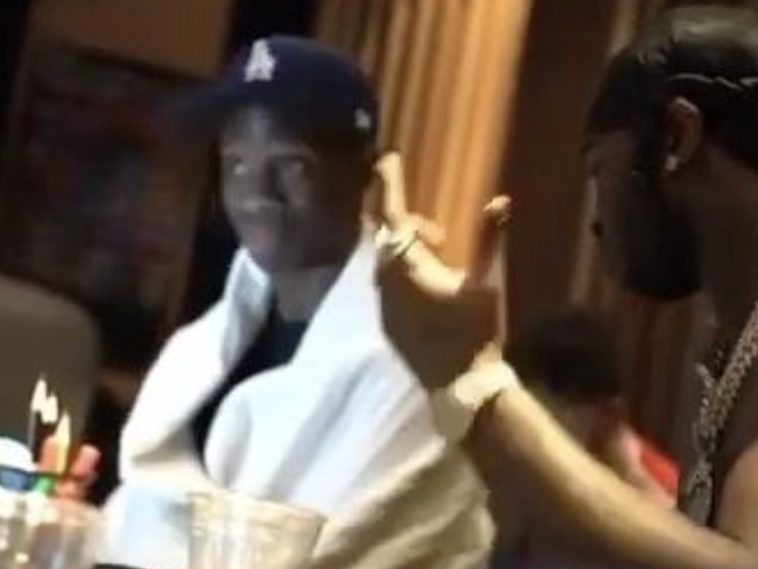 139 Views
Comments Off on Steven Victor Shares Rare Pop Smoke Footage + FAITH Deluxe Reveal
Steven Victor Reveals FAITH Deluxe Version
The Victor Victor Worldwide boss shared rare footage of Pop Smoke in the studio with him. Pop is clearly turning up to some audio fire in the clip.
The real gold came in the caption though. He revealed there's been four tracks added to Pop's Faith project that dropped last week. The rest of the deluxe version comes out on July 30th.
The new release arrived on Tuesday night on what would have been the late rapper's 22nd birthday. The deluxe edition of Faith contains "Questions," "Run Down" with OnPointLikeOp and G Herbo, "Money Man" with Killa, and "Defiant" with Dread Woo and TRAVI. (Complex)
midnight we going up for you we turning the pain into champagne everyday this is for our day ones we've decided to drop off 4 tonight that are cleared and going to turn up the rest on 7/30 thx everyone involved to help us get this out
Pop Smoke's 'FAITH' Set For Huge Week
FAITH is going to do insane numbers. The unforgettable Brooklyn drill rap artist's second posthumous release is projected to sell around 120,000 copies in its opening week.
Based on initial estimates, Smoke's studio effort is going to face practically zip-zero competition. The closest contender is musicians John Mayer and Olivia Rodrigo.
Pop Smoke's second posthumous release, Faith (Victor Victor/Republic), will lead the HITS Top 50 next week. After spending the past two weeks at #1, Olivia Rodrigo may tussle with John Mayer in his debut week for the runner-up spot. Pop Smoke (Victor Victor/Republic): 110-120k total activity; 4-6k albums John Mayer (Columbia): 70-80k; 50-60k albums (HITS Daily Double)
Pop Smoke's 'Faith' Tracklist Revealed
Pop Smoke's second posthumous album has 20 tracks on it. It features a wide variety of fire artists, including Kanye West, Rick Ross, Pusha T, Chris Brown, Pharrell and more.
Anticipation has mounted for the follow-up project to his first posthumous album Shoot For The Stars, Aim For The Moon which peaked at #1 on the Billboard Top R&B/Hip-Hop Albums chart the month it came out and remained on the chart for 17 more weeks.
Pop Smoke's Album 'Faith' Puts a Face To The Name
Last week, the late drill artist's second posthumous FAITH cover emerged online. An album trailer also gave a first preview to the follow-up project with an album trailer and cover photo.
The cover for Pop Smoke's upcoming album "Faith" has been dropped! (Via @StevenVictor on IG) #Woo #RIPPopSmoke #Faith
"FAITH album cover ❤️"