California rapper Saweetie is challenging the way the hip-hop industry sees her. The "ICY GRL" hitmaker revealed what she thought about her "pretty privilege" reputation in a recent interview.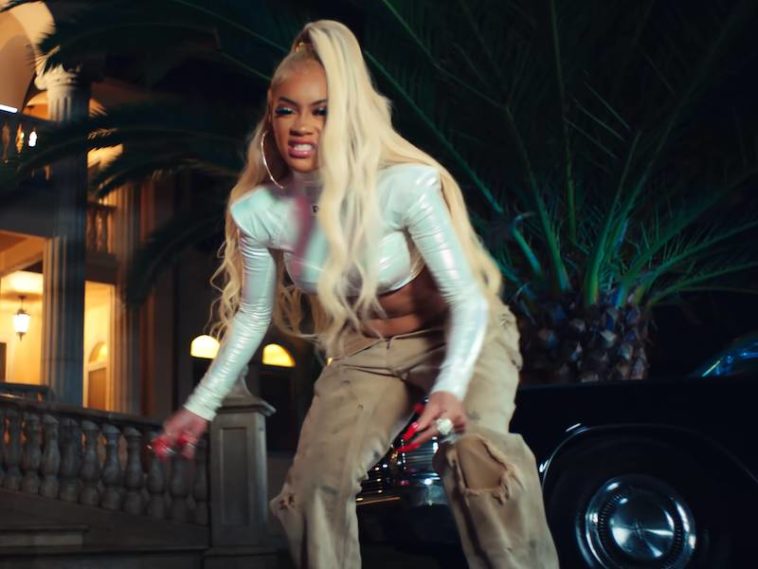 179 Views
Comments Off on Saweetie Opens Up About Her "Pretty Privilege"
Saweetie Defines Her Pretty B*tch Style
With her debut album release drawing near, Saweetie is taking a moment to look back at how she got to where she is today. The West Coast girl confessed her difficulties with confidence as her career took off, along with the label of "pretty privilege" that followed her.
"After 'ICY GRL' hit, I was in such high demand, and it really was like night and day. I had no artist's development," says the 27-year-old, who has always felt like she's living with the criticism of "pretty privilege." "I realized that I never equated attention with happiness, so all that attention I was getting was overwhelming for me and I didn't know how to handle it. Which is why — fast forward to last year and this year in quarantine — I had a lot of time to reflect, and that made me want to take back my power of being confident and made me want to rethink my career." (Teen VOGUE)
Saweetie Calls Out Haters
Earlier this week, the "My Type" star was quick to address speculation her Tesla Model S giveaway was fake. Saweetie tweeted the rumors were bogus news and clarified why a winner hadn't yet been announced for the giveaway.
"The fake news concerns me these days… *update* 1st winner was underage and the replacement is unresponsive so we have to go through the process again… a true supporter knows my character and knows I don't play about my business. You were never a fan, baby girl. Let's talk about that."
She Reveals Her Top Chef Skills
In mid-May 2021, the former girlfriend of rap star Quavo demonstrated her skills outside music. The California rapper presented several of her own unique recipes during "The Ringer Music Show" podcast.
All the dishes seemed to feature items you can easily find in a gas station or vending machine, some highlights include Oysters à la Top Ramen, Hidden Valley Pasta, and Ramen With Flamin' Hot Cheeto Croutons.
"I definitely like my oysters hot. I just like my oysters spicy," Saweetie says. "If not, I'll settle for a heavily saturated lemon juice oyster, but it definitely has to have some flavor on it." (The Ringer)
Saweetie Compares Her Beauty To JT + Lori Harvey
In late April 2021, Saw went to Instagram with her pretty-fine summer style. The rap star posted photos wearing a multicolored dress with a slit on one side.
She complimented the look with long blonde hair, gold hoop earrings, and a necklace. In her post, she indirectly complimented fellow female influencers JT and Lori Harvey.
"Pretty like JT fine like Lori."
In the comment section, Lori made an appearance acknowledging Saweetie's comparison with her full support.
The finest 🔥🔥🔥