Southern rap star Gucci Mane and his wife Keyshia Ka'oir welcomed their baby Ice shortly before Christmas 2020, and it didn't take long for mama to see the resemblance between father and son. Keyshia shared some pics on social media today showing the twin magic.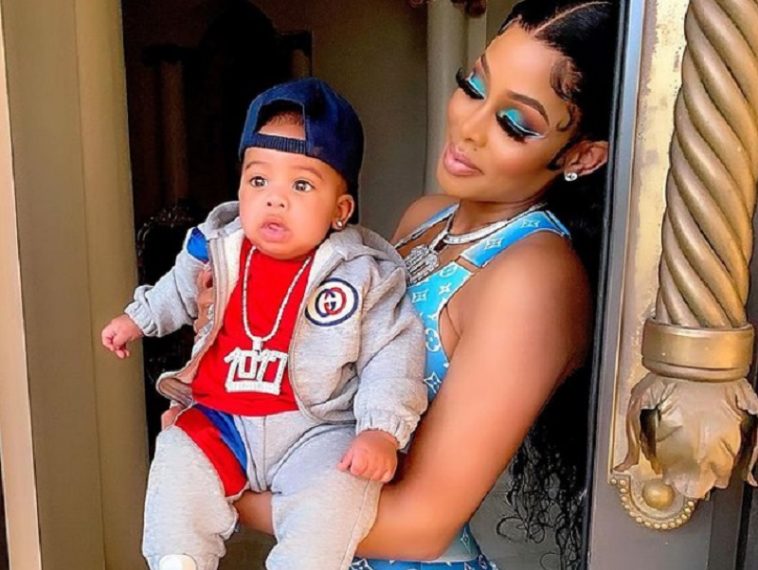 189 Views
Comments Off on Keyshia Ka'oir Sees How Gucci Mane + Baby Ice Are Twinning
Gucci Mane + Baby Ice Looking Just Alike
Model and entrepreneur Keyshia Ka'oir posted some cute baby pics on Instagram of her husband Gucci Mane and his mini-me Ice. The 1017 Records boss of course has a few more face and neck tattoos, but other than that you can't tell them apart…
"When @icedavis1017 was 2 weeks old looking like a light skin version of @gucci1017"
Gucci + Keyshia Celebrate 4 Years Together
The platinum-selling star is recognizing a major milestone in his relationship. Gucci celebrated four years with Keyshia Ka'oir recently, posting a batch of photos of him and his wife wearing matching pink formal attire at an unnamed social function.
In the comment section of the post, their son Ice Davis makes a surprise appearance and "leaves a comment" through his own Instagram account.
"Happy 4th Anniversary to my beautiful wife MrsDavis I love you. I really got the best wife in the world and even though our wedding was 10/17/17 we really got married 4 years ago today and that was the best decision I ever made. Thank you for staying by my side when I was in prison, thanks for being someone I can trust and thank you for my son Ice 🧊. I adore you and I'll never take you for granted. Love always Gucci."
"My mom & dad ❤️🤗" -Ice Davis
Gucci Mane Glows Marriage Goals
In April 2021, Guwop went to Instagram with a slideshow of more lovey-dovey pics hanging out alongside KK. In the pics, they're both showing off major love for one another, however, it's Ka'oir's beauty and noticeably green hair which steals the marriage goals moment.
"I got the finest wife @keyshiakaoir ❤️🥶"
Gucci Mane's Fit Goals Outshined
Recently, Guwop's ride or die went to her Instagram page with a batch of her very own flashy pics of the couple. The shots showed Gucci draped in luxury gear but Ka'oir's iced and fit completely outshined Mane.
"Guwop's b*tch she's a masterpiece✨#1017"
Gucci even went to his Instagram page to acknowledge KK's flexing is on his level.
"When it comes to Stuntin I met my match @keyshiakaoir 💎🧊 #IceParents"