West Coast rapper Saweetie is really going to do the most to get her signature meal into people's hands and mouths – even if she has to literally do it herself. The hip-hop star has taken the step of self-promotion to a whole new level in support of her must-try McDonald's dish.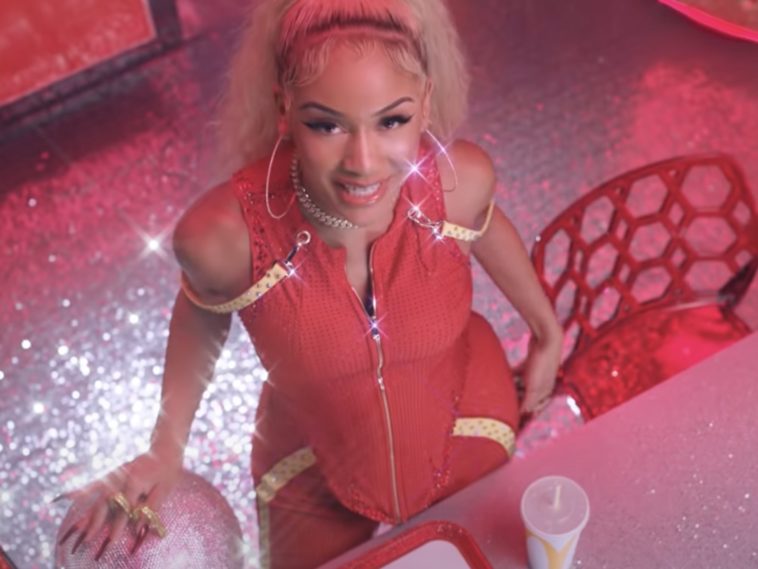 159 Views
Comments Off on Saweetie Actually Worked At McDonald's For A Day
Saweetie Actually Worked At McDonald's For A Day
The hip-hop heavyweight hit up Instagram to share a slideshow of must-see moments. The pics feature her literally working inside a McDonald's restaurant and personally getting people her Saweetie meal.
"have u tried #TheSaweetieMeal? ☺️"
Saweetie's McDonald's Meal Is Here
Earlier in the week, the hip-hop star hit up Instagram with a look at her mouthwatering meal line-up. She shared a stack of pics highlighting the standard Big Mac, McNuggets and her combination of BBQ and Saweetie & Sour dips.
"IT'S HERE !!! 🍔❄️ Introducing The Saweetie Meal @mcdonalds ❄🍟 #IKDR #TheSaweetieMeal"
She also stars in a newly released Saweetie Meal McDonald's commercial.
The "Saweetie Meal" Coming Soon
A few weeks ago, buzz developed about the "Saweetie Meal" going on sale this week. The meal includes a whole lot of food and is sure to fill up the average customer.
Saweetie went on Twitter to promote her new meal. She also dropped the promo art for the fast food collabo.
Beginning August 9, the "Saweetie Meal" goes on sale in the US and includes a Big Mac, four-piece Chicken McNuggets, medium fries, a medium Sprite and BBQ sauce that's being renamed "Saweetie 'N Sour" in honor of the meal. McDonald's is encouraging fans to follow Saweetie's tendency to "remix" her meals, by topping the Big Mac or nuggets with fries. (CNN)
WHO'S READY FOR ONE OF MY INFAMOUS CONCOCTIONS ?!! #TheSaweetieMeal x @mcdonalds coming soon.
Saweetie's Leaving The Country For New Album
Outside of grubbing, the Cali native recently gave fans a reason to wave good-bye as she packed her bags for a departure from the United States. The hip-hop superstar has announced plans to wrap up her upcoming studio album far, far, far away from her California roots.
The "Icy" queen went to her social media pages recently to let loose the big announcement. While speculation hopes the project will arrive before 2022, there's no confirmed drop date on when Saweetie's unloading new tunes.
"I'm going to Paris to finish my album."
Followers and fans alike lit up her Twitter post with applause and some hilarious demands.
"you is not rihanna give us the album"
"Me waiting on the pics at Eiffel Tower"
"no pics no instagram! lock in the damn studio and finish istg"
"the album needs to be done asap !!!"