New York rapper Safaree Samuels does not want to speak on his ex's name. In a recent interview he was asked a NSFW question about Nicki Minaj and practically pleaded the Fifth.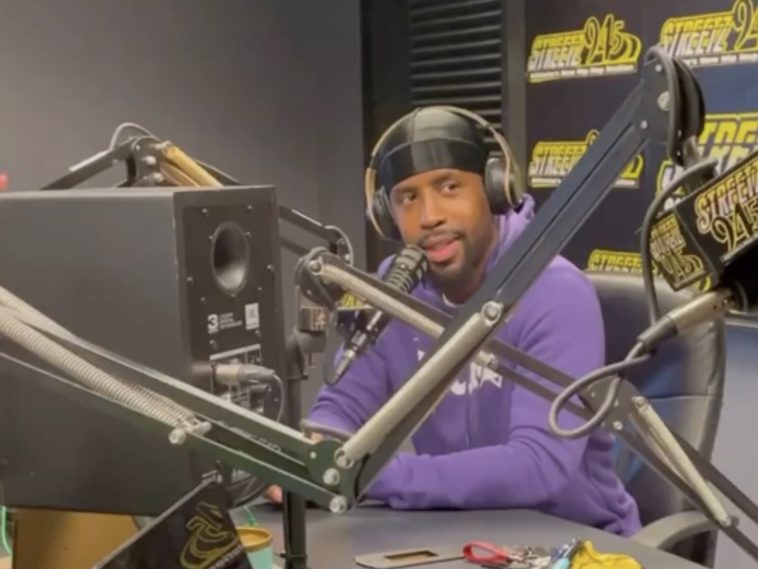 199 Views
Comments Off on Safaree Isn't Ready To Talk About Nicki Minaj + Keeps It 100 On Marriage
Safaree Isn't Ready To Talk About Nicki Minaj
Safaree was asked if he's ever bumped his ex's music while having intimate time, which he immediately shut down. He later on talked about her latest mixtape and didn't have an issue speaking then.
"That's not a good question. That woman is married with a brand new baby… God bless, okay!" (Street 94.5)
Samuels also dished on his personal issue with the concept of marriage in 2021 and why it's really not for everyone.
"I just think marriage makes everything way more technical. It does. I feel like when you get to live like boyfriend and girlfriend, like, grown man real talk. I know it may sound childish and immature but I feel like marriage just makes everything way more serious than what it needs to be. Going to a supermarket, going to take out the garbage, it just makes everything more serious. I know people will be like, 'Oh, I've been married for 20, 30 years -' alright, cool, that's great. That's y'all. We live in a different era now. And especially with this era of social media and people letting it really like, affect what they do on the daily, it's not the same as, especially being in the public eye." (Street 94.5)
Safaree Making Erica Mena Pay Up
The NYC native is making his estranged wife pay up. The "Love & Hip Hop" star claims his one-time ride or die Erica Mena trashed his belongings and needs to cough up some cash.
Safaree has filed legal documents demanding the Love & Hip-Hop wife pay up. He's seeking $50,000 for what he says are destroyed sneakers that his wife poured bleach on and cut the laces on as well as motorbikes.
EM allegedly poured paint all over the bikes and in the gas tanks, rendering them useless. Mena hasn't responded to the claims yet.
Safaree points out Erica was 8 months pregnant, with their second child, when all this alleged mayhem went down — and he claims their home security cameras recorded all of it, and he's more than happy to turn that footage over to the court. He wants the judge to force Erica to reimburse him around $50k for the damage. (TMZ)
Kaylin Garcia + Erica Mena Explode Over Safaree
The hip-hop veteran has a couple of the most flashy vixens in the game speaking his name. Recently, Mena and his friend Kaylin Garcia made instant headlines over dating speculation.
Mena appeared to strike first by going to her Instagram Story with a full rundown of her issues with Garcia. Erica accused Kaylin of doing the most by attending a birthday outing with Samuels despite his current marital problems.
"So @Kaylin_Garcia you been f*cking my husband all weekend in Miami. We have a son who was just born and still isn't home yet. Did he tell you that when he was telling you to lay low tonight? Real talk I been in the shoes of dealing with a man who lived a double life and I had no clue he was married. But you ! know Safaree is married. Who don't know that. Not to mention he real friends with Joe Budden your ex. Safaree just had a baby who he hasn't seen in 4 days that's in the NICU. That's also no secret. I'm blasting both of you since he told you to lay low tonight – clearly you both know I found out y'all been f*cking all weekend. My son not even a week old yet and he d*cking you down. I hope this is something you proud of shorty. This man lost his whole family officially. I wish you both the best."
Instead of going ghost or just ignoring the smash talk, Kaylin stepped up to clear her name and set the record straight.
"For years I have been to myself. No blogs, no drama. I am a women who is about accountability and morals. The fact that I have been called out for absolutely nothing. To me is insane. Me and Safaree are friends and nothing more. Thanks! Everyone stay blessed. And let's continue to spread love and light!"
Erica Mena Drops The Mic On Marriage
According to recent reports, the divorce decision went down a few weeks ago before turning into a trending topic. Details have also surfaced on how Mena and her estranged husband Safaree would ideally share custody of their daughter Majesty.
The "Love & Hip Hop" star just filed for divorce last Friday in Fayette County Superior Court in Georgia — where they appear to have formally tied the knot in late 2019, and where they currently reside. According to the docs, obtained by TMZ, Erica is asking for primary physical custody of their 1-year-old daughter, Safire, but she's willing to share joint legal custody with Safaree. She's also indicated she wants child support, plus … exclusive use of the home they currently share. (TMZ)