The Rolling Loud Miami music festival is still going down no matter how much noise a massive stage collapse created. The organizers have come forward to acknowledge a partial stage wreck but promised this weekend's jam-packed festivities are all in place to continue.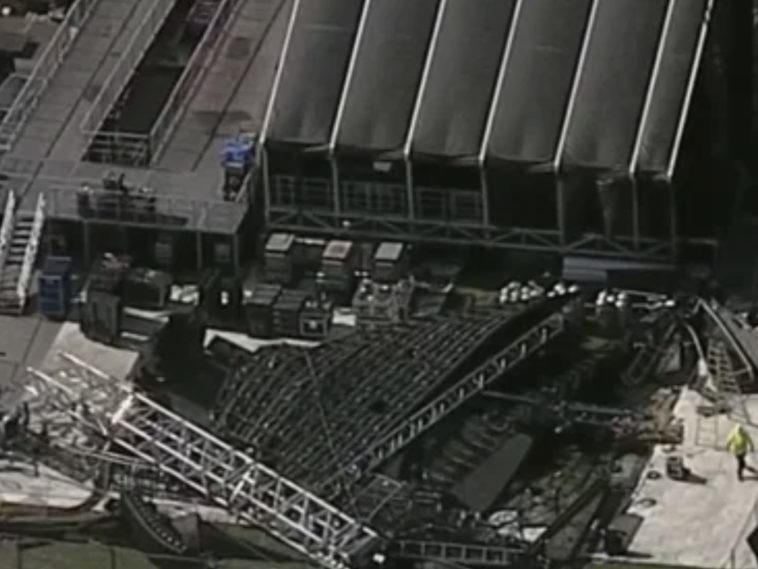 199 Views
Comments Off on Rolling Loud Miami Stage Collapse Won't Stop Kanye West + Headliners
Rolling Loud Miami Stage Collapse Won't Stop Greatness
The Rolling Loud Miami social media team went online to simmer any concerns. Despite South Beach being a place of disaster recently with a horrific apartment complex collapsing weeks ago, the organization assures followers and possible attendees all will be safe in time for the performances.
"In case you see it on the news, a screen fell down at one of our stages. Nobody was hurt and it will be fixed before doors open tomorrow. The show goes on!"
Despite the confidence, social media followers didn't take too kindly to the assurance.
"Seeing the pictures, technicians are about to be over worked. "The show goes on!" is extremely harmful. Apparently the industry hasn't learned a thing from the pandemic. No one cares about the people, just the product."
"News reporter mentioned wind! Lol man if a wind gust brought those screens and trussing and speakers down, fire the team building it, someone made a big mistake."
"The whole left side of the performance stage is "a screen" ?"
This weekend's festivities actually start tonight with A$AP Rocky, Lil Baby, Playboi Carti and a slew of hip-hop heavyweights pulling through – especially rap star Kanye West getting billed to pull through on Sunday.
Rolling Loud Makes A Major Comeback
Hopefully the stage issue will tighten things up for upcoming New York-based Rolling Loud festival which has some of the biggest names in hip-hop attending as performers. Specifically, 50 Cent, J. Cole, and Travis Scott will be headlining the event. Beyond Queens, New York, the worldwide festival is also planned for Miami and California, leading the grand return of large-scale occasions for live rap music.
Known for its wide-ranging lineups and show-stopping moments, Rolling Loud Festival is ready to return to the stage. Gearing up for its second-ever festival in the birthplace of hip-hop, RollingLoud announces Rolling Loud New York 2021, occurring October 28th-30th at Citi Field in Queens. Headlined by Travis Scott, J. Cole, and 50 Cent, tickets for Rolling Loud New York 2021 go on sale on Friday, June 11th at 12pm ET.
The event is going to have a huge New York presence with Dipset, Action Bronson, Young M.A., J.I. and Sheck Wes all slated to perforce.
The upcoming festival features a lineup that blends the biggest names in hip-hop with local heroes and respected veterans. Beyond the headliners, the festival promises performances from superstars like Lil Uzi Vert, Lil Baby, Playboi Carti, Polo G, and Lil Durk, rising talent like Pooh Shiesty, Ski Mask The Slump God, NLE Choppa, and Coi Leray, respected veterans including Rick Ross, Gucci Mane, Wale, and Fetty Wap, and a laundry list of NYC stars past and present, including Bobby Shmurda, Joey Bada$$, Ferg, The Diplomats, Action Bronson, Young M.A., J.I., Sheck Wes, Sheff G, Sleepy Hallow, Bizzy Banks, and many more.
Rolling Loud Miami Festival Is Delayed Again
In April 2021, unfortunate news broke about Rolling Loud not taking place in May 2021, as originally planned. At the time, the festival brand announced new dates from July-23-25, 2021 at the Hard Rock Stadium in Miami Gardens.
Organizers made sure to assure any tickets purchased for the original show would be refunded if the buyer couldn't make the new dates, along with "sweetening" the deal for those who chose to keep their tickets.
Thank you all for your patience. We kept the faith as long as we could for the May dates, but ultimately we still face challenges that prevent us from gathering together at Rolling Loud Miami in early May. With that being said, we are excited to announce that Rolling Loud will now take place on July 23-25, 2021 at Hard Rock Stadium in Miami Gardens!
Swae Lee's Rolling Loud Premiere
In September 2020, Southern hip-hop superstar Swae Lee shocked fans during a Rolling Loud virtual concert broadcast with an unexpected premiere. The song was set to land on his Human Nature studio album.
Prior to his performance, Swae went to Instagram and teased fans about having something special on deck.
"STREAM MY LIVE SET ON @rollingloud @twitch CHANNEL @ 10:15PM EST. got a surprise for ya'll"