Miami rapper Rick Ross has intimate knowledge of the demons that DMX battled leading up to his death. The platinum-selling star revealed that he's seen substance abuse and addiction in his family, so he knows how DMX struggled up until the end.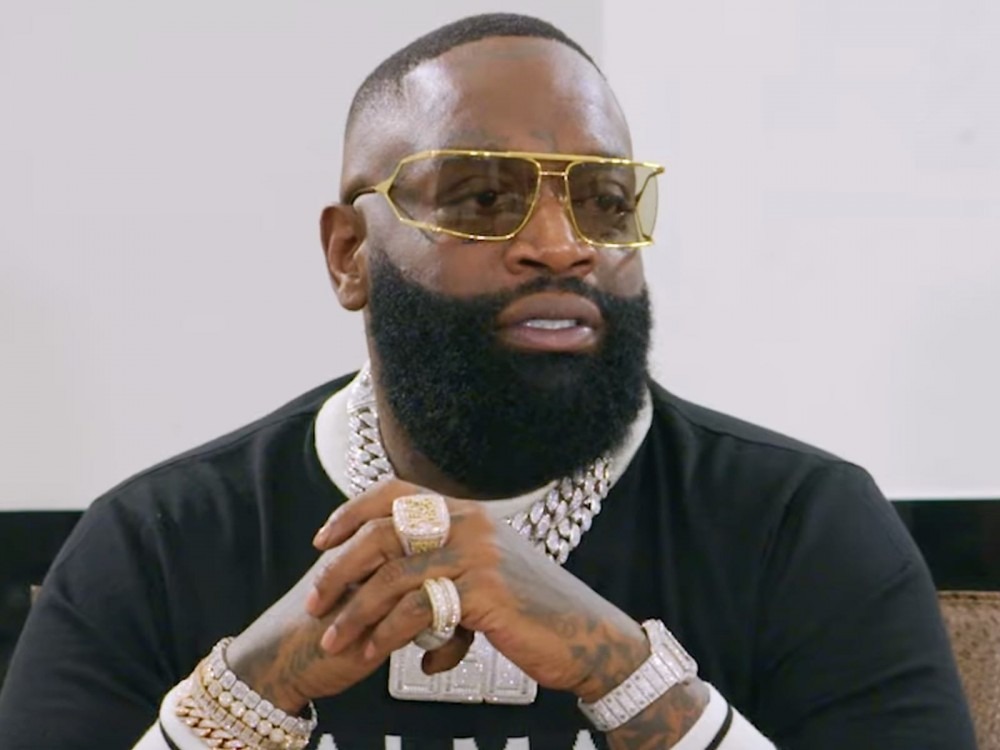 @sohh @sohhdotcom

149 Views
Comments Off on Rick Ross Understands The Struggle DMX Went Through
Rick Ross Shares His Experiences With Addiction
During an interview with the PEOPLE Every Day podcast, Rick Ross shared stories of the times he spent with the late DMX, and acknowledged that he's seen how addictions can get ahold on anyone. The Boss and The Dog had recently collaborated on "Just In Case" with Swizz Beatz for the "Godfather of Harlem" soundtrack.
"I got to see the funny side of him, we got to laugh at a few jokes. I saw him really focused and turned up. And hearing about his addiction many years ago, being in the industry, it's something that's been in my heart the most."

"Me having family members that suffer with addiction, I understood the struggle that he was up against," Rick Ross said. "So it's something that was really painful. Of course, I didn't expect this. And it just hurt. So if anything else, it should motivate us. Let's do what Dark Man X would have wanted us to do. Let's turn up. Let's go to the next level."
DMX Has A Holiday In New York
Hip-hop legend DMX's memory will forever be cemented in time following the latest decision by his home state of New York. The late rapper is being honored by having December 18th, his birthday, declared Earl "DMX" Simmons Day.
From here on out, New York will honor December 18th — the late hip-hop icon's birthday — as DMX Day. The news was announced by Erica Ford, co-founder of gun violence prevention organization Life Camp, and Priscilla Echi, a Westchester community activist, during a church service on Sunday, April 25th. The service was aired on BET as DMX's "Homegoing Celebration". (CoS)
Kanye West Secures $1 Million For X
Rap star Kanye West's decision to partner up with Balenciaga in support of a DMX tribute shirt reportedly ignited massive sales. Along with the profits, the apparel piece sold out in just 24 hours.
Sources close to Kanye tell us the custom DMX T-shirt designed by Balenciaga — which was commissioned by the Yeezy brand and put up for sale Saturday as X's memorial got underway — ended up cranking out huge profits quickly … upwards of a million bucks. Balenciaga had already said they'd be giving the net profits back to the fam — but the fact those sales produced a million dollars is staggering. Then again, the shirt was retailing for $200 a pop … so we suppose it makes sense. (TMZ)
Kanye West Teams W/ Balenciaga For Tribute
Earlier this month, X's official Instagram page shared huge news to fans. Details were revealed of West's Yeezy brand teaming up with luxury line Balenciaga for tribute attire.
"DMX A TRIBUTE BALENCIAGA YEEZY dmx-tribute.com"
The post also detailed the exact partnership between Yeezy and Balenciaga.
"BALENCIAGA HAS BEEN ASKED BY YEEZY TO DESIGN A T-SHIRT IN TRIBUTE TO THE LATE ARTIST EARL SIMMONS, AKA DMX. A TRIBUTE TO THE ARITST AND HIS FANS WITH NET PROCEEDS BENEFITING SIMMONS'S FAMILY. IN LOVING MEMORY."
Throughout the day, DMX's Instagram account had kept fans updated on his memorial service and arrangements.
"*** 𝐒𝐀𝐓𝐔𝐑𝐃𝐀𝐘 𝟒/𝟐𝟒 *** Celebration of Life Memorial LIVE on @YouTube at 4:00 PM EST (Link in bio.) *** 𝐒𝐔𝐍𝐃𝐀𝐘 𝟒/𝟐𝟓 *** Homegoing Celebration LIVE on @bet at 2:30 PM EST. 🚨🚨🚨Attendance restricted to family & close friends. 🚨🚨🚨 #longlivedmx"