Atlanta rap star Quavo is not that petty. The Migos star's camp has shut down rumors that he repossessed a very expensive gift from his now ex-girlfriend and fellow rapper Saweetie.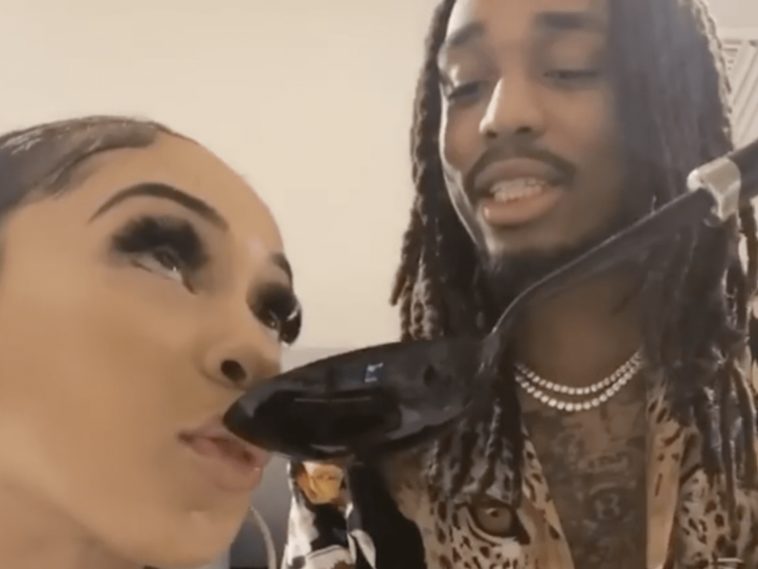 @sohh @sohhdotcom

119 Views
Comments Off on Quavo Did Not Take Back Saweetie's Bentley After Breakup
Quavo Did Not Take Back Saweetie's Bentley
Quavo's people have come forward to announce he did not have her custom Bentley repossessed and taken back. Original rumors said in the early hours of the night he sent somebody to come get it, but those rumors have been killed directly from Team Huncho.
Sources directly connected to Quavo tell TMZ … he didn't repo the Bentley, and anything suggesting otherwise is flat-out false. Reports surfaced Saturday that Quavo sent the Repo Man out to Saweetie's home in the wee hours of the morning to take the car back. Supposedly, he leased it and never put it in Saweetie's name — and a deal he struck with the dealership allowed him to end the contract early … which he's alleged to have done in the wake of their split. That's a cool story and all — but we're hearing it just didn't happen. (TMZ)
In December 2020, Saweetie went nuts and showed the world her Bentley.
She also made sure to share snapshots of the whip and her reaction to getting it from Huncho.
"new toy imma call her ✨❄️ BIG B ❄️✨ thank u baby @quavohuncho"
Quavo's Sister Clashes W/ Saweetie's Family
Quavo's sister Kashara isn't here for the disses coming at her brother. The hip-hop star's day one has reportedly stepped up to defend his image following a publicized split from Saweetie. A screenshot is going viral allegedly from the page of Huncho's sister. While she didn't go into details, Kashara did suggest there's things about Saweetie which people don't realize.
"I have been quiet long enough … I see how this is turning into a bash fest towards my brother and that ain't about to happen at all none of y'all know how Saweetie is in real life but I do and it ain't good."
Coincidentally, this moment sparked a war of words between Kashara and Saweetie's aunt.
The heat continued to rise when Saweetie's Aunt Whitty responded to Shara's post, saying, "Now now! Do we need Whitty to start airing this MF out??? I'm not gone be half as nice as ol Shara! What she not gonna do is speak ill of my niece, I get very disrespectful about mine," Whitty tweeted. Whitty continued her barrage of tweets, adding in IG clips of Shara accepting and showing appreciation for gifts she accepted from Saweetie. (BET)
Shara ultimately hit up her Twitter page and didn't back down from Saweetie's aunt.
"Who is this Whitty B—h I don't know s–t bout you and you don't know s–t bout me but I do know tour niece is a self centered b—h who know body likes!," she tweeted. She added, "I don't like drama at all!!! But f–k with my family and it's on!!
Quavo + 50 Cent Respond To Saweetie
Last Friday, Huncho went to his Instagram page to keep things 100 on the situation. While he didn't get into super deep details, Quavo did claim Saweetie wasn't the same person he fell in love with.
"I know you want to make this into a show so I'll play my part just this one time. I don't normally put my business out there, especially my personal life. I feel the need to address this so there are no false narratives. I had love for you and disappointed you did all that. You are not the woman I thought you were. I wish you nothing but the best."
Rap superstar 50 Cent – who is actively dating his publicized vixen girlfriend Cuban Link – made sure to jump onto Instagram to join in on the most buzzing drama of the week.
"B*tch! you went were, and said what to who? oh no you gotta go call you a Uber. LOL #bransoncognac #lecheminduroi"
Announcing Single Status
Initially, Saw went to her Twitter page to break massive news to fans. Despite dating Quavo for over a year, the California native hinted at an affair possibly splitting them apart.
"I'm single. I've endured too much betrayal and hurt behind the scenes for a false narrative to be circulating that degrades my character. Presents don't band aid scars and the love isn't real when the intimacy is given to other women. … I emotionally checked out a long time ago and have walked away with a deep sense of peace and freedom. Excited for this new chapter of elevation 🙏🏽"
The Internet immediately reacted to confirmation and shared support for Saw.
"Offset, a h*e. Quavo, a h*e. Takeoff, a private h*e."
"Roses are red, Violets are blue, Offset cheated on Cardi B, Saweetie didn't know hers was coming soon."