Philadelphia rapper Meek Mill is living his best life. After a video of fellow Philly star Lil Uzi Vert dancing went viral, fans are poking fun at him for a little on-screen action.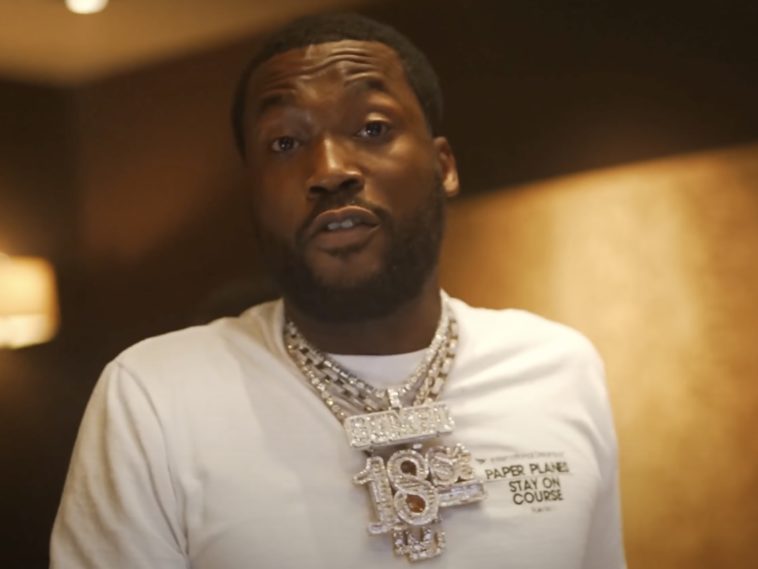 129 Views
Comments Off on Meek Mill + James Harden Had A Tickle Fight – No Cap
Meek Mill + James Harden Had A Tickle Fight
In the background of Lil Uzi Vert's must-see video, which occurred at billionaire Michael Rubin's insane New York party, Meek can be seen having a literal tickle fight with NBA All-Star James Harden. The video is hilarious, and everybody is clearly having the time of their lives.
Meek Mill Wasn't The Only Star
Everybody you could think of showed up to the party. From JAY-Z, Robert Kraft, Bobby Shmurda, Lil Baby, Harden and Meek Mill, to Bon Jovi, Travis Scott, Quavo, J Balvin, everybody made the trip out to the Hamptons for the occasion. The all-white themed getaway looked like something from a movie.
Meek Mill Warns Anyone Making Songs About His Ex
These days, the Maybach Music Group rap star is letting his Twitter fingers do all the talking. The hip-hop veteran recently warned anyone thinking about putting out music referencing his former girlfriend and son's mom Milano Di Rouge.
Meek Milly hit up his Twitter page to serve up a major warning to the world. MM quoted another Twitter user dedicating a song to Di Rouge and playfully said he would retaliate in his own song.
"You made a song about my bm im about come at you in a song lol 😂😂😂😂😂😂
The Strongest Woman In His Life
In May 2021, the Philadelphia native went to his Instagram page to share shots of both his sister and mom alongside him. Meek initially focused on just how much his day one meant to him and vowed to work more closely with his mom.
"Ima start balling with my mother more….. the strongest woman I know… I seen my mom do so much for me, I'm still learning how to help my kids mothers out more because it was normal for me to me to see a woman do everything for her family! Thankyou… my mom used to assemble my basketball courts … coach me a at rumbles… wash my clothes til this day…we used to hit malls together boosting together lol You couldn't imagine! My mom never let me feel the pain of the ghetto I would of thought we was rich! Happy Mother's Day! Can't never get blinded she rode the hardest my whole life!"
Mill went all out showing his sister love and said she would eventually hit "rich" status.
"My sister gone be rich too … happy Mother's Day! 💎💎💎💎💎"