Grammy-winning rapper Ludacris is proving it's deeper than rap. The hip-hop superstar has a new title he's going by these days after sharing footage of himself flying an actual plane.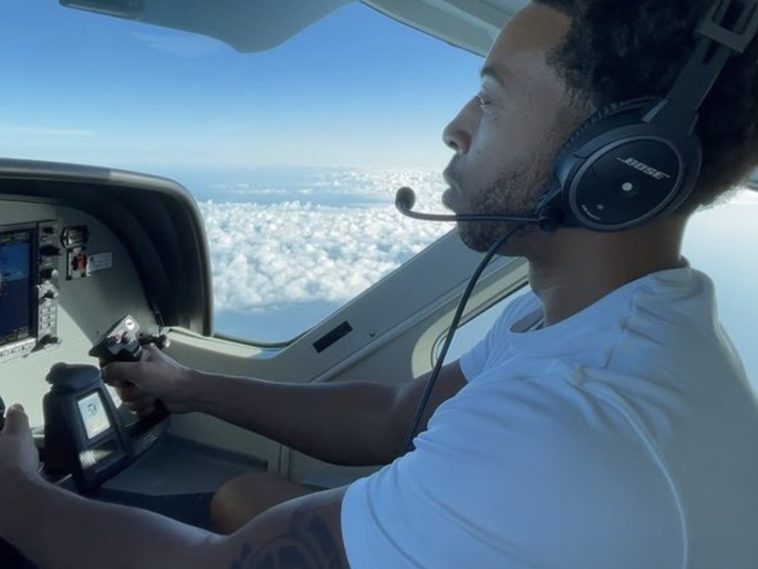 @sohh @sohhdotcom

99 Views
Comments Off on Ludacris Flies Super High In The Sky – Literally – As A Pilot
Ludacris Flies Super High
The Atlanta native went to his Instagram page with his jaw-dropping clip. The footage doesn't provide much context other than Luda sharing encouraging words and hinting at a possible new career move or at the very least a sky-high hobby.
"If You Don't Evolve, You'll Evaporate ✈️"
The epic footage even sparked a flurry of hip-hop co-signs from Terror Squad's Fat Joe to Dipset leader Cam'ron.
"God is great 🙏🏽" -Fat Joe
"Next level" -Russ
"✈️✈️✈️" -Cam'ron
"💪🏿💪🏿" -E-40
It's also worth noting Luda reportedly has his own means of air transportation.
In addition to his prized Acura, the "Fast And Furious" star also owns the private jet pictured with the car above. Based on the photo, the jet looks to be a British Aerospace HS.125-700, also known as a Hawker 700. According to Business Jet Traveller magazine, The Hawker 700 has seating for eight passengers and a range of 2,000 miles. Produced from the late 1970s through the late '80s, used copies of the aircraft can be had for as little as $1.5 million according the same magazine. (Business Insider)
Ludacris Celebrates 6-Year Anniversary
The Atlanta rapper is 100 percent about marriage goals. The hip-hop veteran recently went to his social media pages to geek out over his close-knit bond to wife Eudoxie Bridges.
"What's The Secret To 6 Years of Marriage & Counting? Make Sure She Gets an Over Abundance of "Vitamin D" 👑👑 Happy Anniversary Mrs Bridges. We Just Gettin Started 🚀"
Doxie also went to her social media pages to share just how much she loves Luda.
"May we always celebrate each other. 6 years of marriage down but it's always felt like we have been together in another life also. As imperfect as it is, it's pretty perfect! Thank you for making it the easiest and best decision of my life. I LOVE our LOVE ❤️❤️"
Eudoxie Reveals Ludacris' Best Gift
In July 2020, Luda went to his Instagram page to speak on their bond. Cris also revealed her favorite gift from the award-winning musician.
She said the best gift I've given her is a lifetime of memories ✈️ #thebridges -Ludacris' Instagram
The Bridges Are Living The Good Life
The couple had spent those past few days showing off on their Instagram feeds. Luda and Eudoxie have both unloaded tons of magical moments together in a huge body of water.
"Thank you for another beautiful birthday celebration all the way in July. Je t'aime mon amour @ludacris ❤️" -Eudoxie's Instagram