Vixen Lori Harvey is making sure everyone knows who she's with. The hip-hop model posted a series of stunning shots of herself wearing a gold bedazzled dress and surprised fans with an intimate shot of her and boyfriend Hollywood actor Michael B. Jordan.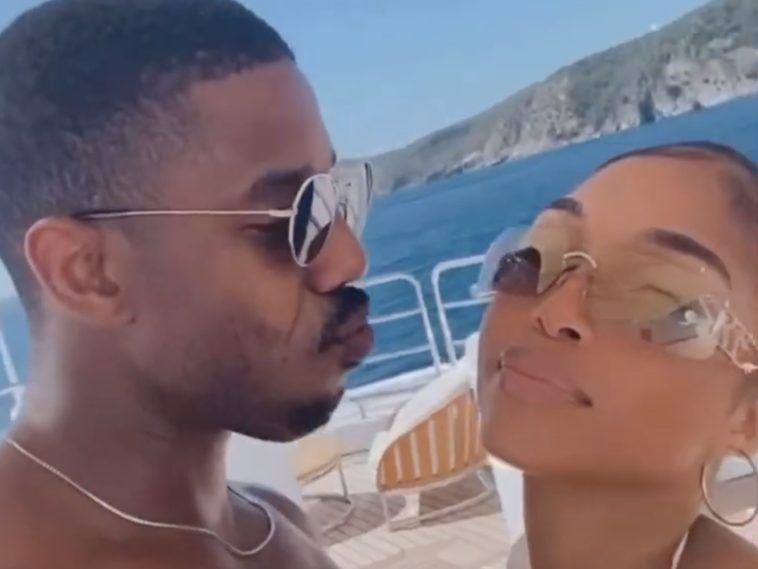 99 Views
Comments Off on Lori Harvey Fashion Goals Confirm She's Still Boo'd Up
Lori Harvey Models W/ Michael B. Jordan
Lori did more than just clarify her relationship status with the gorgeous mini photoshoot. She made sure to support Jordan by referencing his latest cinematic project, "Without Remorse" in her accompanying message for the post.
"Prada you baby 🤎 Without Remorse out now on @amazonprimevideo !!!!!! ✨"
The post sparked a flurry of co-signs including a shout-out from her celebrity boyfriend.
"A trophy " -JT
"" -La La
"" -Michael B. Jordan
Steve Harvey Can't Find Anything To Dislike About MBJ
In March 2021, Lori's "Family Feud" host dad Steve admitted he really couldn't find anything wrong with fellow Hollywood star Michael B. Jordan. Harvey said he was in search of finding something to dislike Jordan over, but confessed he loves him on the "The Ellen Show" as he publicly praised the Black Panther, Just Mercy, and Creed actor.
"You know, I have tried not to like him. I have tried to find something wrong with him that I could dig in and go, 'cause I done got rid of all of them. All of them. Some of them that snuck in the back door on me and lasted a lot longer than I wanted it to. This guy is such a good guy, man. He is one of the nicest guys, man. I've met his father. I've set up with him, we've talked for hours. I just can't find nothin' wrong with him."
Steve Harvey Can't Give Michael B. Jordan The Crown
In late March 2021, Steve spoke on potentially becoming the father-in-law of Hollywood actor Michael B. Jordan. The veteran performer shared some thoughts on MBJ in an interview. Steve Harvey was a guest on "Jimmy Kimmel Live" and was asked about Michael B. Jordan — his daughter Lori's new boyfriend — being voted "Sexiest Man Alive" by PEOPLE magazine. Steve disagreed, but all jokes aside, he said he likes Lori's new boo.
Steve: "Let's be clear about something: He is a nice guy, but he is not the 'Sexiest Man Alive' to me. At all."

Kimmel: "Who is the sexiest man alive, to you?"

Steve: "Me! All these people I'm paying for? If that ain't sexy, what is?"
Does Steve Have 'Pure Hatred' For Future + Diddy?
In February 2021, the "Family Feud" host claimed Jordan was the first one of his daughter's boyfriends to get his approval. Asked if he approved of Lori's past boyfriends, Steve said, "Nothing ever. Ever. Pure hatred." FYI, Lori's real dating history is rumored to include rapper Future, hip-hop icon Diddy, and R&B singer Trey Songz.
"Happyyy Birthdayyy Nugget 🎂
I love you baby…hope today has been at least half as special as you are 🤍"