Reality TV star Kourtney Kardashian is living her best life thanks to her rocker boyfriend Travis Barker. The "Keeping Up With The Kardashians" cast member has shared a sizzling moment between herself and the Blink 182 drummer.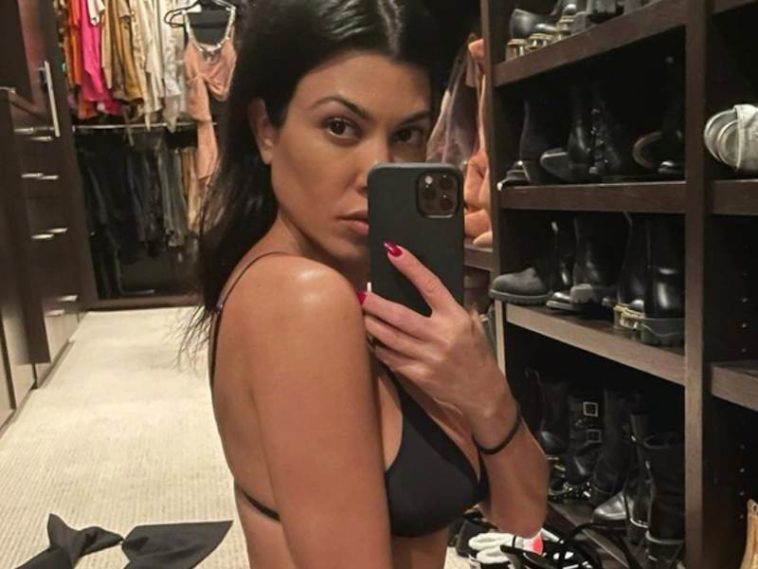 99 Views
Comments Off on Kourtney Kardashian Compares Travis Barker Dating To Heaven
Kourtney Kardashian Says Dating Travis Barker Is Heaven
In an Instagram post, Kourtney is seen straddling Barker while wearing a bikini. Barker holds her up shirtless, which exposes his tattoo-covered body. In the background, the couple is surrounded by what seems to be a desert landscape.
"Just Like Heaven."
Kanye West's Sister-In-Law Kourtney Gets Kinky
Earlier this month, KK went to her Instagram page to share a sneak peek of her laying down with Barker snapping a pic of her back. Kourtney also referenced doing things in bed not related to their planned movie night.
"watchin' movies, but we ain't seen a thing tonight"
Things took a wild turn when social media realized Kourtney was actually referring to pop star Ariana Grande's sex-driven "34+35" lyrics in her post.
The caption heated things up a little though, with Kourtney using some Ariana Grande poetry — "Watchin' movies, but we ain't seen a thing tonight" — to highlight exactly what was going on. Those lyrics are, of course, from "34+35" which…well, it's not exactly subtle, is it! Then Travis jumped into the comments with a simple emoji. I guess he likes said movie. (BuzzFeed News)
Travis and Kourtney Make It Instagram Official
In February 2021, the rumored pair confirmed they were dating through Instagram, when Kourtney posted a sweet photo of the couple holding hands in a car. The new duo had appeared to be dating since January after they were rumored to be on a trip together in Palm Springs.
Flash forward to Valentine's Day, they also appeared to be together, judging from their social media activity. After a few days of speculation, Kourtney finally sealed the deal with the car photo.
Kanye West's Sister-In-Law Might Be Dating Travis Barker
In January 2021, KK and Barker were in the early days of a promising relationship. While details were scarce at best, reports claimed they had spent some time together for leading into the new year.
Over the weekend, Kardashian, 41, and Barker, 45, enjoyed a trip to Palm Springs, California, where her mother Kris Jenner has a home. On Saturday, the Keeping Up with the Kardashians reality star and the Blink-182 drummer both shared poolside views of the residence's backyard on their Instagram Story. "They're in Palm Springs together. They've been dating for about a month or two," a source tells PEOPLE. "They've been friends for a long time but it's turned romantic." (PEOPLE)