Ohio rap artist Kid Cudi is in recovery mode after losing a close one. The hip-hop star has come forward to announce the unexpected passing of his longtime friend and loyal dog Freshie.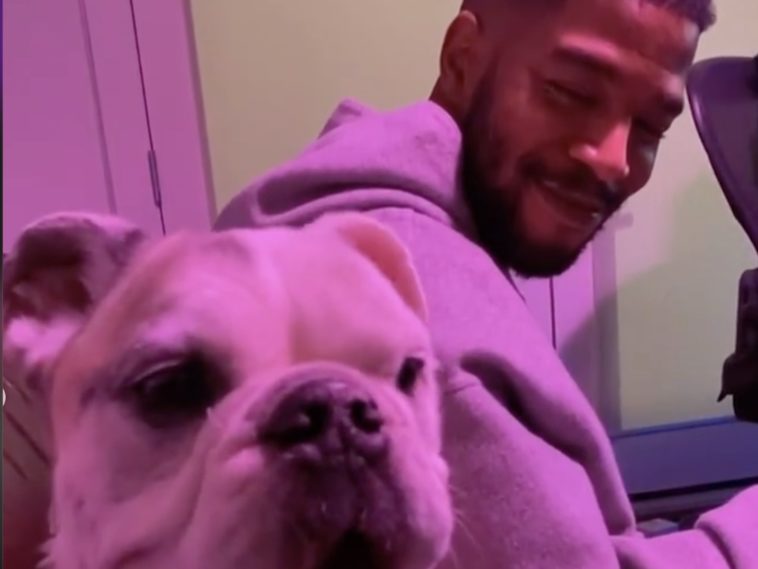 169 Views
Comments Off on Kid Cudi Announces Painful Family Death: 'I Was There While He Slipped Away'
Kid Cudi Announces Painful Family Loss
Cudder went to his Instagram page to break the emotional news to followers. Kid dished on just how much his dog meant to him and the family.
"I got some sad news yall. Freshie is gone. He left us a few days ago peacefully at home surrounded by people that love him. His family. I held his hand and whispered in his ear to let him know I was there while he slipped away.I told him he was a special boy, my best friend, that he was perfect and that I loved him and Ill miss him so so much. I felt his heart stop beating and felt his last breath. Fresh has been in my life since 2010. I got him when the producers of How To Make It In America told me my character for 2nd season would sell weed and walk dogs. I had no previous interactions w dogs prior, other than giving one a pet if my friends had one at their place."
Kid also revealed just how disinterested he was about having a dog until Freshie entered his life.
"I was truly nervous around dogs and I wanted to be comfortable onset w them so it felt legit. Like i was Domingo Dean, the dog walker/weed dealer. After I got Freshie, I was wayyy more comfortable w the dogs onset. It worked. But at the time I had no idea I would have such a best friend in my life. He's been here for 11 years, and my life has been one hell of a rollercoaster this whole time. Freshie was with me through it all everyday. He loved me. He really did. He came up and licked me if i was crying, he loved to lay in bed w me, he was always by my side or close by. He was my gaurdian angel."
Kid admitted Freshie also encouraged him to rethink self-harm and putting his body in danger.
"Nights Id want to cut myself, Id see Freshie and I couldnt do it. He would stare at me when I would have a knife to my stomach, eyes glaring at me tellin me to put the knife down. My life will be a lil more empty with him gone. To anyone that has lost a pet, I feel your pain. I am a complete mess. I cry at random moments of the day. I think of him when I wake up. Thinkin i have to take him out to pee. When I go to bed I almost say "Cmon boy" to let him know he can get in the bed with me. He would always wait to see if it was cool. He'd walk up, wait for me to say come on, then hop up. My best fuckin friend. Ill miss u everyday for as long as Iive. Ur w my dad now. And I better see u on the other side man. U better run up and give me so much love. Im lookin forward to it. I love you forever Mr Freshly. Til we meet on the other side my beautiful special boy. Goodbye 😘🙏🏾🐶"
Kid Cudi's Practically Ready To Dead IG
In July 2021, Cudi let the haters get under his skin. The hip-hop crooner came forward to single out people for pushing him to the brink over his fashion statement of donning painted nails.
Cudder went to his Instagram page and didn't hold back on people getting on his nerves. Kid acknowledged folks had him stirred up over his painted nail game and – as a result – decided to disable people from commenting on his posts.
"Turned my comments off on instagram. Seems people really have a problem w me painting my nails. I got tired of blockin so many accounts. I really need u to understand, if u dont like me doin this or anything I do, please dont buy my albums, dont come to my shows. F*ck way off."
Kid Cudi Reveals If Kanye Reached Out
Recently, Cudder appeared in a "The Shop: Uninterrupted" episode to reflect on donning a dress in honor of late rocker Kurt Cobain during an April "SNL" performance. Cudi completely stood behind his decision to link with fashion mogul Virgil Abloh to slay his appearance.
"I was at this point where I was looking on my phone, kind of looking at all these different stores and looking at dresses. I was just like, this is cute, this is cute. And then I finally realized, yo, I'm gonna get Virgil to do this. I'm gonna see if he has time, 'cause he's crazy [busy], he's got a lot of things he's doing. And he hit me right back and was like, 'Yes, let's go. I got prints, what you want?' I was like, alright, I want something floral, like a sundress. He's like, 'Perfect.' He sent me prints like two seconds later. He had them sh*ts on deck." ("The Shop: Uninterrupted")
Kid also talked about having the confidence to deal with any type of negative feedback he might have received. KC acknowledged the fact Kanye didn't reach out to him but believed Yeezy kept tabs on what went down.
"I've never been someone who's like thinking about the backlash. I don't give a f*ck about what anyone thinks. You can't when you're doing this sh*t. I knew it would piss some people off, but I love that. Because hip-hop is so weird about sh*t. I've already seen people making YouTube videos where they're just strictly talking about me and this dress. Like grown men angry, grown Black men angry. 'He's doing something against men and masculinity, it's a big thing going on…' And I just be like, yo, this is so funny, this is crazy that I've stirred it up like this. … It's not like Kanye's gonna hit me up and be like, 'Yo that dress was fresh.' But it's OK, I know that Kanye sees that and he respects me for it." ("The Shop: Uninterrupted")
Joyner Lucas Looks Out For Kid Cudi
In April 2021, East Coast rapper Joyner Lucas gave his take on the now-infamous dress moment. The lyrical rapper said Kid Cudi was still fully capable of beating someone up, even if he wore a dress. JL was likely responding to some negative comments made towards Cudi after his performance regarding him wearing a dress as a man.
"Don't get it twisted. Cudi will wear a dress and still beat you the f*ck up. 😭 @KidCudi 🙌🏽🙌🏽🙌🏽"