R&B singer Kehlani dropped a bomb on fans today when she seemingly confirmed that she was lesbian during an Instagram Live with a friend. The Grammy-nominated artist addressed her fans during the video and casually made the statement that she's gay.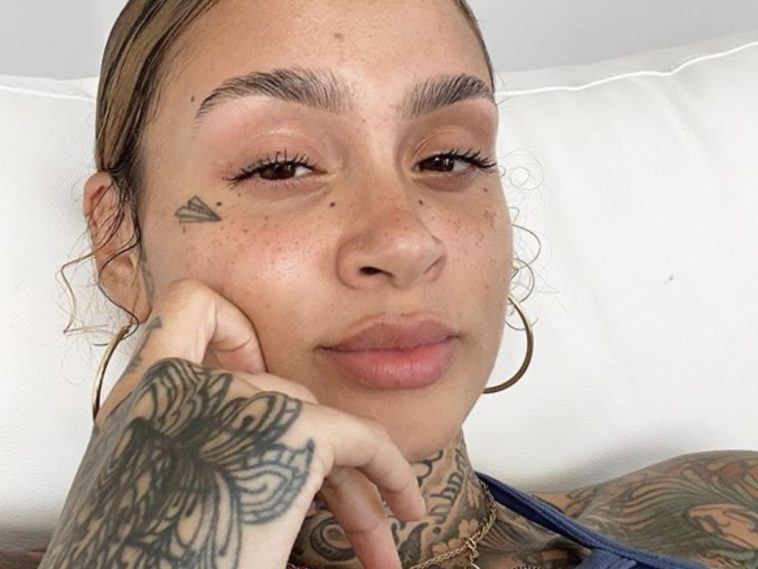 @sohh @sohhdotcom

99 Views
Comments Off on Kehlani Seemingly Comes Out As Lesbian During Live Stream
Kehlani Seemingly Comes Out As Lesbian
Following Lani's confession, her friend, photographer Jamie-Lee B said, "Bomb drop." Fans responded with supportive messages through comments and a slew of flattering requests for her to date them.
"Wanna know what's new about me? I finally know I'm a lesbian."
Kehlani Gives Young M.A "Hey Kehlani" Shout-Out Reaction
In October 2020, Brooklyn rapper Young M.A. referenced Kehlani in her "BIG" music video by name. Keh responded to the shout-out by embracing it. She also joked about how many tattoos people can spot up and down her body.
"I loved it. I loved it. I thought it was really cool. I thought it was funny. I think that public reactions are just hilarious to me in general, so it was funny to see what people thought was going on or what they thought it meant, or just the timing on top of it. I don't know, but I mean I am probably the most heavily tattooed woman in the industry, probably. So it was just, who else could you say? You know what I'm saying?" ("Me Always Radio with Young M.A")
Kehlani Vs. Kaalan Walker Feud Gets Ugly
In March 2021, Kehlani addressed actor Kaalan Walker's accusations that she aborted a child they were going to have together. Walker has been in jail since 2018, facing sexual assault charges, until he was released on bail in March. After Kehlani went on Twitter to support his alleged victims, Walker responded with the abortion story.
Kehlani didn't just use her own social media pages to clear the air, she also commented on the Instagram post of the site that shared her screenshots.
"lemme make this very clear… i know his victims personally. i was asked personally and privately to back them up because multiple large platformed people/celebrities had literally left them on READ. if speaking up for abused women makes me 'getting in someone's business' if it makes me 'messy' then i'll absolutely be that. i'll take that over being the woman who was SILENT when came to personally for help. i'm not addressing the *very clear* craziness, but anyone with the notion i 'inserted myself' can kiss my mf ass. who gets anything positive from anything related to assault? what clout? who wants to be known for anything this traumatic? as many times as i've spoken about being a victim myself? i will never be so afraid of imaginary repercussions that i let it stop me from standing up for what's wrong. a lot of y'all need your mf cards revoked, and he needs to be back in jail and medicated. bless it."
Kehlani Puts Herself On Beyoncé + Rihanna's Level
In November 2020, Lani shared some huge news on Instagram. Keh acknowledged securing the No. 3 spot on streaming giant Spotify's prestigious Top R&B Female Artist list of 2020.
"jus wanted to repost with a proper caption. in May, i put an album out with all the odds against it. beginning of quarantine. did the entire roll out from my garage, created a production company composed of literally just me and @brialysse at the time to shoot and edit videos from the garage, shot the cover in the damn backyard …with my toddler there every step of the way. we had a #2 overall album and #1 rnb album. i have a lot of fans wondering where certain accolades or acknowledgments are for me but i need y'all to know that YALL listening to and loving the music is what matters to me the most. numbers don't lie! y'all see me working hard! my family sees me working hard and gets to see really cool shit like this. my mama gon think this is awesome and that's priceless. i love you all so much. honored to be in company with women i grew up admiring forever and still now. just happy to be here. 🤍" -Kehlani's Instagram