R&B singer Jhené Aiko knows how to make her man smile. The popular crooner has lit up her social media pages to unload throwback pics of rap star Big Sean in celebration of his birthday.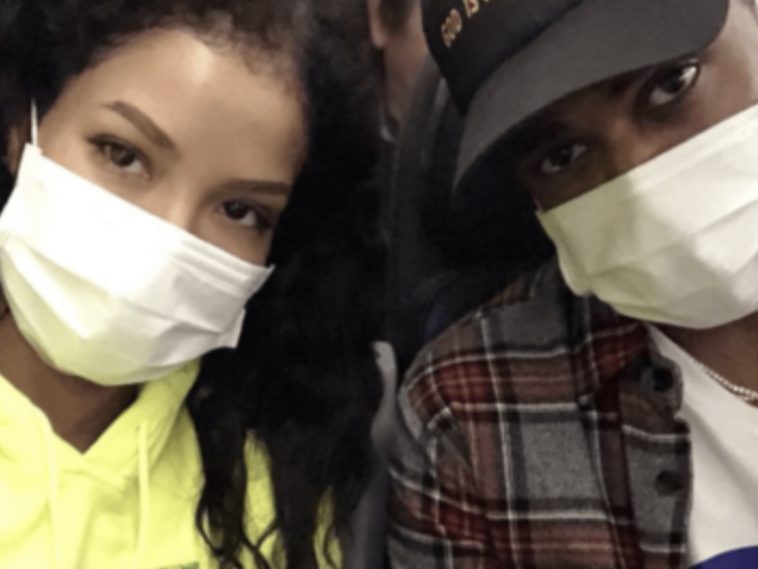 @sohh @sohhdotcom

99 Views
Comments Off on Jhené Aiko Unloads Big Sean Baby Pic For His Birthday
Jhené Aiko Unloads Big Sean Throwback
The West Coast beauty relies on Instagram to share some gushy shots of Sean Don. While some of them are more modern, the most handsome one dates back to B.I.'s childhood.
"Happy Birthday! i love you 💙"
Sean made sure to sneak into Aiko's comments section to acknowledge her love.
"I love you too, thank you 💙"
Big Sean Celebrates Jhené Aiko's B-Day
Earlier in the month, Sean Don shared a flurry of rare pics showing both of them together and throwback looks at Aiko's younger days. B.I. also dished on just how much she meant to him and her low-key characteristics.
"3:16 Pisces Queen ♓️ 33 trips 💙 the most beautiful, determined, hard working, coolest, magical, emotional, honest, emotionally honest, easily annoyed, rare, extremely generous being/healer/ fighter/lover/ writer. 88 Gang member 🐉. You deserve to be celebrated. Thank you, I love you!! ♓️💙🤟🏾"
Aiko also went to her Instagram page to reflect on turning 33.
"LOVE u better show me some love 🥰 now we are growing in love 😌 happy 3:16 💙 33 ✨✨✨"
One of the best posts came from Aiko sharing a super throwback childhood pic.
"walking into my 33rd year like 😊 here's to 33 years of being the baby hair God 🙏🏼 lol. thank you for the birthday wishes. i love u 💙"
Jhené Aiko Is A Born Fighter
Earlier in the week, Aiko came clean in more than one way with a heartfelt Instagram post – sharing that she's been working on getting sober the last few years and overcoming trauma associated with anxiety and self-doubt.
"i've spent most of my life being extremely sensitive, drained and nervous when around a lot of people and/or multiple energies at once. i've spent most of my life with crippling insecurity… feeling awkward and shy in front of cameras and audiences. i've spent most of my life not understanding that my anxiety was causing a downward spiral, self medicating and self sabotage. motherhood, loss, depression, addiction… life is a f*cking trip. i've always felt the urge to express myself with the intention to overcome my emotions, and to share those expressions with the intention to help others."
Jhené also talked about her journey to becoming sober and what methods helped her become stronger. In response to the post, her fans showered her with praise in the comments section and also celebrated her well-deserved Grammy nominations.
"but anxiety, sensitivity, unhealed trauma and feelings of not belonging or ever being enough kept me from fully accepting or being comfortable with any type of spotlight. but little by little, and from time to time… i feel confident enough to be myself… shy, awkward and ALL… and step into the light. over the past couple of years i made a conscious decision to say yes and open myself up to even more opportunity and possibility, despite my reservations. i've spent the last few years getting sober… using sound, aroma and color therapy, proper diet, meditation, exercise, etc… to become a stronger, clearer vessel of love, truth and light. i will never be perfect, nor do i ever want to be seen as such… but when u see me, know u are looking at a fighter. and i know u are fighting too. so when u see me i hope you also see you."
Hosting Big Grammys Event
Earlier in the month, the six-time Grammy nominee hosted the Grammy Awards Premiere Ceremony. Aiko was up for three Grammys herself this year: Album of the Year and Best Progressive R&B Album (Chilombo), and Best R&B Performance ("Lightning and Thunder" with John Legend).
Jhené Aiko will host the official Grammys pre-show, which will take place March 14th at 3 p.m. ET/12 p.m. PT and be streamed live on the Grammys' website. Aiko is nominated for three Grammys this year, including Album of the Year and Best Progressive R&B album for Chilombo, as well as Best R&B Performance for "Lightning and Thunder," a duet with John Legend. The 63rd Grammy Awards Premiere Ceremony will feature performances from Grammy nominees across various genres. (Rolling Stone)