Atlanta rapper Jeezy is big proud of his marriage goals. The Snowman has lit up social media with a look at his life-changing wedding day.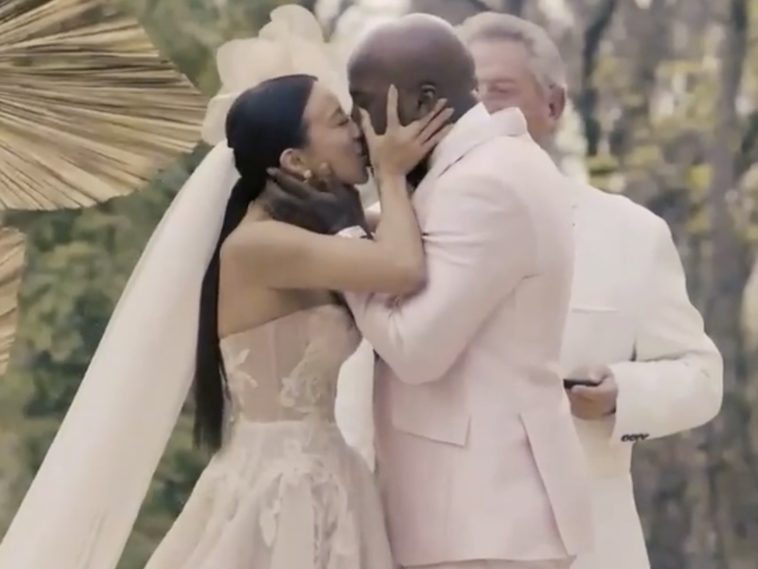 @sohh @sohhdotcom

99 Views
Comments Off on Jeezy Shares Super Emotional Jeannie Mai Wedding Video
Jeezy Shares Super Emotional Wedding Clip
The Georgia native hit up Instagram with the must-see clip. The footage shows the moments before Jeezy and his now-wife Jeannie Mai tied the knot.
"I found me when I found you Mrs Jenkins… 💍"
The clip sparked a flurry of co-signs and reactions in the comments section.
"❤️❤️❤️❤️" -Monica Denise
"Love this" -Shaun King
"Congratulations 💕" -Emily B
"Get ready Mr Jenkins. You are my reason for life 🌳🤍🌳" -Jeannie Mai
"Conmackulations to you both y'all did dat! ❤️🥂 🤴🏽 👸" -E-40
Jeezy and Jeannie Mai Officially Tie The Knot
This week, Jeannie Mai went to Instagram with a dope wedding shot. She revealed they officially tied the knot in her caption and shared her new legal name.
"You will forever be my 'I Do.' Mrs. Jeannie Mai Jenkins"
Jeezy Celebrates Jeannie Mai's Birthday
The Atlanta rapper really, really, really loves his now-wife. The hip-hop star went to his social media pages to acknowledge his at-the-time fiancée's birthday back in January 2021. The Snowman went to his Instagram page and shared an epic-looking boo'd up shot with Mai. Jeezy takes things even further by dishing on just how special she is to him.
"Happy Birthday to My Queen, My partner in crime and grind, My rock and My best friend 💍 Everyday is your birthday as far I'm concerned 🍾💯🎂"
Celebrating His Birthday
In September 2020, Jeannie hit up her social media pages to celebrate Jeezy's born day. Mai gushed over how much she loves him and vowed to make everyday special.
"Ooooh I get to celebrate these dance moves for the rest of my life 🥰🤩 Happiest Birthday King. Let's make every day feel like your born day 👑 Psst don't kill me, I can't keep this magic to myself 😆🕺🏿" -Jeannie Mai's Instagram
Mai's mom went even further with a massive birthday shout-out.
"Today I celebrating my son. Not my son in law. Real son just not Asian. This video it my favorite day because no Jeannie🙄 Just quality time with Jay. He fly from Atlanta all the way to Houston to visit the mother! Mama Mai learning his heart, his mind and what a specialty person he is!! He listen and he understand Mama Mai more than anybody!! 😘💯👍🙌👏👏Today it his birthday!!! I celebrate You today Jay!!! You a wonderful man and We Love You!!!!" -Mama Mai's Instagram