New York rappers JAY-Z and Nas have finally reunited. After days of teasing, the hip-hop moguls shine bright and take over producer DJ Khaled's "Sorry Not Sorry" music video.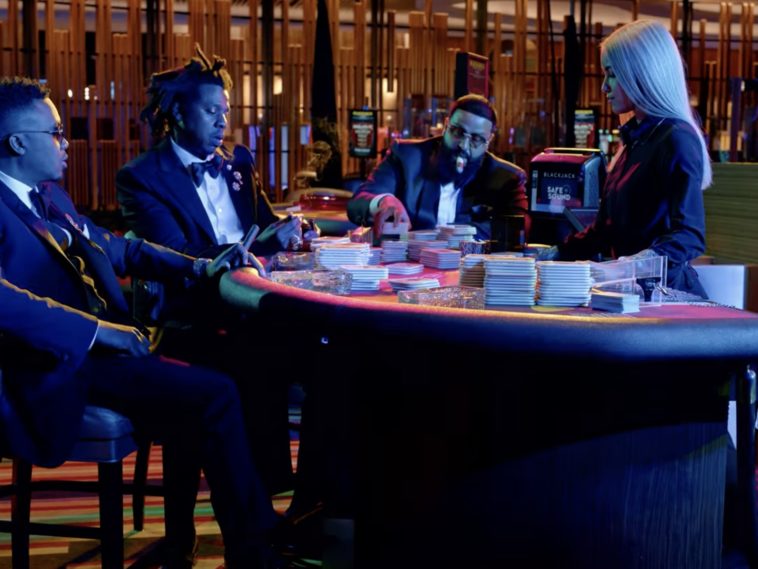 109 Views
Comments Off on JAY-Z + Nas Bet It All In 'Sorry Not Sorry' Music Video
JAY-Z + Nas Bet It All
The must-see visual pits Young Hov and Nasty Nas in a casino setting. While they're betting it all in cards, Khaled makes his presence felt hanging out alongside the Big Apple heavyweights.
As promised, DJ Khaled just dropped another one, coming through at midnight with not only his twelfth studio album, Khaled Khaled, but a music video for his single "Sorry Not Sorry" featuring Nas, Jay-Z & James Fauntleroy and Harmonies by The Hive. In it, quarantine is officially over and DJ Khaled and friends are bellying up to the blackjack table for a very Vegas evening of cigars, bars, and reminiscing about that distant moment in time before they were all very, very successful. Oh, and while she doesn't make a visual appearance, Beyoncé stops by with a slinky "heyyyy" that absolutely makes Jay-Z's verse. (Vulture)
JAY-Z Curates Nas Playlist
Prior to the video dropping, JAY gave Nas a solid look. Young Hov released a curated playlist of classic Nasty Nas anthems. The listing featured a wide view of Nasir's musical repertoire, from early classic releases to his more recent work.
Curated by The God Hov: NaS,' a playlist by JAY-Z.
Nas Can't Wait For DJ Khaled's Album
Earlier in the week, Nas reminded fellow fans of Miami producer DJ Khaled upcoming album's release date, which is slated for this Friday. In the comment section, a message from Khaled himself proved the We The Best CEO appreciated Nas' shout out.
"KHALED KHALED this Friday April 30th." -Nas
"Love brother 🤲🏽" -DJ Khaled
DJ Khaled's New 'Khaled Khaled' Drop Date
A few days ago, the Miami producer hit up Instagram with a huge announcement. Along with promising the album is completely finished, Khaled locked in the project's drop date to Friday.
"ALBUM 100% DONE! ITS TIME ⏰ I TOLD MY TEAM LETS PUSH THE BUTTON! #KHALEDKHALED THIS FRIDAY APRIL 30TH! 🤲🏽🌞🔑 SO YOU KNOW IM SERIOUS IM POSTING THE COVER NEXT!! IM EXCITED!!! COVER NEXT POST ! @wethebestmusic @rocnation @epicrecords @milkmoney"