Issa Rae might be ending her "Insecure" show, but she has no plans of slowing down. The director is the new cover star of Roc Nation's new luxury multimedia magazine, EDITION.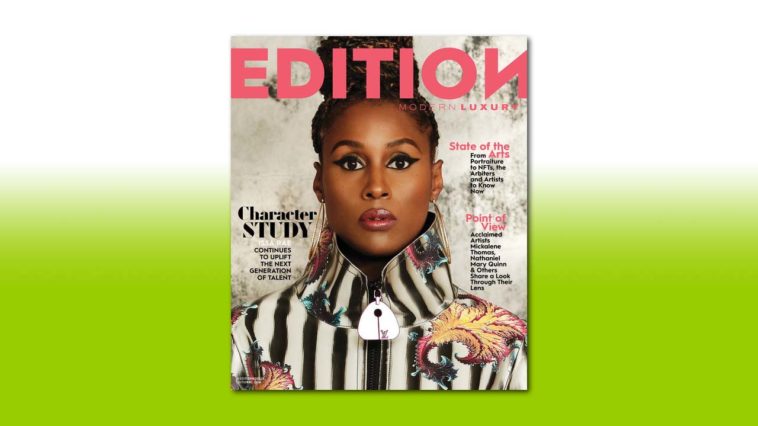 179 Views
Comments Off on Issa Rae Covers New Roc Nation Luxury Magazine
Issa Rae Is The Newest Cover Star
Roc Nation and Modern Luxury Media's new multimedia platform, EDITION, has launched its inaugural, limited collector's Art Issue with Issa Rae as their cover star. The luxury magazine, the newest offspring of JAY-Z's Roc Nation, will also include icons like Beverly Johnson, Nathaniel Mary Quinn, and Romeo Okwara.
The Art Issue will be released as a limited-edition hard-cover collectible book with more than 200 pages of beautifully written and shot features along with impactful profiles.
"Our debut issue of EDITION is its very own work of art, rooted in our vision to embrace and celebrate both established and emerging creatives that are breaking barriers and making a global impact," said EDITION's Editor-in-Chief Isoul H. Harris. "From our exploration of the current life of our cover-star Issa Rae written by celebrated art curator and writer Kimberly Drew, to celebrating the works of the likes of visual artists Nathaniel Mary Quinn and Tschabalala Self to pioneering hairstylist Jawara Wachoupe, and others, we believe EDITION's debut shines a spotlight on the unmatched artistry found when you bring together such a unique group of voices."
Issa Rae's Got A New Show w/ The City Girls
Fans of Hollywood actress Issa Rae were recently bummed to learn her hit series "Insecure" will be airing its fifth and final season in the coming months. The good news is Issa isn't going away with HBOMax developing a new show for the Emmy-nominated entertainer.
Jay-Z Expands His Empire Into The Metaverse
JAY-Z continues to diversify his portfolio outside of music with luxury mag EDITION as well as investments in the future of technology. His Marcy Venture Partners venture capital firm (MVP) has made an investment in Spatial Labs. Spatial labs is a tech incubator that will focus on cryptocurrency and blockchain developments and products.