We The Best CEO DJ Khaled is done making fans wait. The hip-hop superstar has shared the cover art and promised to release his Khaled Khaled album this week.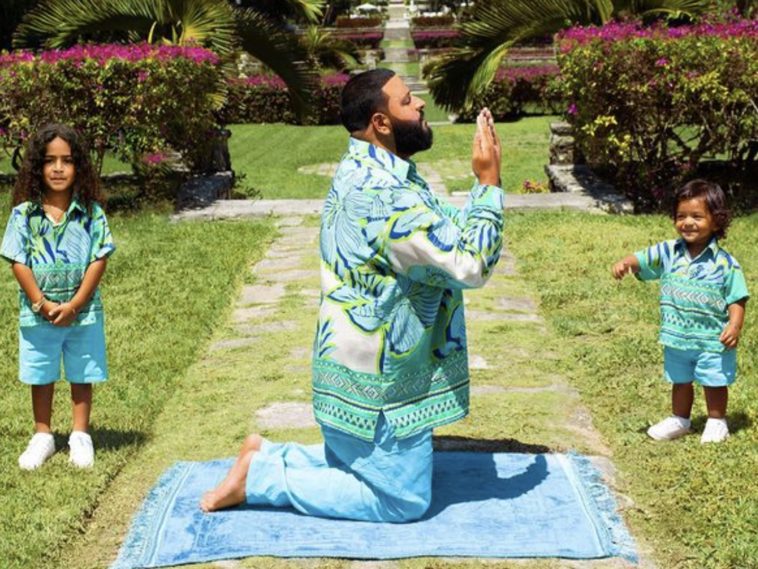 129 Views
Comments Off on DJ Khaled's New 'Khaled Khaled' LP Drops This Friday
DJ Khaled's New 'Khaled Khaled' Drop Date
The Miami producer hit up Instagram with a huge announcement. Along with promising the album is completely finished, Khaled locked in the project's drop date to Friday.
"ALBUM 100% DONE! ITS TIME ⏰ I TOLD MY TEAM LETS PUSH THE BUTTON! #KHALEDKHALED THIS FRIDAY APRIL 30TH! 🤲🏽🌞🔑 SO YOU KNOW IM SERIOUS IM POSTING THE COVER NEXT!! IM EXCITED!!! COVER NEXT POST ! @wethebestmusic @rocnation @epicrecords @milkmoney"
Khaled also showed off the project's cover art which features his two sons.
"KHALEDKHALED 🤲🏽 EXECUTIVE PRODUCED BY @asahdkhaled @aalamkhaled FRIDAY APRIL 30TH GOD IS THE GREATEST 🤲🏽"
DJ Khaled Has Breaking News
DJ Khaled had been dropping hints for his followers for the last few months, but the wait appears to finally be over for his 12th studio album, Khaled Khaled. In a mid-April Twitter clip he posted, Khaled is filmed on a beach set with a helicopter flying behind him revealing how close the album was to completion.
The record executive has also recently shared moments with the likes of Atlanta rap group Migos and Grammy-winning singer H.E.R. sparking speculation that they could be expected on his album.
DJ Khaled's Low-Key In The Studio
In March 2021, Khaled went to his Instagram page to unload some must-see shots of himself in the studio. One post featured a slideshow of moments with rap star Roddy Ricch and their crew.
"Busy day! Amazing day ! BLESS 🆙! @roddyricch ! Love brother ! KHALED KHALED ALBUM MODE !"
Khaled also hit up Instagram with pics of himself chilling with Nas. Along with the idea of music-making, Khaled's shots also featured some key members of Roc Nation.
"STILL IN THE MEETING @wethebestmusic @massappeal @nas @rocnation"
Migos Post Up In The Studio
In late March 2021, DJ Khaled took to his Instagram to reveal he was on the music grind with Quavo, Offset, and Takeoff. While no exacts are given, everybody can only speculate the rap stars are working on the long-awaited Culture III fans have been eagerly looking for.
"🚨👀🚨👀 #ALBUMMODE #KHALEDKHALED @migo…"