Louisiana rapper Boosie Badazz is hyping fans up to no end. The hip-hop star posted a video of himself behind the wheel and dancing to a new song he's possibly working on.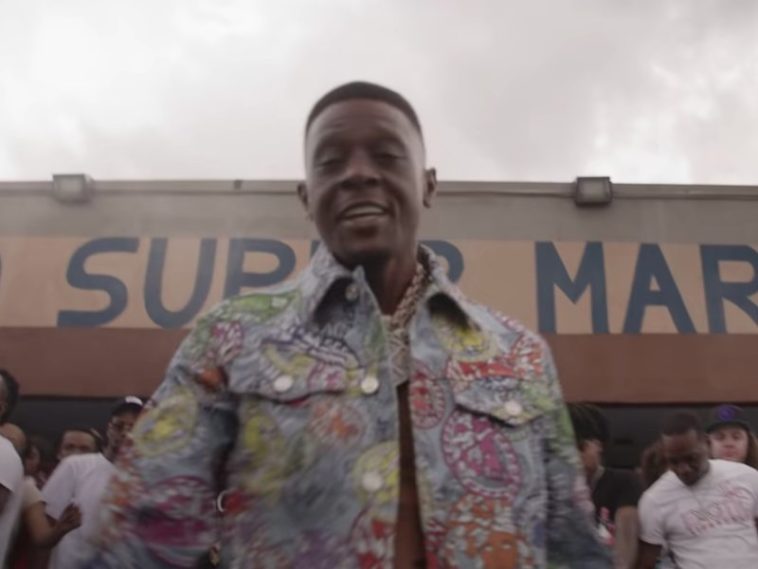 99 Views
Comments Off on Boosie Badazz Hypes Fans Up Listening To His Own Track
Boosie Badazz Hypes Up Fans
Badazz got fans excited in a big way through the short clip he put out through Instagram. In the video, Boosie mouthed along to the song's lyrics and nearly danced out of the driver's seat while on the road.
Boosie's followers were quick to respond to the clip, expressing how hyped they were to get an official version. Some fans even flat out confessed they didn't care what he put out, anything that he touched was fire.
It don't matter, he has me hyped watching him sing it so now I'm hype 😂😂😂💜
Anything boosie drop.. I'm Fwi… 🔥🔥🔥🔥
I don't care what he saying it's a bop😂😂
Boosie Badazz Wants To See More Natural Women
In a break from music-related news, Boosie Badazz recently went to social media to vent on Twitter about being tired of surgically-enhanced women who all look the same. He recommended ladies try to keep their natural look, and even implored the fellas to "motivate" their women so they don't feel insecure.
"IM TIRED OF SEEIN THIS PLASTIC SURGERY SMH EVERYBODY BODY PARTS LOOK THE SAME Titties, ass , hips etc. #ladies TRY NOT TO CHANGE YOUR FACES SO MUCH N MEN MOTIVATE YOUR BITCH SO SHE AINT FEELING SHE MISSING ANYTHING #isaidit"
Boosie + Flavor Flav Comparisons Won't Go Away
Last month, Boosie got caught up in some lookalike drama, being compared to rap and reality TV veteran Flavor Flav. Flav went to his Instagram page with a hilarious clip acknowledging the world is now intentionally going at him with the Boosie trolling.
"This is Flavor Flav on Las Vegas Boulevard live baby. And yo, this sh*t is getting out of f*cking hand right now – motherf*ckers is coming up to me calling me 'Lil Boosie' on purpose. 'Hey Lil Boosie! How you doing? Oh, Flavor Flav!' Eh yo, I don't look like no motherf*cking Lil Boosie. Aight? Boosie, look what the f*ck you done started, son? You got everybody calling me you now! I don't look like Lil Boosie. I look like Flavor motherf*cking Flav! Y'all get it right."
Boosie Badazz Pays $500 To Slap Someone
In March 2021, rumor had it that Boosie went to social media to ask for somebody to slap, offering $500 for the deed. When he got a response, he happened to be with DaBaby in Charlotte shooting a music video. So, after the (seemingly hired) man took a massive hit, Badazz went online with the clip.
Boosie paid a man $554 to catch him lacking for video shoot with DaBaby in Charlotte.