New York rapper Bobby Shmurda is finally back on his grind. After a long absence from releasing music, he's been spotted preparing something for fans.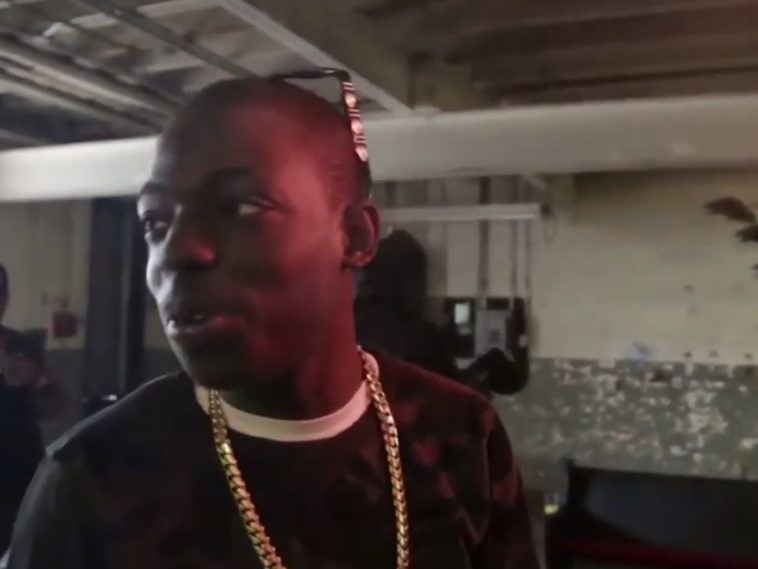 159 Views
Comments Off on Bobby Shmurda Is Finally Back On His Music Grind
Bobby Shmurda Is Back On His Music Grind
Footage has emerged of Shmurda clocking in major music video time. He's seen recording something new and one can only assume if there's a music video, there is legit audio fire behind it just waiting to drop.
Bobby Shmurda Dances For Life
Shmurda moves for a reason now in everything he does, and this includes not just dancing to go viral. The hip-hop star has stepped up to dish on his state of mind and the true reason why people always catch him doing a standard two-step on-camera.
In a recent interview, Shmurda dished on how his mind state has changed in recent years – most notably after serving more than five years behind bars in a felony weapons case.
"When I was young, I used to run towards it," he continued. "I was a full animal. So I feel like being locked up, it made me smarter. It made me stronger. And it made me badder, but in a good way. Instead of saying, 'Boom, I want to go in the streets and cause hell,' I'm saying, 'I want to go in the streets and give back.' I feel like that's gangster." (New York Times)
Shmurda also shared some insight on his upcoming – and long-awaited – debut studio album. More importantly, he revealed the truth behind his always-dancing moments.
"We're going to be dancing 24/7. When I dance, it's to show you that I came through the struggle, but I overcame it, and we're still overcoming it." (New York Times)
Bobby Shmurda Reveals Why He Hasn't Dropped Music
Fans of New York rapper Bobby Shmurda need to give him a minute. Last week, he went to social media to explain the reason he hasn't released any music since his prison release in February.
Shmurda let followers know he just has been busy running around and enjoying his best life. The "Hot N*gga" crooner added in that he needs some time to breathe fresh, free air, putting his caption up alongside a dope photo with a McLaren supercar.
"I'm Bizzy running round needed some time to breathe they had me locked up In the pins doing 23!"
Bobby Shmurda Doesn't Know What To Feel
Another reason for the lack of music might be because the Brooklyn native also doesn't quite know how to feel. In a new interview from late July 2021, he revealed freedom sometimes leaves him a little confused months after being released from prison.
After spending over six years behind bars, Shmurda says he doesn't know how to feel about freedom. While it's great to be home, he says, sometimes it's all work and sometimes it feels surreal to be back.
"Honestly, it's mixed emotions. Some days is work, and some days it's like, 'Yo, I'm home.' You know when you can't believe you're home? I done came home before but this time it was like, I'm home. You know. what I'm saying? I'm home. When you come home, you gotta see everything and what's what. What's this? What's that? That's what's really been going on. I'm trying to see what's this and what's that before you move cause being in jail just made me smarter. I used to move off a lot of impulse."