Grammy-winning singer Beyoncé is still geeking out over her unforgettable awards show night. The iconic crooner hit up social media to share a batch of pics from this past Sunday's epic evening.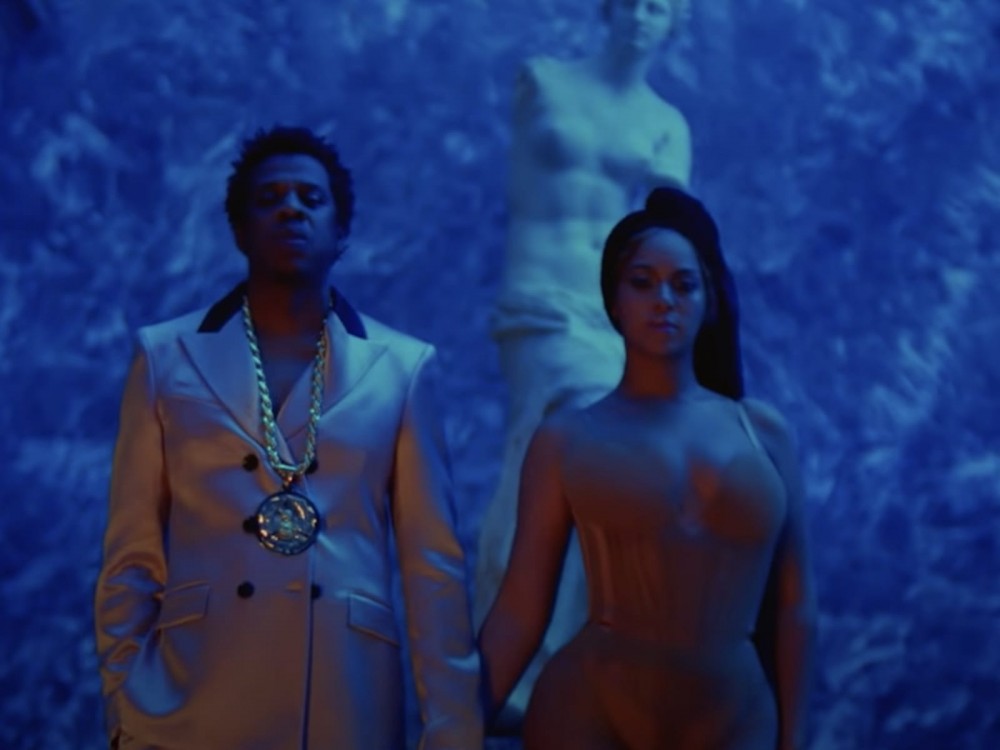 @sohh @sohhdotcom

149 Views
Comments Off on Beyoncé Shares Boo'd Up JAY-Z Face Mask Grammys Pics
Beyoncé Shares Boo'd Up Pics
Queen Bey hit up Instagram with the slew of shots. Some of the pics feature her husband/rap mogul JAY-Z wearing a face mask along with a priceless moment alongside fellow Houston native Megan Thee Stallion.
JAY and Bey's daughter Blue Ivy became the second-youngest winner of a Grammy Award ever at this year's show. Her superstar mother couldn't hold back the emotions during the acceptance ceremony and let it be known how proud she was, touching upon her own journey as a musician and dishing out a sincere congratulation message. Blue Ivy won the Grammy for Best Music Video for her contribution to "Brown Skin Girl", by none other than Bey herself, which has also netted her the BET Her Award as well as an NAACP Image Award.
Beyoncé Has Historical Night At The 63rd Grammys
Beyoncé had a very, very historic night. She took home four of her nine nominations, putting her at 28 total Grammys – the most for a female artist of all time. In addition to her win for "Black Parade", she took home Best Music Video for "Brown Skin Girl". Bey also won Best Rap Performance and Best Rap Song for "Savage", with Megan Thee Stallion.
Beyoncé Shows Her Support To Meghan Markle
The very, VERY decorated singer is showing huge support for British royal family member Meghan Markle. Queen Bey recently went online with lots of praise for the married mother after her tell-all interview with TV icon Oprah Winfrey. Bey went online to support Meghan Markle and offer praise for her "courage & leadership". Markle spoke with Prince Harry about instances of racism she endured in the royal family and revealed a slew of issues they went through over the last few years. The Buckingham Palace has released a statement about the matter as well.
"Thank you Meghan for your courage and leadership. We are all strengthened and inspired by you."
During the must-watch interview, Markle spoke on possible racism existing with the Royal Family.
Remembering Teen Lyric Chanel
Beyoncé is keeping the memory of a late fan sky high. The iconic crooner recently came forward to sing songs in honor of super supporter Lyric Chanel following her passing from cancer. Queen Bey went to her website to sing a medley of her unforgettable tunes in Lyric's honor. The songs followed Chanel's crushing death Friday morning.
Beyoncé took to her website to sing a medley of her hit songs in #Lyric's honor. Lyric was a major Beyoncé fan and if you recall, Bey always made sure she showed her love–be it through an #IvyPark gift, or a personalized letter with beautiful flowers. "I love you with all of my heart," Beyoncé said at the end of the heartfelt medley.
Earlier the same week, Lyric's mom came forward to share crushing news about how much longer she had with her daughter.
"Just got news from Dr that Lyric is Dying and only have days to live…. These are the hardest words to have to hear"