Atlanta rapper 21 Savage is back on his music grind. The hip-hop superstar and executive producer of the upcoming Spiral: From The Book of Saw movie soundtrack has released his new "Spiral" single and music video.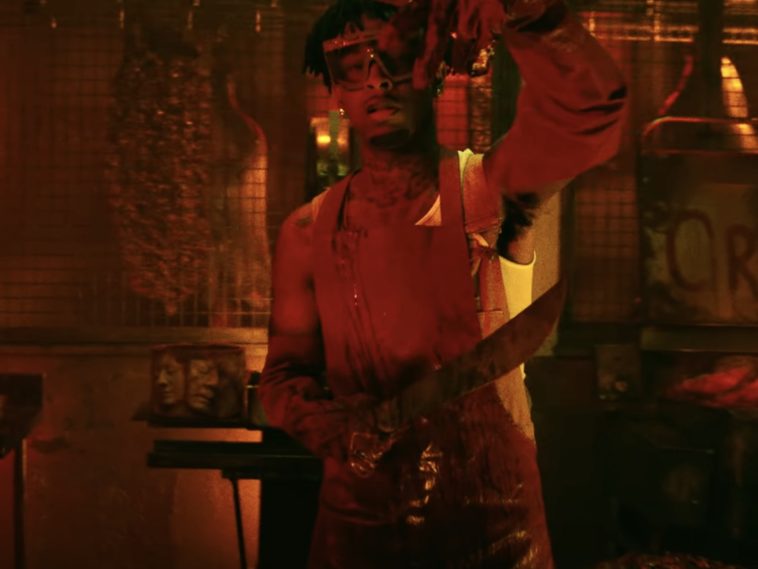 99 Views
Comments Off on 21 Savage Drops First Spiral: From The Book Of Saw Single
21 Savage Drops First Spiral Single
Savage's first anthem since putting out his chart-topping Savage Mode II album with Metro Boomin comes with blood-filled scenes and hard bars reflecting the horror movie's theme. There's also cut scenes showing film stars Chris Rock and Samuel L. Jackson.
Cutting deeper than ever before, GRAMMY® Award-winning multi-platinum rapper 21 Savage unleashes "Spiral," produced by Slaughter Gang's own Kid Hazel, as the first single off Spiral: From The Book Of SAW Original Soundtrack. The highly anticipated suspense-thriller from the Saw universe and the first blockbuster release of the season, Spiral: From the Book of Saw, opens on Friday, May 14, and the Soundtrack—which 21 Savage executive produced—hits the same day. This marks 21 Savage's first new music since the gold-certified critically exalted #1 opus Savage Mode II with Metro Boomin. 
21 Savage + Chris Rock Team Up For Horror Movie
Earlier this spring, buzz developed about 21 Savage having a new song called "Spiral" which is featured in film's trailer. Upon sharing the clip, Savage announced he's producing the whole movie soundtrack.
'Spiral' 🌀🌀🌀In Theaters May 14 @saw Soundtrack By Me 😎😎😎 🗡
Savage Was Shooting His Shot At Mulatto
Outside of movies, the chart-topping artist might have recently had love on his mind. Savage made headlines after getting busted shooting his shoot at fellow Georgia rapper Mulatto.
"No makeup 😍😍😍😍 Dam u fine It's only 1 way I can come bout you twin"
New Mulatto Fire Freestyle
Aside from flirty words coming her way from Savage, the rising rap star is going crazy in 2021 with the music. The hip-hop rookie released a brand new freestyle earlier in the month and is showed everybody the bars she's capable of spitting.
Big Latto dropped her own remix of SpotemGottem's viral hit "Beatbox," delivering 90 seconds of heat and going off with her flow over the beat.
"I've been killing features / I'm on everything like hot sauce / So don't act like I ain't been that bi*ch since I popped off / Told you he don't eat, but to this pu*sy he gon' beat box /This shit just too motherfu**in' easy."