J. Prince gave out a threat to drug dealers who dare to disrespect his brand and legacy. The owner of Rap-A-Lot Records went on his social media to express his thoughts and disapproval of whoever is responsible for making a pill with his logo on it in his own hometown of Houston. In his post, Prince includes a picture of a pill with his brands logo on it and explains his feelings of the situation that's appearing.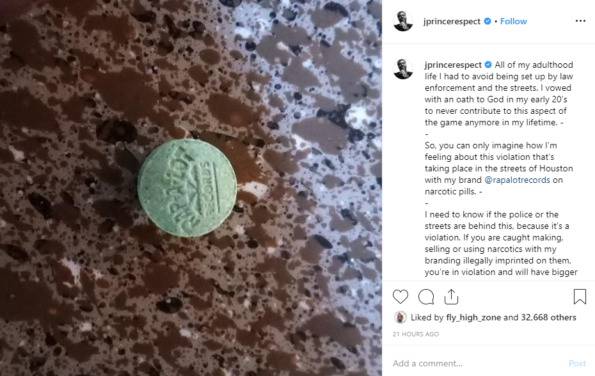 "All of my adulthood life I had to avoid being set up by law enforcement and the streets. I vowed with an oath to God in my early 20's to never contribute to this aspect of the game anymore in my lifetime. So, you can only imagine how I'm feeling about this violation that's taking place in the streets of Houston with my brand @rapalotrecords on narcotic pills."
Prince is no one to mess with he will get to the bottom of the issue he has his ways especially when it concerns his inner circle just like when he told Drake not to reply back to Pusha- T last year. In March the music executive also put out hits when YBN Almighty Jay's chain was stolen by attackers. J. Prince was able to get the chain returned.