West Coast rapper Blueface has folks that will do anything for him. The rap newcomer's first signed artist and protégé ChriseanRock has just done the most for him courtesy of a face tattoo.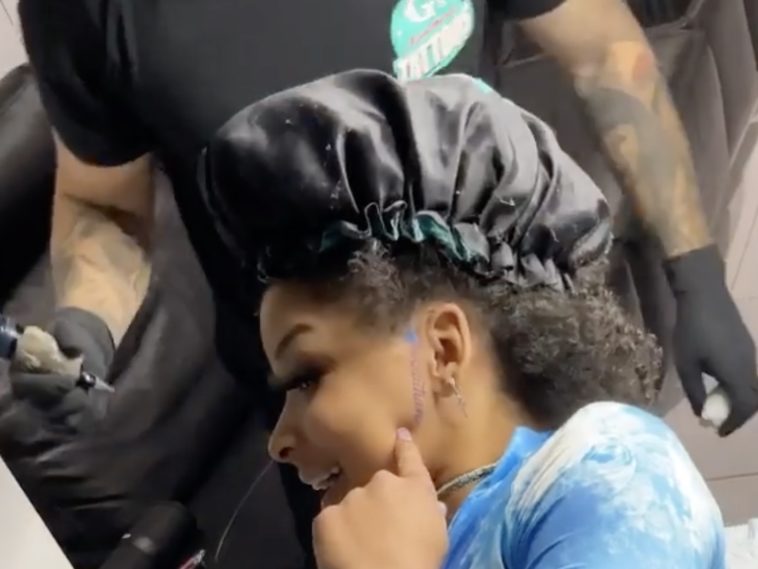 @sohh @sohhdotcom

179 Views
Comments Off on Blueface's First Signee Gets His Name Tattooed Onto Her Face
Blueface's First Signee Gets A Tattoo For Him
The rap rookie – who also goes by the name DaBigBaby – just added his name by tattooing it onto her face. DaBigBaby went to her Instagram with a major reveal and shared the new ink, which is on her left cheek.
"Yeaaaaa Ighht 😜 💙 @tattoovybes"
The jaw-dropping tat comes days after ChriseanRock dropped her trippy "Vibes" music video.
Blueface Gets Banned From Instagram
Blueface might've posted the video himself, but the California native needed to find a new social media platform to wild out on. After recently going online with some videos of him posted up in a strip club with some major nudity, also avoiding any social distancing, his Instagram account was deleted.
He went to his IG Story with a slew of clips of himself, friends, and adult dancers several months ago. Instagram must've caught on to the NSFW footage, perhaps due to reports being sent in, and his account was banned and removed.
And just like that…. poof! #Blueface loses his #Instagram account after days of putting explicit content onto his IG Story. #First #BOHH #BlackOwnedHipHop
Social Media Reacts To Blueface IG Ban
Social media erupted in response. Twitter users had a fiasco about the matter. Before his account was deleted, people also asked why he could post full nudity while sex workers couldn't post censored things.
blueface got full blown coochie on his ig story but sex workers can't post CENSORED promos for their work without getting banned?? make it make sense
Me after watching Blueface's IG stories LMAOOO
The hell goin on in Blueface's IG story
Me watching blueface IG story realizing that we're gonna be in lockdown forever😭
BF Unboxes + Disrespects His New Yeezy + Nike Sneakers
Blueface isn't worried about scuffing or putting dents into his kicks. The hip-hop star previously went to Instagram with footage of himself in his closet-full of fresh sneakers. Instead of gently unboxing some kicks, Blue actually intentionally throws them up against his wall in the clip.