Reality TV star Kylie Jenner is putting her and Houston rapper Travis Scott's daughter Stormi Webster front and center. The beauty brand queen showcased her mini-me's flawless skin through an adorable snapshot and – presumably – made a low-key major announcement.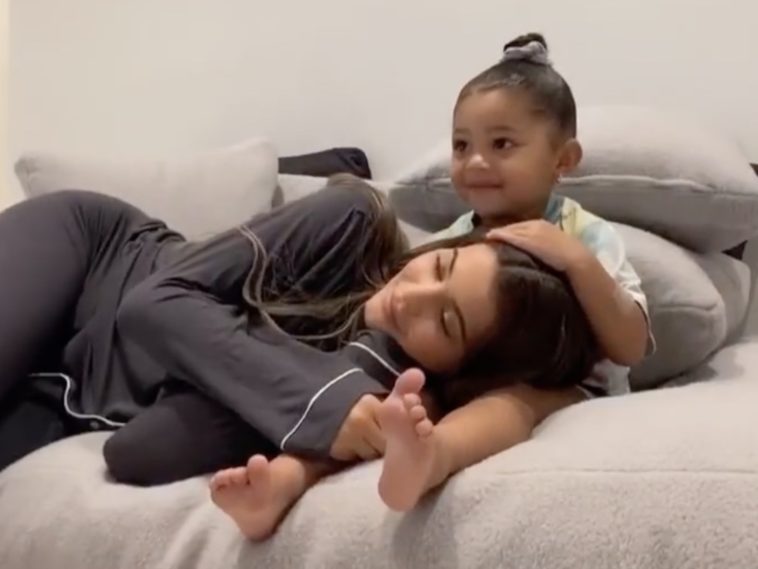 149 Views
Comments Off on Travis Scott's Daughter Teases Big Kylie Announcement
Kylie Jenner Makes Huge Announcement?
Kylie had her beauty product fans gushing over the pic she posted of Stormi through her personal Instagram. Rather than enjoying the cute photo alone, Jenner's followers speculated Jenner was subtly announcing the name of her new baby skincare line, "Kylie Baby."
"bath time with @kyliebaby."
Travis Scott's Back W/ Kylie Jenner
In late May 2021, according to reports, there was a massive twist to Scott and Jenner hooking back up. Apparently, the duo is fine with each other but far from exclusive.
Sources with direct knowledge and connection to both Kylie and Travis tell TMZ … they have rekindled the old flame and are dating again, but they're also free to date other people. To be blunt … they are in an open relationship. We're told ever since the 2 broke up in late 2019, Travis has been enjoying the bachelor lifestyle and all that comes with it … but he also wanted to get back with Kylie and be a strong family unit. So, we're told they've agreed to get back together but with a non-exclusive couple arrangement … and both are cool with that. (TMZ)
Travis Scott Shows Love To Kylie Jenner
In early May 2021, Travis shared some heartwarming and rare new photos of Stormi Webster and Kylie together. Along with the rare pics, Cactus Jack included a message expressing how special he thought a mother's love was for their child.
"Of all the special things in life. The big ones and small. A mama's love and rage and tenderness. Is the most special of them all."
Kylie Jenner Speaks After Drama Ignites
Recently, Jenner hit up Instagram to keep things 100 on being criticized for asking people to donate money to her makeup artist. Kylie provided full context and shut down the idea of not doing her part of makeup artist Samuel Rauda.
"I feel it's important for me to clear up this false narrative that I've asked fans for money and am not paying for my makeup artist's medical bills.Sam isn't my makeup artist and unfortunately we don't have a personal relationship anymore but I have worked with him a few years ago and think he's the sweetest."
She also explained the reason for making headlines after donating $5,000.
"I saw my current makeup artist and friend Ariel post about Sam's accident and his family's GoFundMe and I called Ariel immediately to see what happened to Sam. After learning inmate detail about the accident it compelled me to visit his GoFunMe which was set at $10K. They had already raised $6K so I put in $5K to reach their original goal and thought I'd post on my stories to gain more awareness if anyone felt so compelled to share or donate. I don't know how all of this got so twisted but this family has reached out through Ariel and are very appreciative of all the donations, prayers and love towards Sam."