There's no slowing down Tory Lanez. The hip-hop crooner continues to go against the grain and put work over controversy courtesy of his new "Rick n Morty" remix with self-proclaimed rap icon Soulja Boy and Rich The Kid.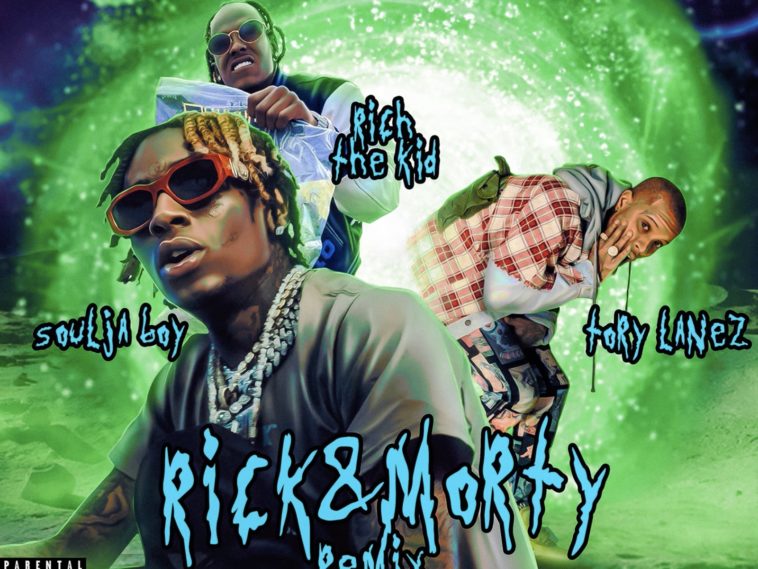 99 Views
Comments Off on Tory Lanez's New Soulja Boy Collabo Proves He's Unstoppable
Tory Lanez's New Soulja Boy Collabo Is Tough
As the summer temperatures continue to rise, Soulja Boy keeps things sizzling with his unexpected but much-appreciated collaboration. The song is not recycled Lanez bars but actually fresh lines from the Toronto rap heavyweight. Lanez goes as far as referencing his publicized alleged shooting of ex-friend Megan Thee Stallion in his opening lyrics.
Uh, you know my name, ho
Only thing I'm shootin' at a b*tch is game, ho
Yeah, yeah, it's Tory Lanez, ho
Clean white tee, still'll hit a stain, though
Rick, mhm
I just got in with the stick, mhm
Jeffrey, did me and Soulja make a hit? Mhm
Sh*t, add twenty thousand to my fit, mhm (Damn)
I'm in that lab doin' fraud like I'm Rick, n*gga
Neiman Marcus, debit cards, hope they hit, n*gga
He be hanging with the h*es a lot, but I got something for that b*tch n*gga
She better f*ck me now, while I'm still a rich n*gga
Rick, Rick, Rick, like the hooker, she did not get the tip
One hundred and thirteen dollars on some Birkins, 'cause I'm like that, n*gga
I post a pic like I gave it to my b*tch and sent it right back, n*gga
Ayy
Tory Lanez's Kodak Black Video Sneak Peek
This past weekend, Lanez went to his Instagram page to unload a slideshow of new pics. The shots featured both himself and Florida rapper Kodak Black draped in lab suits and appearing to experiment with liquids.
"GrahTahTah ….. KODAK x TORY …. COMING SOONER THAN U THINK 🙃🔥🤯🎯🍾🔥 #OneUmbrellaSniperGang 📸: @midjordan"
The sneak peek came as Lanez pulled through for a surprise Coney Island, New York concert last night and his new "Crocodile Teeth" freestyle drop.
"Decided to do a random surprise set at Coney Island …… SOLD OUT 🤣🤯🔥"
Tory + Kodak Black Collaboration On Deck
Anticipation has continued to build for his new tunes. Recently, speculation grew about the duo possibly having a summer smash on the verge of dropping. In June 2021, the hip-hop crooner teased the world about a must-hear classic on deck with the Sunshine State hitmaker. TL went to his social media pages with pics of himself hanging out alongside KB. In addition to promoting Black's "Gleerious" record, he vowed they had something brewing.
"GLEERIOUS 🤹🏽‍♂️ …… @kodakblack x @ToryLanez COMING SOON !"
Tory Lanez's 1 Key To Success Is Working
Earlier in the month, Lanez went to his Instagram page with a clip of himself on-set of a fancy production, presumably for a music video. Lanez relied on his social media post to serve as proof of himself winning without a major label deal.
"ALL INDEPENDENT !!!! NO LABEL NO MANAGER …. NEVER LET PEOPLE TELL U U CANT GET IT ON YOUR OWN !!!! YOU CAN DO ALL THINGS THRU GOD 🙏🏿🙏🏿🙏🏿☂️☂️☂️"