Tory Lanez, who could be facing 22 years, was given a new sentencing date in April, which was originally set for Feb. 28. Lanez has been in jail since he was found guilty of shooting Megan Thee Stallion in the July 2020 incident after a gathering in Hollywood Hills.

278 Views
Comments Off on Tory Lanez Sentencing Date Changed To April + Gag Order Lifted
Updated By: Nadya Nataly (2/28/23 at 2:07 pm)
Tory Lanez originally had a sentencing hearing scheduled for Feb. 28 at a Los Angeles court. However, the sentencing is now set for April 10.  
Amid the shuffling of the new sentencing date, the gag order Lanez was honoring since the start of the trial was recently dropped. The Brampton native has not made any public statements on trial, but in light of the dropped gag order, it seems to be a possibility. 
According to a SOHH source, Lanez, donned in an orange jumper, appeared to be in good spirits.
Tory Lanez's father, who arrived a few minutes late,  was also seen in the courtroom. 
Inside The Tory Lanez Jury's 'Guilty' Verdict
An inside look at the Tory Lanez jury's deliberations reveals the 12-member panel carefully scrutinized testimony from Megan Thee Stallion, the 911 caller Sean Kelly, and the Kelsey Harris September 2022 interview with prosecutors.
Delayed Sentencing and Lanez' New Defense Team
Los Angeles Superior Court Judge Hon. David Herriford changed Tory Lanez' sentencing date, on Jan. 10, to Feb. 28 after Lanez told the judge he wanted to change legal team and at the request of his new attorneys David Kenner and Matthew Barhoma.
Kenner is the attorney who helped Snoop Dogg beat his 1993 murder case and also Suge Knight's former attorney. He also told Judge Herriford he was waiting for transcripts from the December trial so he could prepare a motion for a new trial. Lanez was originally represented by attorney George Mgdesyan who said he wasn't leaving Lanez "on bad terms."
"I don't do appeals, so we had to get somebody on board to handle the appeal," said Mgdesyan.
Lanez has remained in jail without bail since the Dec. 23, 2022 verdict.
The Jury's Deliberation & Questions
Jury deliberation started on Dec. 22 and spilled into Dec. 23.  The majority female yet ethnically diverse jurors had been on duty since jury selection began on Dec. 5th, practically 14 days.  The jury worked over the course of seven hours in two days before delivering a verdict to The Honorable Judge David Herriford of "guilty" on all counts.
911 Caller Testimony Sean Kelly Reviewed
At 1:45 p.m. on December 22nd, the jury requested to be read the testimony from 911 caller Sean Kelly. 
In Kelly's testimony with the defense, he said he saw Harris holding what could have looked like a muzzle or fireworks. But in his testimony with the prosecution, he said he also saw Lanez with the "muzzle or fireworks."
"Willfully" Explained By Judge
At 3:50 p.m.the jury asked for the definition of "willfully" and "on purpose." 
"Willfully means having a purpose or willingness to commit an act," responded Judge Herriford, his initials noted on the Los Angeles Superior Court documents obtained by SOHH. 
"Please refer to instruction number 875. There is no legal definition for "on purpose" words and phrases not specifically defined in these instructions are to be applied using ordinary, everyday meaning."
The Jurors were instructed not to read or view reports in the news or discuss them outside the jury room. Deliberation continued the next day, Dec. 23.
Firearm Had A 'Double Action Safety'
The Friday (Dec. 23) before the holidays, the jury returned with the heavy task of delivering the verdict before the 3-day weekend.  The jury's state of mind seemed weary and hyper-aware of the looming holiday, according to SOHH's embedded trial reporter, TK Trinidad.
According to documents, they also asked for the meaning of "double action safety" and for the prosecution's firearms expert, LAPD firearms examiner Srinivasan Rathinan's testimony read back to them. 
According to reports, LAPD's Rathinan testified:
"A 'double action' firearm needs a specific amount of force to be fired, and the specific firearm needed 8.5 pounds of pressure applied to the trigger to fire, reducing the likelihood the firearm could fire accidentally."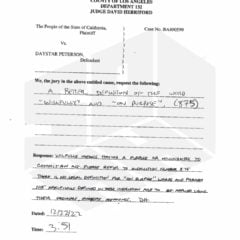 Readback Of Megan & Harris's Testimonies
Jurors also asked for Megan The Stallion's court testimony to be read back where they asked about her statements on "contacting her team after she was shot."
They also requested the transcript of Kelsey Harris' September 2022 interview with the LA District Attorneys. Harris is Megan's former assistant and best friend from college.
Megan, in her testimony, said Lanez was the person who shot her on July 12, 2022. 
Although Harris pleaded the fifth on the stand and unrolled a series of "I can't remember" statements throughout her court testimony, the jury asked for a transcript of her September 2022 interview with the district attorney, where she also said Lanez shot Megan.
Jurors received the requested readback or were given access to transcripts from the court reporter.
Tory Lanez Facing 22 Years
After seven hours of deliberation, the jury read a guilty verdict on all three counts — one count of assault with an automatic firearm and found true the allegations that he caused great bodily injury and used a firearm.
He also was convicted of one count of carrying an unregistered loaded firearm in a vehicle and one count of discharge of a firearm with gross negligence. Lanez was immediately taken into custody after the verdict.
His sentencing hearing is scheduled for January 27, 2023. He is facing 22 years and 8 months.
A Timeline Of Megan Thee Stallion's Assault Trial Against Tory Lanez + Their Rocky Relationship
Tory Lanez was found guilty on Dec. 23 at the Los Angeles Superior Court case that followed the July 2020 shooting and injury of Megan The Stallion, which transpired after a heated exchange between Lanez, Megan and her former bestie Kelsey Harris.