Toronto rapper Tory Lanez isn't about being Mr. Nice Guy with everyone he encounters. Instead, the rap crooner has come through with a little friendly reminder to anyone sending him negative vibes.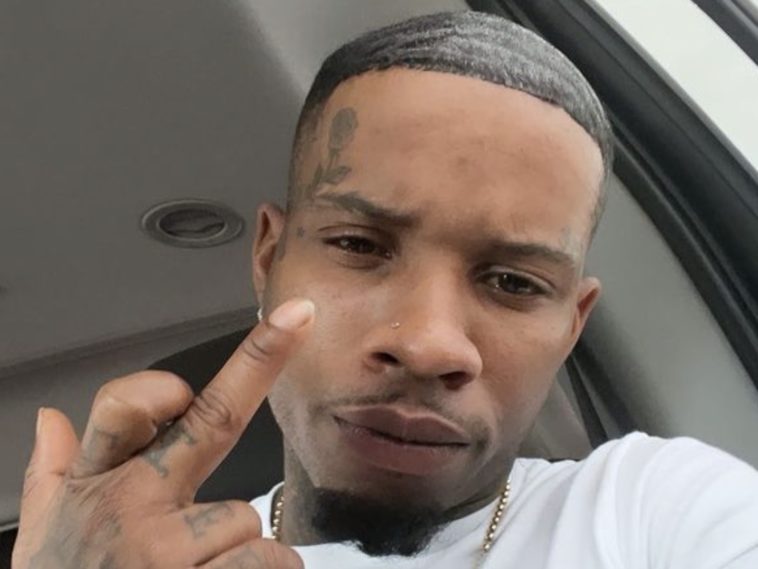 99 Views
Comments Off on Tory Lanez Has A Very Unfriendly Message To His Haters
Tory Lanez Has A Message For Haters
TL went to his Instagram page and didn't hold back his state of mind toward the naysayers. Lanez shared a snapshot of himself throwing up his middle finger and a to-the-point caption.
"Right back at ya . Lol"
On a more positive note, Tory is gearing up the release of his first-ever NFT streaming album When It's Dark.
"THE FIRST EVER "STREAMING NFT ALBUM" …….. YES THE FIRST EVER !!!! ONLY 1$ PER ALBUM !!! T🤯🤯🔥🔥🎯🎯😈😈 YALL TRULY DONT UNDERSTAND HOW INNOVATIVE THIS IS YET …. BUT U WILL SHORTLY ✌️😈🌎🥲 …. SHOUT OUT TO MY TEAM OF VISIONARIES, (Erik Hicks) @emmersiveent"
Tory Lanez Thinks He's Unworthy
Earlier in the week, Tory went to his Twitter page to speak up about what he's thinking. Lanez revealed he's focused on sending prayers to his peers and acknowledged just how blessed he's feeling.
"The love God has for me …. I'm unworthy … who am I to deserve the blessings bestowed on me ? GOD DESERVES ALL THE GLORY AND ALL THE PRAISE … I'm so unashamed to worship your name father !!!! 🙌🏾🙌🏾🙌🏾 … Today's a day …. that everyone else needs prayer !!! Going to call my peers all day and pray for em !!!! Do the same for someone today !!!!"
Royce da 5'9″ Wants A Cassidy Diss Track ASAP
A few days ago, Detroit rapper Royce da 5'9 went on Twitter to mention the Canadian rap crooner and asked him to respond to a freestyle fired his way courtesy of rapper Cassidy. Royce hilariously added wanting to drop the message earlier but his girl wouldn't let him use the Internet.
You gon respond @toryLanez ? I like when you in that bag [Gorilla emoji] Pardon my lateness y'all my girl wouldn't let me online ..
Word? hope so
Cassidy Officially Blasts Away At Tory Lanez
The Philadelphia rapper is back on his bars. The hip-hop veteran has come through with his hard-hitting "Perjury" diss song aimed at overnight rap rival Tory Lanez.
Lanez doesn't get any mercy from Cass on the four-minute record. The Philly rapper does everything from reference his alleged shooting of rapper Megan Thee Stallion to making ample accusations of stealing lyrics from other artists.
"F*ck all the hype, you've been a b*tch all your life/But shoot a chick quick like Eddie in Harlem Nights – you ain't from where we from, Canada got free healthcare, you gonna need some/Stolen bars in all of the records that he's done/None of his sh*t's original, sh*t's pitiful/I was on records before the game went digital"