Controversial Canadian rap crooner Tory Lanez is blessing fans again on his special day. In honor of turning 29 years old this week, he's released a special birthday EP.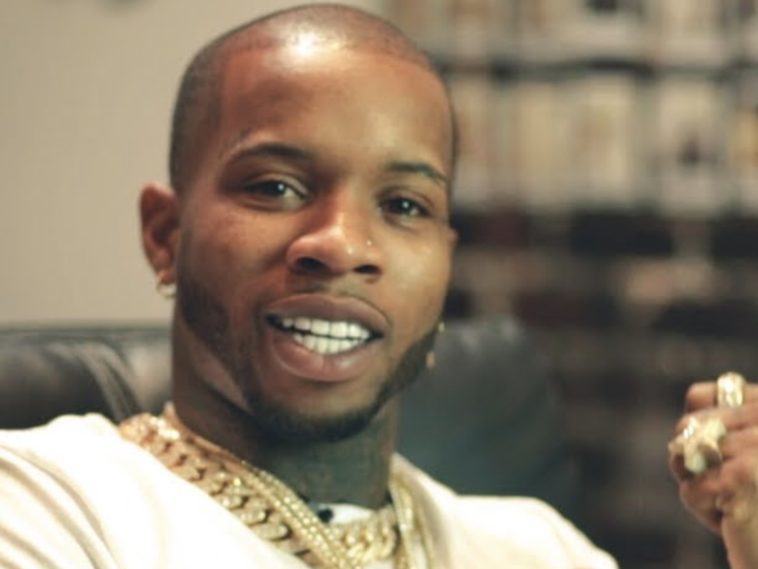 129 Views
Comments Off on Tory Lanez Blessed Fans Again For His B-Day
Tory Lanez Drops New B-Day EP
Titled We Outside, the project has five fire new songs on it. The tracks are "Grah Tah Tah" with Kodak Black, plus tracks "Dripping," "We Outside", "Pretty Face," and "BDay."
It is available for streaming now on all platforms and is just another example of Tory being unable to get canceled. "Grah Tah Tah" and it's music video already has over 5 million YouTube plays, showing that TL is here to stay. Earlier in the week, he revealed he'd be having dinner with five fans.
Tory Lanez with that new 'We Outside' fire!
Tory Lanez May See New Legal Trouble
The hip-hop crooner might have landed himself in new legal trouble. After performing at Rolling Loud this past weekend, he might have violated a judge's order to stay 100 yards away from Megan Thee Stallion.
Miami police were called about a possible violation of Lanez' order to keep his distance. Time will only tell if he disobeyed the protective order; meaning if anything happens to the Canadian superstar and he ends up behind bars, he probably didn't follow the rules.
Megan Thee Stallion's camp is also reportedly upset about what was a close friend of Meg's in North Carolina rapper DaBaby bringing out Tory Lanez to perform on stage. She felt like it was a big way to mock her.
Even worse, our sources say Megan's camp is miffed DaBaby performed one of her songs on which he's featured — "Cash Sh**" — right before bringing out Lanez. We're told those close to MTS feel this was a giant "f you" to her … mocking her and the ongoing criminal case with Tory and, in a way, menacing her. (TMZ)
Kanye West Inspires Tory Lanez's New Ice
Lanez is looking extra G.O.O.D. these days. The hip-hop crooner has saluted rap heavyweight Kanye West for being the inspiration behind some new ice he copped himself.
TL went to his Instagram page with footage of himself donning some insane new jewelry. Lanez shared a clip revealing Ye wore the same type of design back in 2007 and ultimately motivated him to bring back the look.
"THE TAKASHI MURAKAMI JESUS PIECE …. I always thought this was dope as a kid watching Kanye … so I remade the design !!! 🌎🛫🍾😈🍝🎶🌎🎯🤯🎊. .. S/O MY GUYS @imperialjewelry"
The footage comes following Lanez getting personal on his Twitter page. Tory spoke out on people having negative feelings toward him and vowed to live his best life on his birthday. Tory also made his born day memorable by releasing new music.
"I JUST DROPPED 5 NEW SONGS FOR MY BIRTHDAY 🥳🎯🔥🤯🌎🔥!!! I put them all in a capsule called " We Outside " …… OUT NOW EVERYWHERE !!!! WHICH SONG IS THE BEST ?!?? HashTag the title and SEND ME GIF that describes how u feel about that song !!!!!"
Tory Lanez Keeps His Word + Drops New Song
This past Monday, Lanez went to his Instagram page to let the world know they could finally hear his new "Grah Tah Tah" single. Lanez also vowed to drop the song's accompanying music video hours later.
"TORY x KODAK BLACK = GRAH TAH TAH ……… SONG TONIGHT @12 AM …… VIDEO TOMORROW @9AM …… LETS F*CKING GOOOOOOO🎊🍾🎯🎯😈🔥🤯🎯🔥🍾 📽: @christhedirector"