Rap crooner Tory Lanez is a sell out – in a good way. The hip-hop star has announced his newly released When Its Dark NFT project literally sold out in less than 60 seconds.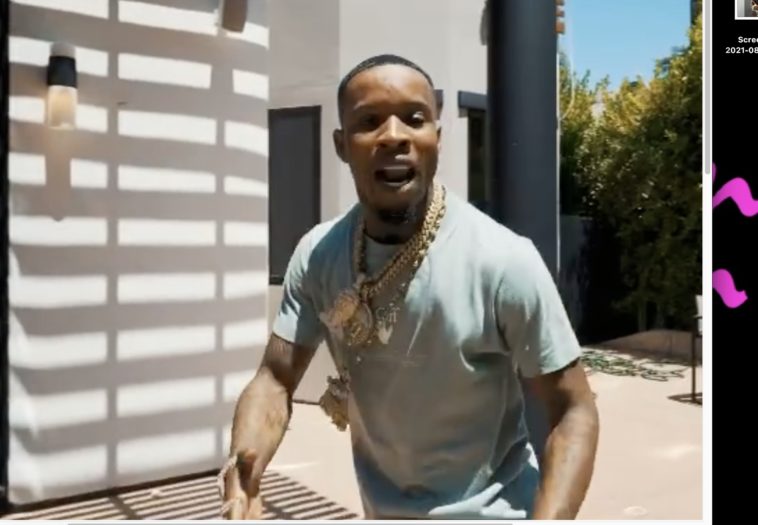 139 Views
Comments Off on Tory Lanez Actually Sold A Million Copies In Less Than 60 Seconds
Tory Lanez Actually Sold A Milli
TL went to his Instagram page to break the massive news to followers. Lanez announced his million copies actually disappeared in under a minute.
"1 MILLION COPIES SOLD IN 57 SECONDS 🔥🔥🤯🤯🔥🤯🔥🤯🔥🔥🤯🤯🌎🌎🌎🌎🌎🌎REVOLUTIONARY….. HISTORICAL … INNOVATIVE & A HUGE SUCCESS 🔥🤯🤯🤯🔥 #WhenItsDark E-NFT SOLD THE F*CK OUT !!!! #LOMO THANK U …. #EMMERSIVE .. THANK U !! #VINCOTHANK YOU !!! 😈☂️🌎🔥🔥💴🥲…I'm at a LOST FOR WORDS !!! I've never sold this much music so fast !!!🥲🥲🥲😈😈 I GUESS WHEN U CUT THE BULLSH*T OF THE MIDDLE MAN , U BECOME KING !!! 🤯🔥🤯🔥🤯🔥🤯🤯🤯"
Tru Life, Toosi + More Co-Sign Tory Lanez's Cassidy Diss Song
Hours prior, Lanez hit up his Instagram page to share a clip from his must-see When Its Dark NFT freestyle. Tory credited hitting nearly 11 million followers for giving him the motivation to drop the visual.
"YOOO I JUST HIT 10.8 MILL FOLLOWERS 🤯😈🔥🔥🔥🔥!!!!!! HERES A TREAT FOR MY NEW (UMBRELLAS THT JUST GOT HERE ) "WHEN ITS DARK (E-NFT)"FREESTYLE 🔥😈🔥😈💵☂️🤯🤯⛱☂️🌎🔥🌎☂️🌎🔥 OUT NOW !!!!! LINK IN BIO #OneUmbrella2021"
Almost immediately, the video ignited more than 1.5 million IG views and an endless amount of comments section co-signs.
"she make it clap I got the strap. 21 gats….." -Lil Mabu

"🔥🔥🔥🔥🔥🔥" -Toosi

"🥣🍾" -Tru Life

"You the Goat lil bro "best RAPPER OF ALL TIME" yea I said it you can quote me on that b*tches!!!! ☔️🌎😈" -Davo

"🔥🔥🔥" -Jenna Shea

"I'll steal a n*gga flow! And what!!!?…..😈😈😈🤣🤣🤣👏🏾" -Nelly Jean

"Go crazy" -Stunna 4 Vegas

"& what 🔥🔥🔥" -Guapdad 4000
Tory Lanez Pretty Much Responds To Cassidy
Lanez did much more than just drop some new music ahead of his When Its Dark NFT dropping. Tory released his freestyle's visual treatment and referenced having zip-zero problems jacking anyone's style and flow – notably rap rival Cassidy's.
"I'll steal a n*gga flow, and what? P*ssy! N*gga, and what? … Old n*ggas talking and I ain't hearing them. I'll leave Cass' body in the same casket his career is in – you was in hotels with R. Kelly, we should flame you up."
Royce da 5'9″ Wants A Cassidy Diss Track ASAP
A few days ago, Detroit rapper Royce Da 5'9 went on Twitter to mention the Canadian rap crooner and asked him to respond to Cassidy's "Perjury" diss song. He hilariously added wanting to drop the message earlier but his girl wouldn't let him use the Internet.
You gon respond @toryLanez ? I like when you in that bag [Gorilla emoji] Pardon my lateness y'all my girl wouldn't let me online ..
Word? hope so