New York rapper Tekashi 6ix9ine wants in on Jade's thirst traps. The hip-hop star can't help but stand out in a set of new pics of the curvy model.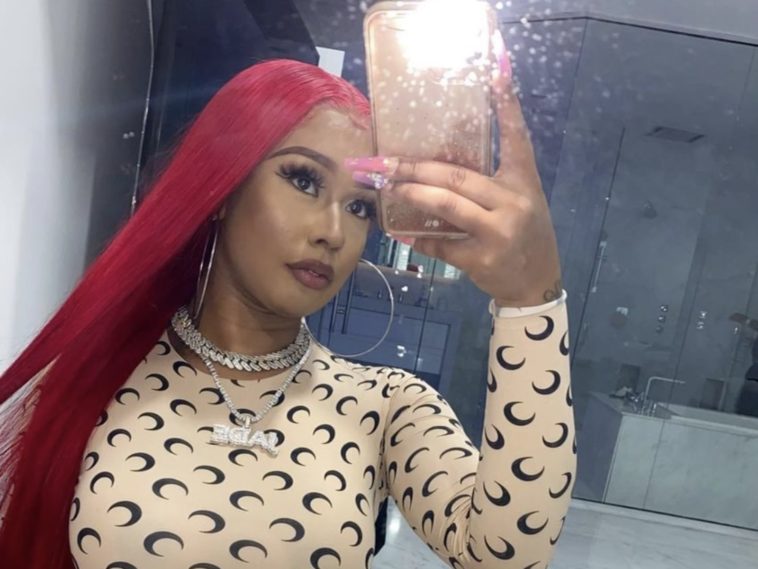 99 Views
Comments Off on Tekashi Fully Photobombs Jade's Bathroom Red Hair Flex
Tekashi Fully Photobombs Jade's Bathroom Flex
Jade went to her Instagram page with a stash of new pics donning all-red hair. But what stands out the most from her bathroom home shots if Tekashi's presence.
"good night 😜"
Jade Needs Your Help
A few days ago, the publicized girlfriend to rap star and troll Tekashi 6ix9ine dropped jaw-dropping pics. Proving she's one for the people, Jade encouraged her 1.7 million Instagram followers to come through on caption ideas.
"caption these pics 🙄"
Tekashi 6ix9ine's GF Jade Gives Inspiring Pep Talk
The New York vixen recently hit up her Instagram page and didn't hold back on keeping things 100. Her message centered on women realizing their worth and value.
"To the girl who is ready this, I hope you got to sleep with a smile on your face. I hope you realize how amazing you are. No tears, no stress, no pain. Just wanted to tell you that you are beautiful. Keep your head up. Don't let anyone or anything bring you down. Trust me, it's not worth it. Drop a [heart emoji] if you liked this post and Save it for later."
She Thinks Her Dance Moves Are On Doja Cat Level
A few weeks ago, the Big Apple model hit up IG to share some jaw-dropping footage. She was featured in an open room setting donning purple hair and teasing her hips.
"who dance better me or Doja Cat? Hair @iam_jonathan_ @beautyfactoryfl"
More eye-catching than Jade, though, is 6ix9ine quietly dominating the background on a couch.
"look at 69 sitting in the sofa, so inspirational"
"6ix9ine in the back"
"69 in the baxk playing video games 😂"