West Coast rapper Saweetie wasn't kidding around when she teased a huge McDonald's collaboration coming together for August. The hip-hop star has come through to fulfill tummies around the world courtesy of her The Saweetie Meal.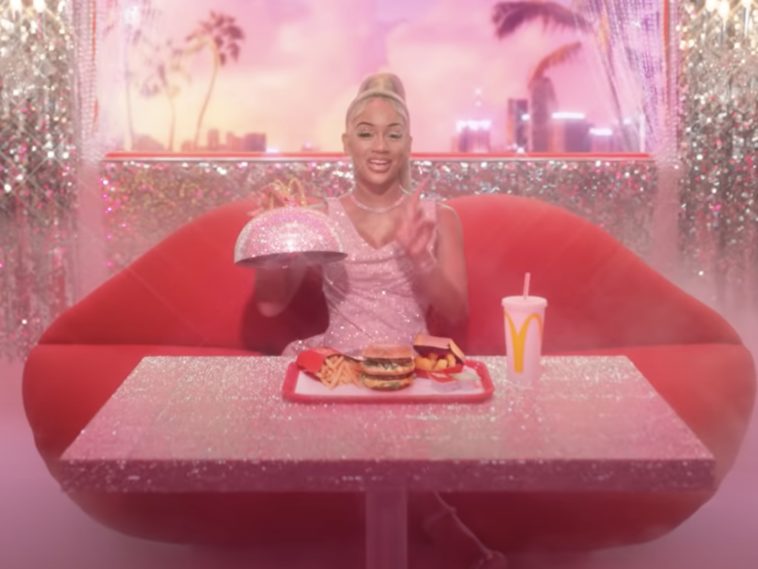 149 Views
Comments Off on Saweetie's McDonald's Meal Is Here + Looks Tasty AF
Saweetie's McDonald's Meal Is Here
The hip-hop star hit up Instagram with a look at her mouthwatering meal line-up. She shared a stack of pics highlighting the standard Big Mac, McNuggets and her combination of BBQ and Saweetie & Sour dips.
"IT'S HERE !!! 🍔❄️ Introducing The Saweetie Meal @mcdonalds ❄🍟 #IKDR #TheSaweetieMeal"
She also stars in a newly released Saweetie Meal McDonald's commercial.
The "Saweetie Meal" Coming Soon
A few weeks ago, buzz developed about the "Saweetie Meal" going on sale this week. The meal includes a whole lot of food and is sure to fill up the average customer.
Saweetie went on Twitter to promote her new meal. She also dropped the promo art for the fast food collabo.
Beginning August 9, the "Saweetie Meal" goes on sale in the US and includes a Big Mac, four-piece Chicken McNuggets, medium fries, a medium Sprite and BBQ sauce that's being renamed "Saweetie 'N Sour" in honor of the meal. McDonald's is encouraging fans to follow Saweetie's tendency to "remix" her meals, by topping the Big Mac or nuggets with fries. (CNN)
WHO'S READY FOR ONE OF MY INFAMOUS CONCOCTIONS ?!! #TheSaweetieMeal x @mcdonalds coming soon.
Saweetie's Leaving The Country For New Album
Outside of grubbing, the Cali native recently gave fans a reason to wave good-bye as she packed her bags for a departure from the United States. The hip-hop superstar has announced plans to wrap up her upcoming studio album far, far, far away from her California roots.
The "Icy" queen went to her social media pages recently to let loose the big announcement. While speculation hopes the project will arrive before 2022, there's no confirmed drop date on when Saweetie's unloading new tunes.
"I'm going to Paris to finish my album."
Followers and fans alike lit up her Twitter post with applause and some hilarious demands.
"you is not rihanna give us the album"
"Me waiting on the pics at Eiffel Tower"
"no pics no instagram! lock in the damn studio and finish istg"
"the album needs to be done asap !!!"
Jack Harlow Reveals If He Wants To Date Saweetie
While we await more album details, Saweetie recently made headlines courtesy of rap newcomer Jack Harlow appearing to shoot his shot at her during the 2021 BET Awards red carpet. Following speculation, Jack cleared up immediate speculation of him shooting his shot at the "ICY" rap star. Despite what the rap game might have rooted for, he credited his politeness as being mistaken for him trying to kick game on Saweetie.
"That was me saying hello but you can't say hello these days I guess. I'm a nice person. [Would I ever shoot my shot at Saweetie?] Nah, it's a friend vibe." (TSR)
After a photo of the two rap stars having a moment surfaced on social media, fans immediately ran wild with one joke after the next. Many have also began to speculate whether there is real chemistry between the two.