West Coast rap star Saweetie is speaking up. The Los Angeles crooner has spoken out about homophobia in the genre during a new interview.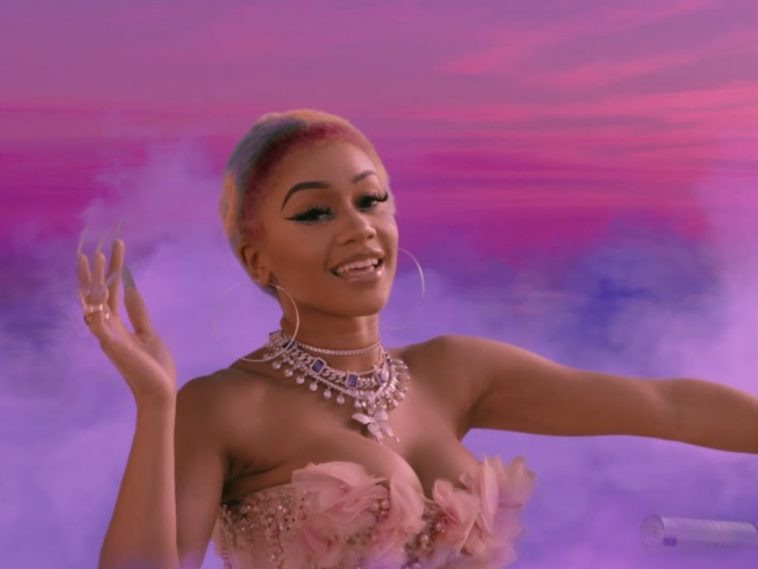 234 Views
Comments Off on Saweetie Speaks Out Against Homophobia In Hip-Hop
Saweetie Speaks Out Against Homophobia In Hip-Hop
Saweetie gave nothing but love to the LGBTQ+ community while speaking to People magazine. She noted how important accountability is, speaking on a trending topic in hip-hop since DaBaby's recent controversial comments.
"I think that it's important that we all respect each other. We all bleed the same. We're all human beings. I was raised in a household that believes in respecting everyone, no matter who they are, no matter what they do, because at the end of the day, we're all equal. We all need to call out what we're uncomfortable with. We need to call out what we stand for and for what we believe is right." (People)
Megan Thee Stallion Gives Love To LGBTQ+ Community
Houston rapper Megan Thee Stallion has love for everybody, including the LGBTQ+ community. However, speaking of DaBaby, – there might be one exception at this point.
In light of DaBaby's controversial Rolling Loud on-stage rant, Meg was asked about her support of the LGBTQ+ community. She gave nothing but support and said "it's about time" hip-hop addresses homophobia within the genre.
"It is about time. Representation is important, and it is really crucial for us all to have compassion and acceptance of every human." (PEOPLE)
Trouble Defends DaBaby
If it's not Meg, the Charlotte rap star at least has one person on his side. Atlanta rapper Trouble went on a nearly four-minute rant last week on social media vocalizing his support for Baby.
Trouble went off on Instagram, and made his point very clear. He made it be known he didn't care about being politically correct and discussed many things. Trouble added how unfair it was for everybody to be cancelling DaBaby over his recent comments and literally talked until he was out of breath.
"Fux ah cancle culture!! This jus how I feel!!"
"I'm not finna be on no politically correct shit or none of that sh*t dawg… I just rock how I rock and I feel how I feel, And you muthafuc*as really starting to piss me the fu*k off, bro. On lord, all this sh*t just fake as fu*k. How in the fuck a muthafuc*a just sit back with a smile on your face on this fake a*s cancel culture shit, watching a n*gga sh*t just demolish who you just lifting up, for one muthafuc*ing mistake about sh*t. And you acting like a n*gga just went on this b*tch and said, 'Fu*k all gays, I don't fu*k with no homos, none of this shit.' N*gga said, 'If you don't got AIDs or HIV, put your muthafuc*ing lighter up.'
Azealia Banks Wants DaBaby Canceled But For A Different Reason
Everyone has something to say about North Carolina rapper DaBaby's controversial comments during his Rolling Loud performance – and most of their comments aren't positive like Trouble's. From Elton John to Madonna to Miley Cyrus, it was only a matter of time before New York rapper and singer, Azealia Banks shared her thoughts.
DaBaby's comments at Rolling Loud Miami was the sound heard 'round the world. These comments have resulted in major backlash and calls for the end of his career. Baby has been dropped from around 7 music festivals at which he was set to perform, in addition to losing sponsorship deals with brands like BooHoo. Despite this, for Azealia Banks it is not these comments which pushed her over the edge.
Banks is not without controversy of her own, in fact her whole career is centered around her beefs with various celebrities and the unpredictable nature of her social media comments.
This time Azealia has chosen to speak out against DaBaby who also shares a checkered past. In an instagram story post Banks brought up DaBaby's March 2020 incident where he punched a female fan in the face, knocking her to the ground. In the post she dismissed the "performative cancelling" of Baby that is happening now and advocated for him to be official canceled regardless of any apologies.
"Y'all should have BEEN canceled dababy when he was caught on camera punching a female fan in the face. I'm not believing any of this performative canceling ppl are doing now when everyone so quick to forget that happened. Apology or not, Keep him canceled."