West Coast rapper Saweetie is making sure people know she didn't just send her bars to rocker Gwen Stefani for their upcoming collaboration. The California rap star has shared a fresh pic of herself alongside the famed Blink-182 singer.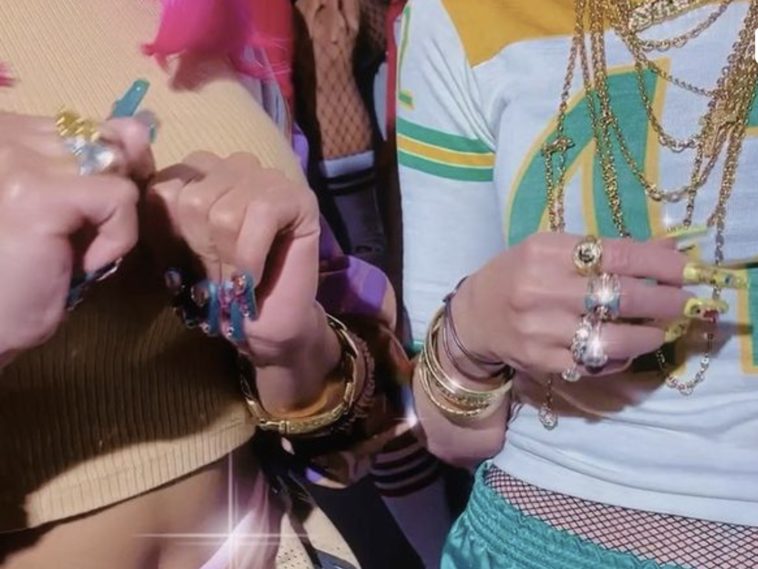 @sohh @sohhdotcom

159 Views
Comments Off on Saweetie + Gwen Stefani Announce New Music Video
Saweetie + Gwen Stefani Announce New Video
The newly single rap star lit up Instagram with a new shot of herself chilling with Stefani. The pics features them showing off big fashion goals while also confirming their "Slow Clap" remix drops in 72 hours.
"GWEN GWEN & SAWEETIE 🥳🥳🥳 @gwenstefani "SLOW CLAP" feat. me dropping this Friday 4/9 I KNOW DAS RIGHTTT 👏🏽👏🏽❄️💖"
Along with Gwen geeking out in the comments section, veteran model Paris Hilton also co-signed the upcoming single.
"😍😍" -Paris Hilton
"eeeeeeeek i can't wait 🥳 gx" -Gwen Stefani
"Iconic" -Tay Money
Stefani did it even bigger by announcing a music video will also drop alongside the "Slow Clap" remix single premiere.
"u didn't think we'd leave u without a music video, did u?! 😇 friday 4/9 ✨ #slowclap featuring @saweetie✨ gx"
Saweetie hit the IG comments section to co-sign the anticipation.
"OKKKK 🥳💖❄️👏🏽"
Saweetie's Working W/ New Artists
This week, the California native went to her Instagram page to get fans pumped about new music. Saw revealed plans to put out an annual summer playlist consisting of herself and rap rookies.
"new traditions!! ❄️ every summer I'm sharing my platform and dropping a fly ass playlist featuring artists who are up next 😛 This is season 1 🏝 U ready? 4/9"
The line-up of artists ignited a big co-sign from R&B star DaniLeigh in the comments section.
"This is hard 🔥🔥🙌"
Saweetie + Gwen Stefani Collaboration Coming
This week, rocker Gwen Stefani delivered massive news on her IG page. She shared the song's artwork which features her alongside Saweetie with the promise of it arriving Friday.
"slowclap…with a little extra sauce ❄️ @saweetie. coming 4/9 gx"
In early March 2021, Saweetie revealed plans to appear on someone's song and referenced the mystery musician as no one short of iconic.
"pretty b*tchin omw to the studio to do a feature for someone……. guess who 🥺😩 …… hint: she's iconic"
The New Stunning Look
A few days ago, Saw went to her Instagram page to unload a slideshow of new pics. The shots featured her rocking blonde hair and a caption hinted at rap star Quavo's former boo having a different number.
"new hair new number"
The pics ignited a flurry of co-signs including a comments section salute from vixen B. Simone.
"IKDRRRRRRR" -B. Simone