It pays to work with Atlanta native Quavo. The Migos star went online to reveal just how much his assistant gets paid.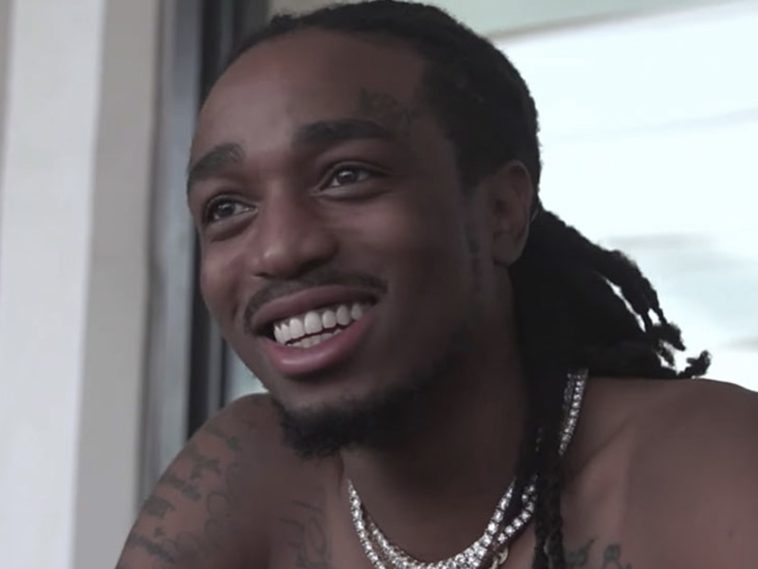 129 Views
Comments Off on Quavo's Assistant Is A Millionaire – No Cap
Quavo's Assistant Gets Paid Big Money
Quavo says his assistant gets $5,000 per day, and gave him the ultimate crown millionaire title. If you do the math out, that's $1,825,000 per year – it seems like he did the math correctly too.
5k a Day My Asst. A Millionaire!
Quavo + Ex-NBA Champ Kendrick Perkins Clash
In other news about the southern rapper, he and former Boston Celtics champion Kendrick Perkins met face-to-face to get big things off their chests. Following a few days of social media trolling, the Southern-bred stars took their problems with one another to a heated on-screen debate in early June 2021.
The drama ignited during an ESPN "First Take" broadcast. Tensions heated after Huncho went directly at Perkins about his lackluster performance in the 2018 NBA Finals.
"I don't got no beef, man, he must have felt some type of way when I dropped them bars and ever since then he was saying my bars was weak and I was only just stating facts. When I was doing my solo album, I was actually watching the Finals. My guy Big Perk had a suit on, man, he was arguing and going at it with my boy Drake and I feel like, that was the Cleveland finals and I don't know why you really feel like that Perk – you caused so much chaos and you weren't playing. That's how tradition, if you're not playing, you shouldn't be trying to fight." ("First Take")
Instead of staying mum, Perkins appeared on-camera and stated his own facts. Most notably, he talked about his past championship run and putting up big numbers earlier in his career.
"Let me set you straight on the story. I was minding my business and having a conversation with one of my former teammates, Serge Ibaka, having a little fun with him at the time and Drake had to interact with the conversation and shoot something and where I'm from – we don't care about names, we don't care about none of that. You shoot something out, I'm going to address you like the numbers on the house. And now let me address you about your comments about not getting no playing time – at the time I wasn't. I was the 14th, 15th man on the bench in my 13th year – but when I was putting in work – so look, at the end of the day, crucial games, Game 7 [of the 2008 NBA playoffs], I came out with 13, 10 and 5 against your Hawks when they had Iso Joe [Johnson] and took us to Game 7. And in those Eastern Conference Finals when they needed me the most, I stepped up my game most against the Detroit Pistons in a few games." ("First Take")
Quavo Calls Out Kendrick Perkins In HIs Raps
Prior to the two facing off against one another, drama initiated courtesy of Quavo's rap bars. On Huncho's "F*ck 12" song from 2018, he didn't hold back on going at Perkins with some direct lyrics.
"Get no playing time, Kendrick Perks (Hey!)"
Perkins – this week – seemingly came out of nowhere to get at Quavo on a social media post. Kendrick suggested Huncho is still putting out less than impressive lyrics.
"I see @QuavoStuntin still dropping them trash a$$ bars!!! Carry on…"
'Culture 3' Features Cardi B, Drake + More
Outside of the drama, Quavo and his Migos group members finally dropped their new Culture 3 album. They have rap star Drake on songs like "Having Our Way" with Cardi B on "Type Sh*t" while the late Pop Smoke's presence is felt on the "Light It Up" song.
"Friday We Set The Bar! #Culture3 @migos"