Atlanta rapper Quavo and Saweetie's explosive breakup is still making headlines and just took a wild twist courtesy of leaked physical altercation footage. An uncomfortable video has emerged showing them fighting in an elevator before their publicized split.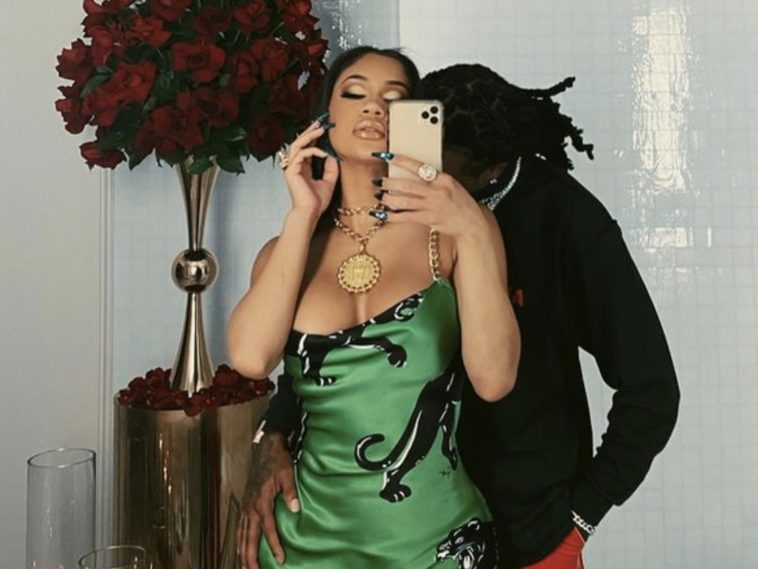 @sohh @sohhdotcom

129 Views
Comments Off on Quavo + Saweetie Elevator Fight Footage Leaks Online
Quavo + Saweetie Elevator Fight Footage
According to reports, the entire incident was captured on an elevator's security camera sometime in 2020. The attack happened at an apartment complex in North Hollywood and as the clip starts, Saweetie's taking swings on Quavo.
Quavo dodges the hit, dropping an orange Call of Duty case in the process … which Saweetie tries to pick up. Quavo grabs it, and as they struggle for the case, he grabs her arm and swings her into the back elevator wall, then they both go down. As Saweetie lay on the ground — possibly injured — Quavo stands there without helping her up. Eventually, the elevator opens with a guy standing outside … but he doesn't get on and the door shuts again. Finally, the door opens on another floor and Quavo starts to get off with the case, using it to keep the door open … and Saweetie picks herself up and limps off. (TMZ)
Saweetie Announces Single Status
A few days ago, Saweetie went to her Twitter page to break massive news to fans. Despite dating Quavo for over a year, the California rapper hinted at an affair possibly splitting them apart.
"I'm single. I've endured too much betrayal and hurt behind the scenes for a false narrative to be circulating that degrades my character. Presents don't band aid scars and the love isn't real when the intimacy is given to other women. … I emotionally checked out a long time ago and have walked away with a deep sense of peace and freedom. Excited for this new chapter of elevation 🙏🏽"
The heartbreaking split between Saweetie and the Migos star has generated a slew of celebrity reactions.
Unfollows Lead To Inevitable Split
In mid-March, Saweetie was being interviewed by social media star Justin LaBoy and asked if she would ever reward her man (presumably Quavo) with a threesome for good behavior. The "My Type" hitmaker said she would … but that threesome would involve bringing another man into the bedroom. Hours later, fans noticed that Quavo and Saweetie had unfollowed each other on social media, sparking breakup rumors.
On the second episode of #RespectfullyJustin​​, the icy queen #Saweetie​ gets personal with Justin Laboy & Justin Combs as they talk relationships, sex, & more.​
Speculation immediately circulated online with people wondering if Saweetie and Quavo called it quits on love.
Eagled-eyed fans noticed that 27-year-old Saweetie had unfollowed the 29-year-old Migos artist. He soon returned the move, leading fans to believe the couple have split. "If saweetie and quavo really broke up.. love aint real," wrote one fan of the couple, with another adding, "Not Quavo and Saweetie broken up!? And Why am I crying?" Saweetie also received several tweets from those looking for a shot with the "Tap In" artist now that she's reportedly single. (Page Six)
Saweetie Bounces Off Quavo
Aside from Quavo, the California native is making people turn pages – literally. The hip-hop star recently surprised fans by landing the cover of Cosmopolitan magazine. She went to her Instagram page to show off her new cover shot. Along with the issue's front page, Saw unloaded a grip of feature pics from the shoot.
"Had so much fun shooting this thank you @cosmopolitan! 💚💚💚 #prettyb*tchsummer playlist coming soon 🎶"