Playboi Carti was arrested in Georgia for allegedly choking his pregnant girlfriend on Dec. 20, 2022, during a dispute over a paternity test. He has been charged with felony aggravated assault at this time.

176 Views
Comments Off on Playboi Carti Arrested For Allegedly Assaulting Pregnant Girlfriend
Down Goes Playboi
Atlanta rapper Playboi Carti was arrested in Georgia for allegedly assaulting his unidentified pregnant girlfriend over a dispute about a paternity test, according to a FOX 5 Atlanta report. His girlfriend, who has not been identified, claimed the "Sky" rapper grabbed her by her throat and tried to choke her.
Argument Leads To Attack
The woman told police that Playboi Carti, who is set to headline the Wireless Festival, turned violent when she attempted to discuss the baby. The woman claimed she was 14 weeks pregnant at the time of the assault. 
According to a report by TMZ, the woman claimed the Atlanta native pushed her and held her neck until she could barely breathe. Once she could break away, Playboi Carti ran to her car, where she said he attacked her again. 
The victim told police a witness tried to break up the tussle between the two. When police arrived, she had visible injuries to her neck, chest, and back.
Playboi Carti was arrested and charged with felony aggravated assault. Playboi was also called out by the mother of his first child and fellow rapper Iggy Azalea for his inappropriate behavior.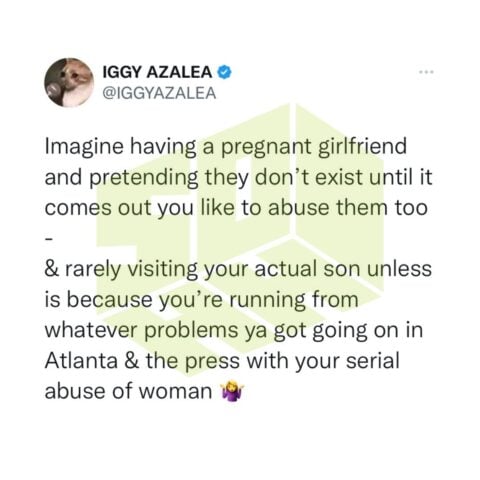 All Too Familiar
Another domestic violence case in hip-hop involves West Coast rapper Blueface and his girlfriend Chrisean Rock. Their relationship is publicly shared frequently, and fans have called out double standards for domestic violence for Chrisean abusing him.
A star who has also been arrested recently for domestic violence is Empire star Bryshere Gray, who pleaded guilty last November.