New York rapper Pardison Fontaine is really, really, really thankful to have Megan Thee Stallion in his life. The hip-hop star has lit up social media with a major nod to the man in the sky for connecting him with everyone's favorite Hottie.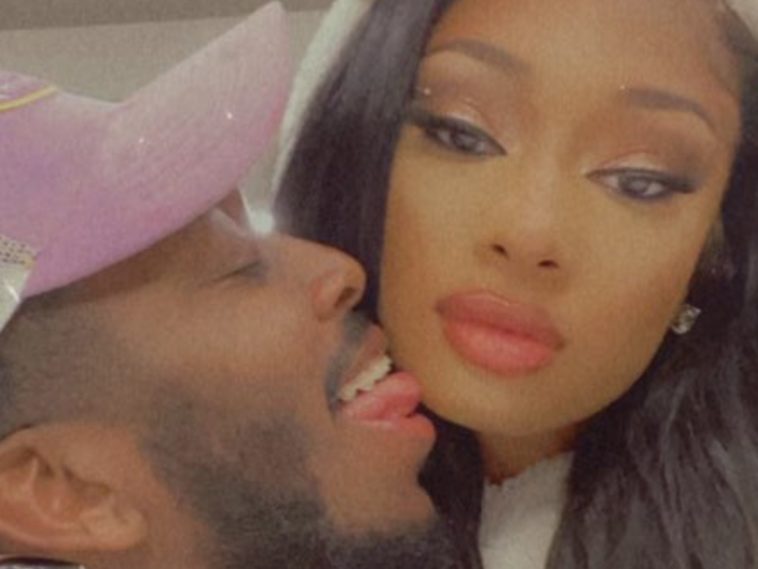 @sohh @sohhdotcom

129 Views
Comments Off on Pardison Fontaine Thanks God For Megan Thee Stallion
Pardison Fontaine Thanks God For Meg
Fontaine hit up his Instagram page with a super salute to Stallion. Coincidentally, the post doesn't feature him but just Stallion showing off her beauty through a mirror selfie.
"… THANK YOU GOD 😋🤤🤤"
A few days ago, Fontaine hit up his IG page to celebrate both Meg and her pal Cardi B's historic music biz achievements.
"MEN LIE .. WOMEN LIE (better) BUT 💎💎💎💎💎💎💎💎💎💎DONT !!! CONGRATS @iamcardib !! N Tell that baddie next to you I said COME HOME 😛😈"
Cardi B + Meg Thee Stallion's Grammys Sets
During the Grammy Awards broadcast, both Cardi and Meg made temperatures go all the way "Up" with their flashy sets. Cardi started things off with her latest single before sharing the stage with her "WAP" collaborator.
Cardi B and Megan Thee Stallion amped up the Grammys with a jaw-dropping performance of their NSFW anthem "WAP." The duo performed a strip club-themed version of the song, featuring a pole on a massive high heel and ending with the two rappers writhing together on a giant bed. Even though the chorus was changed to "Wet Wet Wet" to pass network muster, the song's message of sexual empowerment remained clear. Prior to "WAP," Megan performed "Body" and "Savage" with roaring '20s spectacle, complete with a tap dancing break and plenty of tight choreography. (Variety)
Earlier in the week, Cardi issued a Twitter statement dishing on how she felt about the Grammys organization.
"I do feel that there were some albums, and songs that should have been considered for nominations. Maybe by next year they will get it right. However let's not forget the Grammys nominated soo many independent black artists this year that don't get the exposure by blogs, magazines and other awards shows."
Meg Thee Stallion's "Savage" Remix Set
Along with sharing on-stage time with Cardi, Megan also blew people away with her "Savage" live set.
Don't be shy, get up and do that TikTok dance you learned last year. Megan Thee Stallion performed her viral hit "Savage (Remix)" at the Grammys on Sunday, looking like an angel in a white feathered burlesque look. "Tonight is my first time at the Grammys, but it is not my first time entertaining you," she said before breaking into full choreography. If this is how it starts, you're gonna want to stick around for the end. She starts rapping after an outfit change, blessing us with the lyrics that got us through a hot 'rona summer. (Vulture)
An Unforgettable Night
Stallion ultimately dominated the entire Grammys. After snagging a handful of awards heading into the awards show, Stallion went home with three huge trophies.
New Artist – 2021. Winner. Rap Song – Savage Remix. Winner. Rap Performance – Savage Remix. Winner. Record – 2021, Savage Remix. Nominee