Memphis rapper Moneybagg Yo is smiling from ear to ear. The hip-hop superstar has reacted to securing the top album globally with his newly released A Gangsta's Pain studio effort.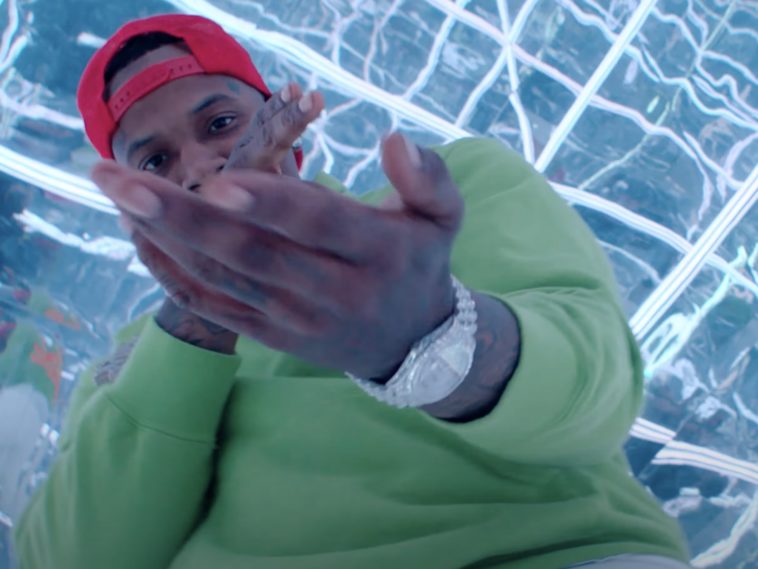 99 Views
Comments Off on Moneybagg Yo Reacts To Having No. 1 Album In The World
Moneybagg Yo Reacts To Going No. 1
Yo hit up his Twitter page to geek out over the accomplishment. Moneybagg made sure to acknowledge how much his fans' support played into topping the chart.
"1 Album In Da World 🤯🙌🏾 Mannnnee Dis Sh*t Feel Crazy, I'm Forever Grateful For This! Without My Fans and My Team I Wouldn't Be Shit ! God Working Thank Y'all I Promise To Neva Let Up !! #DeluxeOTW #BreadGang"
After seven days of availability, Moneybagg's latest solo effort blew away its competition on the Billboard Top 200 chart. The project pushed out well over 100,000 copies in week 1.
Moneybagg Yo scores a #1 bow on this week's Top 50 chart with A Gangsta's Pain (CMG/N-Less/Interscope), which racks up 111k+. Eric Church's Soul (EMI Nashville) debuts in the Top 5 with nearly 54k. The set is the second recent release from Church, after 4/16's Heart (yes, there's an & EP that makes it a trilogy, but you need to be in the fan club to get your mitts on it). XO/Republic's The Weeknd re-enters the Top 10 with After Hours, coming close to 40k (good for #7). (HITS Daily Double)
Yo initially went to his Instagram page to geek out over the accomplishment.
"Big Win For Da Streets !! Thanks 🖤💯🙌🏾 #DeluxeOTW"
Big First-Week Projections For Moneybagg's New Album
Moneybagg Yo appeared he wasn't going to have any problem stacking up sales with his latest solo album. The rap star's newly released A Gangsta's Pain was slated to possibly sell over 100,000 copies in its first 7 days.
CMG/N-Less/Interscope rap sensation Moneybagg Yo is headed for his first #1 debut on next week's HITS Top 50. His fourth studio album, A Gangsta's Pain, is projected to post a first-week total of around 100k. Eric Church's Soul (EMI Nashville), the final installment of his Heart & Soul trilogy, is aiming to outperform last week's release. Moneybagg Yo (CMG/N-Less/Interscope): 95-105k total activity; 2-3k albums Eric Church (EMI Nashville): 50-55k; 40-45k (HITS Daily Double)
Moneybagg Yo Gets Polo G + Huge Guest Features
Yo's new studio effort comes packed with over 20 songs. Along with hitmaker Pharrell Williams, Yo shares mic time with hitmakers Jhené Aiko, Future, Lil Durk, Polo G and more.
1. Memphganistan (Ft. Kaash Paige)
2. Just Say Det
3. GO! (With BIG30)
4. Wockesha
5. Shottas (Lala)
6. Hard For The Next (With Future)
7. If Pain Was A Person
8. I Believe U (Ft. TripStar)
9. Time Today
10. Interlude
11. Free Promo (Ft. Polo G & Lil Durk)
12. Hate It Here
13. Love It Here
14. Clear Da Air
15. Projects
16. One Of Dem Nights (Ft. Jhené Aiko)
17. FR
18. Certified Neptunes (Ft. Pharrell)
19. Change Da Subject
20. Least Ian Lie
21. Bipolar Virgo
22. A Gangsta's Pain
A few days ago, Moneybagg hinted at this album going down as one of his all-time greatest releases.
"I'm Talkn Soo Much Shit !! This Bout To Be My Biggest Project Eva I Stamp Det !! #AGangstasPain 4/23 GO PRE-SAVE NOW !! #linkNbio"
Moneybagg Yo Reveals How Much He's Banking
The Tennessee native recently went to his Twitter page to drop a huge shocker. While he didn't get too specific about crowds or venues, Yo did reveal he's making well over $100,000 per live performance.
"Can't believe I get 125k for A Show 🤦‍♂️🙌🏾"