Hip-hop icon Lil Wayne keeps adding more and more to his canvas. New footage has emerged of the Grammy-winning rapper getting additional tattoo work done on his face.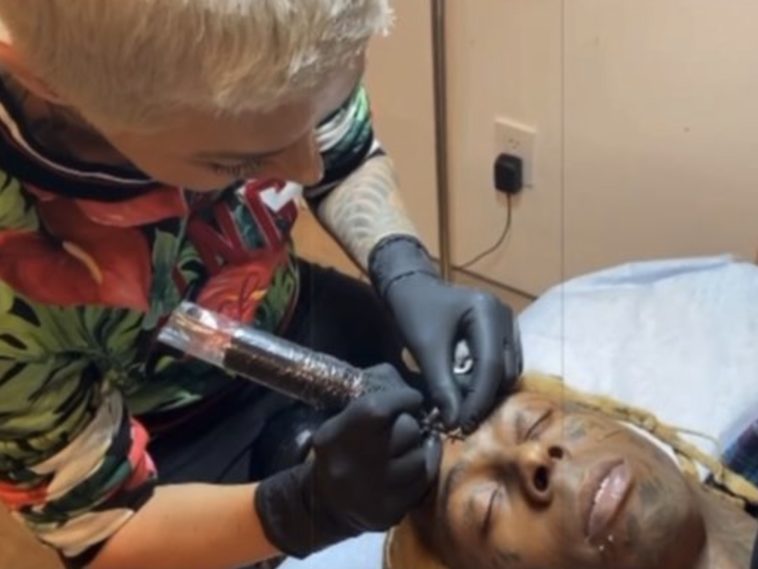 @sohh @sohhdotcom

119 Views
Comments Off on Lil Wayne Adds To His Face Tattoo Collection
Lil Wayne Finds Space For More Ink
A video of Tunechi getting fresh face ink has gone viral. Celebrity tattoo artist Ivana Belakova didn't do much, but darkened up the ink in Lil Wayne's forehead cross piece. It's unknown if Belakova did anything else for the legendary rapper.
"@liltunechi got some ink from @ivanatattooart ✝️"
Lil Wayne Drops New Song
The Louisiana native let the fans celebrate his pardon. After being granted clemency over his legal troubles, Lil Wayne blessed up fans with a new track. Lil Tunechi released a new single titled "Ain't Got Time" in January 2021. The track features R&B crooner Fousheé and comes just a short time after his last drop, some audio fire for the Green Bay Packers titled "Green & Yellow".
""Ain't Got Time" ft. @fousheelive OUT NOW!!!! 🚨🚨🚨 Link in bio!!! 🤙🏾"
Lil Wayne's Green & Yellow
The Grammy-winning rapper was extra hyped for his Green Bay Packers as they went through the NFL playoffs last season. The rap superstar released his unexpected "Green & Yellow" rally song for the former NFL champions prior to the Super Bowl. Weezy F. Baby went online to bless diehard Packer fans with the must-hear tune. Despite his New Orleans roots, Wayne has remained a diehard Green Bay fan dating back to their 2010 Super Bowl-winning season.
Ahead of this weekend's NFL playoffs, Green Bay Packers fan Lil Wayne drops a new theme song for his favorite team. Weezy released "Green And Yellow" on his socials just in time for the Packers to hear it and get hyped for their second-round game against the Los Angeles Rams.
Tunechi + Denise Bidot Unfollowed Each Other
The NFL playoffs might have been exactly what he needed. Rumors of Lil Wayne and his girlfriend model Denise Bidot breaking up sparked when fans noticed the couple no longer followed each other on Instagram several months ago. Then, Denise posted a cryptic message on her IG Story.
"pretty disappointing when you defend someone throughout everything and they turn out being just as sh*tty as everyone said they were"