A few years ago in a viral video, Lil Uzi Vert promised Raheel Ahmad he would pay his tuition when he graduated. Raheel just graduated and is now spinning the block to have Uzi pay his debt as promised.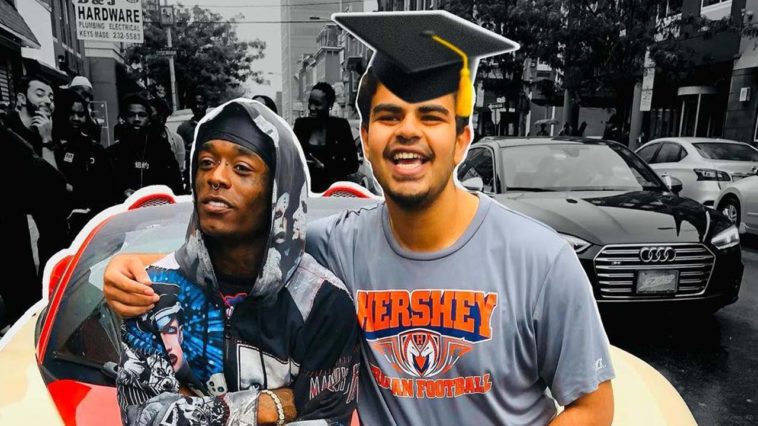 99 Views
Comments Off on Lil Uzi Vert Promised To Pay This Student's $90,000 College Debt. Graduation Has Come, But Uzi Is Ghost.
Lil Uzi Fan Wants Promised Tuition Bill Paid
It started in 2019 when the student Rajeel ran into the Philly rapper at the mall. Any typical Uzi fan would ask for a picture or an autograph, but Raheel asked for money to pay for his tuition to earn a college degree at Temple University.
Raheel shared that his mom is a single parent and his Dad passed away when he was 8 years old. The undergrad student says money has always been an issue in his household and he was worried about how he would pay for college, so when Uzi promised to pay his student loans when he graduated, Raheel was relieved.
In a post shared on Instagram Raheel says, "yo, guys it's me BigAssHeel aka Raheel… The time has finally come – I've finally made it through my 4 years at Temple, graduating with a 3.5 GPA. I'm sure you all remember this video of me meeting Lil Uzi Vert at the mall, asking if he could help me pay for my college tuition, and Uzi being the GOAT, saying Yes, as long as you graduate. He even tweeted, "I told him he has to graduate, why would I pay and you didn't finish." I 100 % agreed and was motivated to get there, and momma didn't raise a dumb*ss."
Raheel has been trying to get in touch with Uzi to present him with the Temple bursar bill, estimated to be roughly $90,000, and invite him to his graduation.
Uzi Spotted With Meek On Jimmy Fallon Show
The streets recently saw Lil Uzi Vert on stage performing with Meek Mill on the Jimmy Fallon show.  Two weeks before his album Expensive Pain dropped, Meek Mill and Lil Uzi Vert performed together on The Tonight Show Starring Jimmy Fallon.  
The elusive Uzi was also spotted in NYC performing with Meek at Madison Square Garden. 
Uzi Teams Up With Kawhi Leonard
Uzi also made an appearance as a feature on NBA player Kawhi Leonard's first rap album, Culture Jam 1.
Kawhi Leonard is aiming to support his community with the intersection of basketball and hip-hop with his debut compilation project entitled Culture Jam Vol 1.  The 7 track project features names like Lil Uzi Vert, Stefflon Don, Wale, NLE Choppa and more.